A Family History of Cancer
Wife and mother Cheryl Scott, 38, admittedly knew the risk of breast and ovarian cancer in her family, but unfortunately delayed getting checked. In 2019, she was diagnosed with breast cancer.
Cheryl tested positive for the BRCA1 gene mutation, which puts her at a higher risk for a breast cancer recurrence, along with a high risk of ovarian cancer. Scheduled to undergo a single mastectomy, she had a preventative double mastectomy instead, and also had her uterus removed to prevent more cancer down the road.
With her body confidence suffering post-surgeries, Cheryl enlisted the help of a local artist to paint her, which thankfully boosted her spirits and made her feel sexy again.
There are several different genetic tests available to find out if you have the BRCA1 or BRCA2 gene mutation. If you discover that you do have a mutation, there are options available to manage your cancer risk.
Wife and mother Cheryl Scott, 38, admittedly knew the risk of breast and ovarian cancer in her family, but unfortunately delayed getting checked. After she started experiencing fatigue and night sweats in 2019, soon after she found a lump in her breast. Sure enough, it was breast cancer.
Like many newly diagnosed breast cancer patients, Cheryl was immediately scheduled for genetic testing. Though she already knew of her  family's history, doctors are typically looking to see if you carry BRCA1 or BRCA2, a mutation that amplifies your risk of getting breast and ovarian cancer.
Read More
Cheryl was already getting scheduled for a single mastectomy, but her test results would determine whether or not she should go for preventative surgeries as well. Getting cancer once is hard enough, especially as a mom. Preventing a recurrence or future cancer is something women often consider.
"We had to do a gene check and I found out I had the brca1 gene [a gene mutation that puts you at higher risk of developing breast cancer] which meant I had to go for another mastectomy and a full hysterectomy [surgical removal of the womb] for preventative measures," Cheryl—who lives in Runcorn, Cheshire in the United Kingdom—explained to the Liverpool Echo. 
Related: Arizona Women's Cancer Doctor Decides To Have Double Mastectomy Due to Family History, Even Though She DOESN'T Have The BRCA Gene
"That itself was quite difficult. I really wanted another baby and that was taken away but my self confidence had taken a knock," she shared. "Being young, no-one explains what a mastectomy will bring to you mentally."
Furthermore, the fact that Cheryl has three teenage daughters compounds the issue. The plan is for the girls, Grace Scott, Lille-Mai Scott and Lacey Scott, to all get tested as well so they can be informed and make their own decisions when the time is right.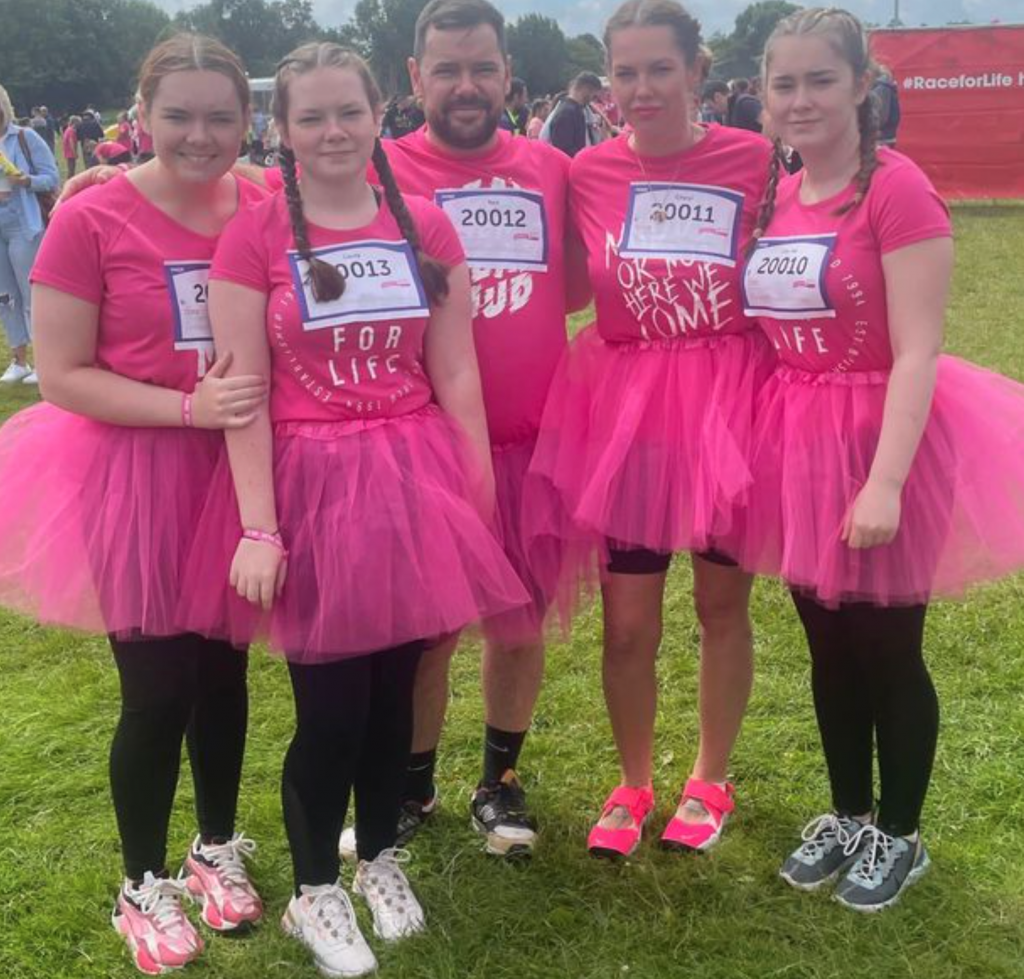 Cheryl got through the surgeries, but sadly, suffered mentally as she physically healed. Often times, the emotional part takes much longer.
"Everyone assumes you've got fake boobs but it's not the case. Mentally, it's a rough ride," she explained. "I couldn't look at myself in the mirror, especially when people say at least you're alive. You're grateful you're alive but it's still a huge hit. I still don't have any nipples."
Boosting Her Self-Confidence After Cancer Surgery
Having a hard time feeling like herself after her surgeries, Cheryl decided she wanted something to help boost her spirits and make her feel beautiful. She enlisted help from a local artist from Liverpool named John Charles who offered to paint her.
Apparently, John struggled with addiction and his art helped turn his life around, so in turn, he likes to help others. "He shares his life stories to help others and is always supporting charities, raising money and awareness," she said.
Related: Model and Ovarian Cancer Survivor Ash Foo, 24, Reveals Her Scars in Stunning Photo Series: 'I'll Show You Where I've Healed'
Cheryl and ten other women did a photo shoot for the special project and the art will be featured at an exhibition in Liverpool, simply titled, Women, on July 30.
"I wanted to feel great and try to fall in love with my body and learn to accept it," she said. "John got in touch and he fully funded the photoshoot for all of the women, of all shapes and sizes."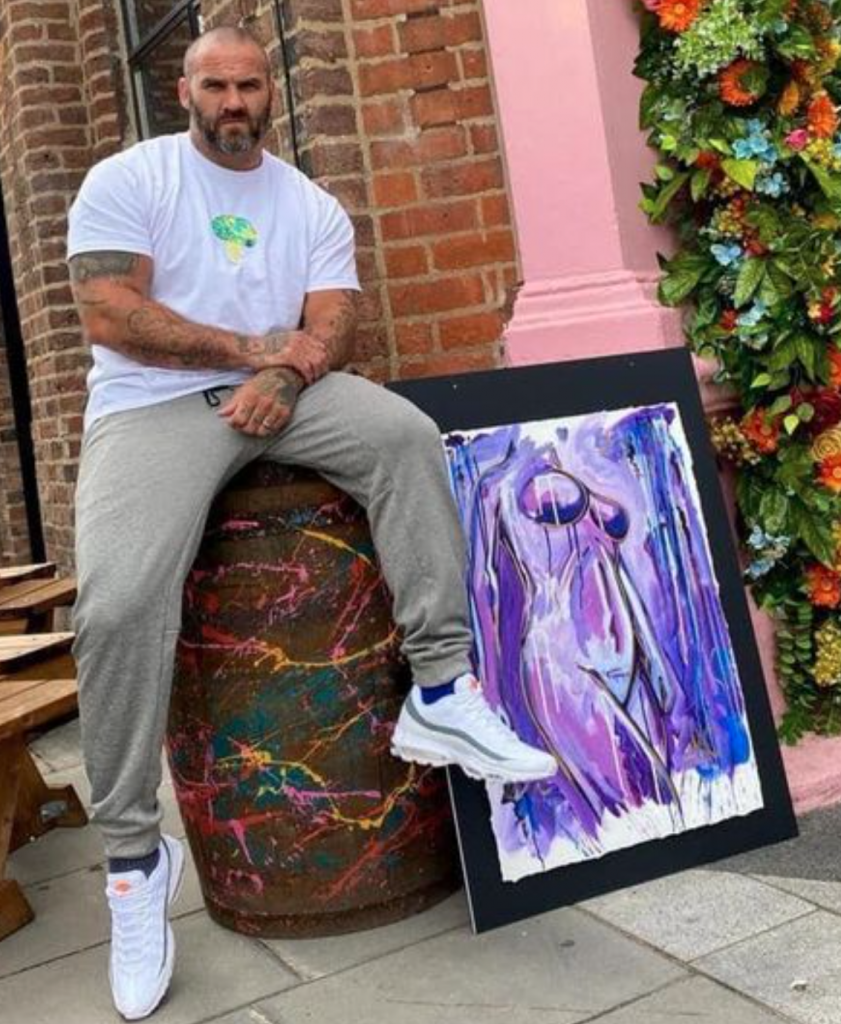 "It was incredible, It was the scariest thing I've ever done in my life but it was so empowering," she continued. "I've seen one of the paintings and it's well better than I expected, John is just amazing."
 

View this post on Instagram

 
Cheryl is once again feeling empowered and beautiful from the inside and out. "Knowledge is definitely power. Your scars don't define you. If anything, it woke me up to life, now I embrace it."
How I Made It Through Cancer Painting & Dreaming
What is a BRCA Gene Mutation?
BRCA (a breast cancer gene mutation) is actually two genes (BRCA1 and BRCA2), each proteins that work as tumor suppressors. They help repair damaged DNA, and are important for ensuring the stability of each cell's genetic material.
When either of these genes is altered, that mutation can mean that its protein product does not function properly, or that damaged DNA may not be repaired correctly.
These inherited mutations in BRCA1 and BRCA2 can increase the risk of female breast and ovarian cancers, and have also been associated with increased risks for several other cancers.
Dr. Rebecca Arend, Associate Scientist at the University of Alabama, Birmingham, explains the mutation in terms of its ability to repair damaged DNA. "What a BRCA mutation is, is a defect in your ability to repair a double-strand break (in your DNA)," she tells SurvivorNet.
Related: The New Information About Beyonce's Dad's Breast Cancer– The SurvivorNet Guide to BRCA and Inherited Breast Cancer Risk
The BRCA mutation (which is passed on from a father or a mother), can cause a variety of cancers, including fallopian tube and peritoneal cancer, which are ovarian cancers.
Furthermore, while about 1.3 percent of women in the general population will develop ovarian cancer sometime during their lives, it is estimated that about 44 percent of women who inherit a harmful BRCA1 mutation, and about 17 percent of women who inherit a harmful BRCA2 mutation, will develop ovarian cancer."
Learn more about SurvivorNet's rigorous medical review process.