Tony Nominee Hugh Jackman on a 'Greatest Showman' Sequel
Skin cancer survivor and Tony-nominee Hugh Jackman responded to actress Michelle Williams saying she wanted to do a sequel to their film The Greatest Showman. 
Jackman first developed skin cancer in 2013 and has battled the disease six times.
Minimize your skin cancer risk by wearing daily sunscreen and avoiding the sun during peak hours.
Tony nominee and skin cancer survivor Hugh Jackman, 53, responded to actress Michelle Williams saying she wants to do a sequel to their 2017 film, 
The Greatest Showman. 
Speaking with PEOPLE magazine this week at a Tony Awards nominee event, the Australian X-Men star playfully said, "Listen, if you know anything about my filmography, you'd know I'm totally against sequels in every shape or form. No more than nine films!" Jackman has starred in multiple X-Men films as Wolverine.
Read More
Michelle Williams, 41, starred opposite Jackman in the hit film, playing the character of Charity Barnum. Williams told 
Variety 
of the film she would do "another one of those in a heartbeat."
Williams said, "That movie brought so much joy to so many people and to make people that happy, man that is a worthwhile thing to spend your time doing."
Tony Nominee Hugh's Skin Cancer Battle
The Tony nominee and Music Man Broadway star, Jackman, is a seasoned skin cancer fighter and survivor. He was first diagnosed with skin cancer in 2013, and he's battled the disease six times. As a result, Jackman is  extra conscientious about protecting his skin. He is outspoken about cancer prevention, encouraging others to wear sunscreen daily and check their skin.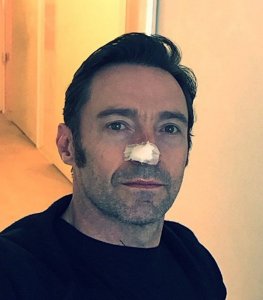 The actor was previously diagnosed with basal cell carcinoma, or "BCC." This is the most commonly diagnosed skin cancer in the U.S.
According to the American Cancer Society (ACS), 5.4 million basal and squamous cell skin cancers are diagnosed each year in the U.S. Jackman's most recent battle with basal cell carcinoma was in 2017.
Which Sunscreen Should I Choose To Prevent Cancer?
Protecting Your Skin from Cancer
As Jackman urges his fans to do – protecting your skin by wearing sunscreen and getting skin checks is so important. Skin cancer is the most commonly diagnosed type of cancer in the U.S., and you can protect yourself and lower your skin cancer risk by taking prevention steps.
In an earlier interview, dermatologist Dr. Dendy Engelman outlines five easy ways to protect your skin, and lower your skin cancer risk. She tells us:
Avoid sun during peak hours. This means from 10 a.m. to 2 p.m. It doesn't mean you should never go outside during the middle of the day, but make sure you're protected when you do venture outdoors.
Cover your skin and eyes. A wide brim hat and sun glasses will protect your face, the top of your head, your ears, and the delicate skin around your eyes.
Wear an SPF of 30 or higher. Plenty of facial moisturizers have SPF built into them. Reapply often.
Get an annual skin check. You can check your own skin for anything that looks out of the ordinary, but you should still get a yearly check to make sure you didn't miss anything. If you do happen to notice anything out of the ordinary in between checks, schedule an appointment to talk to your doctor about it ASAP — it is always worth it to make sure.
Avoid tanning beds. "There's absolutely no benefit to going to a tanning bed," Dr. Engelman says.
Top 5 Ways to Protect Your Skin From Skin Cancer
Learn more about SurvivorNet's rigorous medical review process.