The Importance of Family
Jeff Bridges, 73, has opened up about his relationship with their daughter following the release of their book Daddy Daughter Day.
The actor and his daughter Isabelle recently spoke on the Share Our Strength podcast on how family is "the greatest relationship" and the importance on nourishing that.
Bridges announced in October 2020 that he was diagnosed with lymphoma, and about a year later in September 2021, he was declared to be in remission.
He had chemotherapy to treat his disease. Other lymphoma treatments include active surveillance, radiation, and bone marrow transplant.
Jeff Bridges, an Academy Award-winning actor known for iconic roles like "The Dude" in The Big Lebowski, and his daughter Isabelle have offered some insight into their relationship and what's most "precious" in life.
In a recent interview with Billy Shore, founder and chairman of the Share Our Strength podcast, the father-daughter duo explained what inspired them to write and illustrate their children's book Daddy Daughter Day.
Read More
"As you get older, you realize that the value you have and what's really precious in life are these family relationships. And there's no stronger relationship that you can have outside your family," the 73-year-old, who beat lymphoma following treatment, said. "That's the greatest relationship and to nourish that, give that relationship that nutrition so it can grow and develop… some magical things can happen."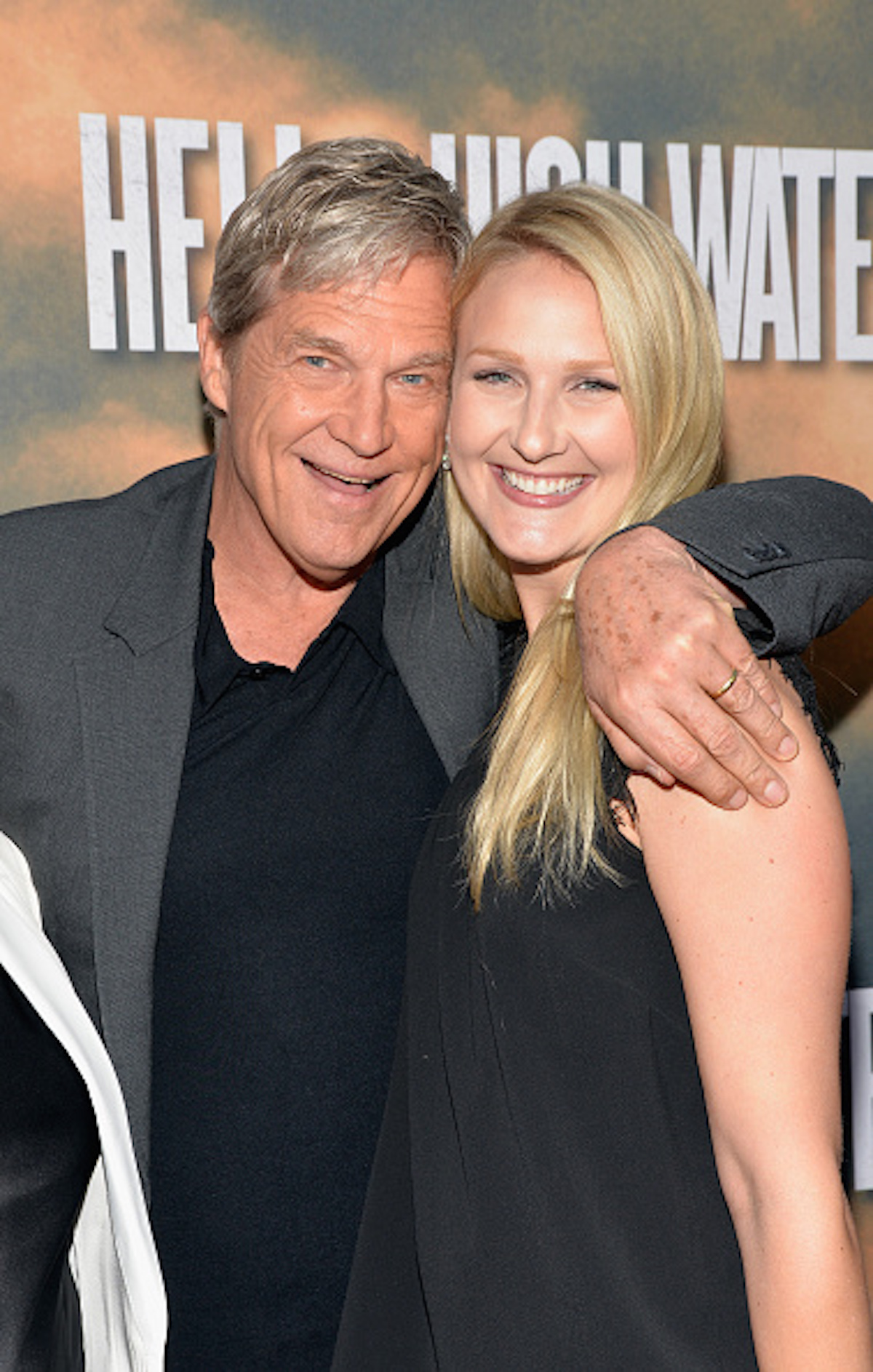 Adding onto that, Isabelle a 41-year-old mom of two, said "that presence is a spiritual practice."
Offering advice to other parents out there she said, "being present all day isn't necessarily feasible but if we can be present just through small moments throughout the day that's really a spiritual practice."
Bridges, who stars in the FX series The Old Man, recounted some wisdom that was passed down to him by his father Lloyd, who passed away in 1998.
"I remember my father, one of the things that he laid on me that I struggled with when I was a kid but I'm seeing his point now was, 'You know, Jeff, we're habitual creatures and it's about what habits that you develop.'"
He continued, "And if you practice the habit of spending time with your kid… It will become easier and easier."
Isabelle and her father spent a good amount of time putting their book together, but prior to their hard work, she recounted, "I remember reading the Daddy Daughter Day story to you Dad, and you saying, with sparkly eyes, 'we should turn this into a book, and I will illustrate it.'"
Bridges also described making their book "a lot of fun" and was thankful it brought them closer together.
"For some reason, we need reasons to get together and this was a great reason to get together with my daughter," he said. "Like my father, I was away for much of Isabelle's childhood due to my work and making movies and so I try to do my best to try and make up for some of that, which I really regretted not being around as much as I would have liked to be there for her childhood."
Jeff Bridges' Battle With Lymphoma
Jeff Bridges announced the news of his lymphoma cancer diagnosis in October 2020 on social media. He revealed his diagnosis saying, "I have a great team of doctors, and the prognosis is good."
Related: Radio & Fox News Host Dan Bongino, 47, Says Cancer 'Put Horse Blinders On Me To See What Really Matters'; He Survived Hodgkin Lymphoma
The actor had chemotherapy to treat his disease, and throughout his cancer journey, he kept his fans updated on his treatment process. He shared exciting updates, such as news that his tumor is shrinking, in his online journal and on social media. Lymphoma treatments can include, says the Mayo Clinic:
Active surveillance. Some forms of lymphoma are very slow growing. You and your doctor may decide to wait to treat your lymphoma when it causes signs and symptoms that interfere with your daily activities. Until then, you may undergo periodic tests to monitor your condition.
Chemotherapy. Chemotherapy uses drugs to destroy fast-growing cells, such as cancer cells. The drugs are usually administered through a vein, but can also be taken as a pill, depending on the specific drugs you receive.
Radiation therapy. Radiation therapy uses high-powered beams of energy, such as X-rays and protons, to kill cancer cells.
Bone marrow transplant. A bone marrow transplant, also known as a stem cell transplant, involves using high doses of chemotherapy and radiation to suppress your bone marrow. Then healthy bone marrow stem cells from your body or from a donor are infused into your blood where they travel to your bones and rebuild your bone marrow.
Other treatments. Other drugs used to treat lymphoma include targeted drugs that focus on specific abnormalities in your cancer cells. Immunotherapy drugs use your immune system to kill cancer cells. A specialized treatment called chimeric antigen receptor (CAR)-T cell therapy takes your body's germ-fighting T cells, engineers them to fight cancer and infuses them back into your body.
Luckily, his doctors were right about his prognosis. In September of last year, the actor posted on his blog that his cancer had entered remission.
"The 9" x 12" mass has shrunk down to the size of a marble," Bridges writes. He also suffered after contracting Covid in the midst of his cancer battle in 2021. "Covid kicked my ass pretty good, but I'm double vaccinated and feeling much better now."
After all of the struggle, like so many cancer survivors, Bridgers was left with a renewed appreciation for life.
"I'll be honest. I didn't know if I was going to make it," he previously told Esquire. "I was on death's door there for a while in the hospital … When I finally went back to work, after a two-year hiatus, it was the most bizarre kind of thing. It felt like a dream."
"I came back after all that time, and saw the same faces [while shooting The Old Man], the same cast and crew," he continued. "It was like we had a long weekend. I gathered everyone and I said, 'I had the most bizarre dream, you guys.' I was sick and out, but all that feels like a gray mush now."
Understanding Lymphoma
While Jeff Bridges didn't disclose publicly the type of lymphoma he was diagnosed with, the two most common types of this disease are Hodgkin and non-Hodgkin lymphoma. Lymphoma is a cancer of the immune system that affects infection-fighting cells called lymphocytes. And there are more than 40 different types of lymphoma.
"Lymphoma is split up into a number of different categories," Dr. Elise Chong, a medical oncologist at Penn Medicine, previously told SurvivorNet.
Sneaky Lymphoma Symptoms Often Lead to a Late Diagnosis
"The first distinguishing breakpoint, if you will, is non-Hodgkin lymphoma versus Hodgkin lymphoma," she added, "and those sound like two different categories. But non-Hodgkin lymphoma comprises the majority of lymphoma, and Hodgkin lymphoma is a single specific type of lymphoma."
Hodgkin lymphoma has distinctive, giant cells called Reed-Sternberg cells. The presence of these cells, which can be seen under a microscope, will help your doctor determine which of the two lymphoma types you have.
There are a few other important differences between non-Hodgkin lymphoma and Hodgkin lymphoma to note. For one thing, non-Hodgkin lymphoma is much more common. And you're more likely to be diagnosed with it after age 55, like Jeff Bridges. People usually develop Hodgkin lymphoma at a younger age.
It should be noted that another difference between these two types of lymphoma is that non-Hodgkin lymphoma is more likely to spread in a random fashion and be found in different groups of lymph nodes in the body, while Hodgkin lymphoma is more likely to grow in a uniform way from one group of lymph nodes directly to another.
These two different types of lymphoma behave, spread and respond to treatment differently, so it's important for you to know which type you have.
What Kind of Lymphoma Do You Have? Why Your Type Matters
Contributing: SurvivorNet Staff
Learn more about SurvivorNet's rigorous medical review process.
---