Amid the coronavirus pandemic, many cancer patients are concerned about their safety. Well, national treasure and Jeopardy host Alex Trebek, 79, is apparently staying healthy and doing well despite the outbreak, so that's definitely some encouraging news.
Ruta Lee, a close friend of Trebek's, told Closer Weekly that he is "managing quite well" during Covid-19. Trebek is currently battling stage four pancreatic cancer, and although he's beating the odds and taking to treatments, the virus still poses as a health risk. According to Lee, Trebek has been keeping busy at home by fixing things around the house and reading.
Read More
As the face of television trivia show
Jeopardy
, which
stopped filming in front of live studio audiences
in order to keep Trebek and other staff safe, Lee admits that filming was a difficult process. However, the show has since stopped filming amid Covid-19.
"He said there [are] times when his energy sags terribly, but the [producers at Jeopardy! are] very very good about giving him a little break," Lee tells Closer Weekly. "It's OK to take 15 or 20 minutes to sum it all back up again."
Alex Trebek's Battle With Pancreatic Cancer
Trebek was diagnosed with stage four pancreatic cancer in 2019, but fans have been thrilled to find out that Trebek is beating the odds when it comes to treatment. He's been extremely open about his chemotherapy treatments and how they've been difficult for him. In a video message celebrating his one year of treatment, Trebek admitted that he had been experiencing chemo-induced depression which made him reconsider fighting. However, judging by Trebek's latest update during Covid-19, he's clearly not giving up.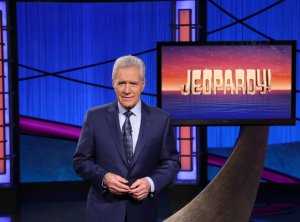 Cancer Patients Staying Hopeful During Covid-19
For cancer patients, being exposed to Covid-19 is an especially frightening thought. However, just like Trebek, it's still possible for cancer patients to stay safe and healthy during this outbreak. "If you have been diagnosed with cancer, you are far more resilient than you believe," Dr. Marianna Strongin, a clinical psychologist and founder of Strong In Therapy, tells SurvivorNet.
Dr. Strongin's words of wisdom are proving to be true. Dr. Brendon Stiles, a thoracic surgeon at Weill-Cornell Medical Center, is currently working within the epicenter of the coronavirus pandemic in New York City, but tells SurvivorNet that he's seen remarkable progress in his patients.
Dr. Brendon Stiles talks to SurvivorNet about being in the epicenter of Covid-19, and how his patients are doing
"You have to tell them that we're going to get through this and really just convince patients that we're all in this together," Dr. Stiles tells SurvivorNet. "Patients are doing surprisingly well. There's obviously a lot of anxiety out there amongst patients."
Learn more about SurvivorNet's rigorous medical review process.