'It Was a Glitch In My Life'
TV and podcast host Jillian Barberie, 54, was diagnosed with breast cancer in 2018 and immediately scheduled a double mastectomy because the cancer had spread to her lymph nodes.
Initially disinterested in getting breast implants after her surgery, the television host and radio personality was convinced to get them, but did not opt for 3D nipple tattoos.
After three years cancer-free, Barberie feels lucky that her experience with cancer was "not a bad one" beyond the concern she felt for her kids.
The day Jillian Barberie found out that she had breast cancer, she was helping to host a party in Beverly Hills.
It was Aug. 25, 2018, and the get-together was billed as "MMM – Mimosas, Mammograms and Massages," to make it fun for women to get screened. Barberie, a former co-host at Good Day L.A. and Fox NFL Sunday pre-game show weather presenter, was one of the first women at the party to get her exam done so that she would be free to make cocktails and hand out gift bags.
Read More
"I kept getting called back down to the screening room," says Barberie, who hosts a podcast called
Ask Jillian
. "The last time I went back, they did a sonogram and said, 'We just want to look at some things.'" At that point Barberie says she knew something wasn't right. "The radiologist said, 'Please get a biopsy tomorrow.'"
When Barberie found out she had Stage 3 breast cancer and that it had spread to her lymph nodes, she got "very radical," she says. "I was very aggressive." She called the Bedford Breast Center in Los Angeles, where staff knew her because she had been taking Debra Tate (sister of the famed actress Sharon Tate who was killed by Charles Manson) for breast cancer treatment that involved a lumpectomy and radiation.
"Extremely different from mine," says Barberie. "I said, 'I want to schedule a double mastectomy.'"
She made that decision because it was in her lymph nodes. "They took out 18 lymph nodes; six were cancer," she says. She wanted both breasts removed because she "didn't want to worry about it."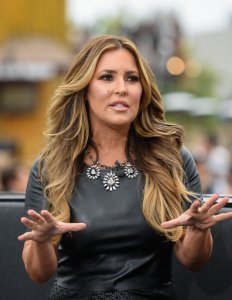 'I'm Not Getting Tattoos'
Barberie, who is adopted, found her birth family and discovered that her mother had three kinds of cancer – lung, liver and colon, and an aunt had breast cancer.
The morning of her surgery, the reconstructive surgeon visited Barberie and said, "You're the only celebrity I've ever met who didn't bring in pictures, sizes, etc. I don't even know what you want."
The idea of implants didn't appeal to her at all, says Barberie. She liked her "real" breasts. "In the end, the doctors "talked me into it," she says, adding that she told the doctor: "Just don't give me Anna Nicole (Smith) boobs."
And she didn't want nipples.
"I don't care. I'm not dating. And I'm not getting tattoos," although she says she recently saw a 3D nipple tattoo that "you would never know it's not real."
Looking back now, as she approaches three years cancer-free, Barberie says, "My experience with cancer was not a bad one. The only thing I was concerned about were my kids." Ruby, 14, and Rocco, 11, helped their mom through it. Barberie was married to baseball player Bret Barberie and later to actor Grant Reynolds; their marriage ended in 2014.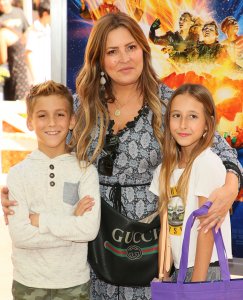 Coping With Chemo
A single mom, Barberie says the kids helped her through her cancer, but also "admitted they were scared." She turned to her friend, TV show host and relationship expert Dr. Drew Pinsky, to get advice on how to talk to her kids about it. Now, Barberie likes to help other people know what to expect.
Chemo, for example, she says, was "fine" at the start. "I had a ton of energy."
She would order lunch delivered to her chair at the treatment center, and happily watch Netflix and relax. But by the third round of chemo, "it was tough." She wasn't sick, but she did lose her hair, her brows and, eventually, her eyelashes. "They put you on so many drugs. I had 10 different medications — some were steroids, so you don't recognize yourself." Or as she told a friend who was diagnosed, "You will look at yourself and say, 'Who's that monster in the mirror?'"
But some of the best advice she got had to do with the often-grueling treatment: "Remember that chemo is your friend. It is your cancer-killer. People say, 'They're putting poison in your body.' But people put all sorts of stuff in their bodies all the time. You need to make peace with chemo."
Barberie is grateful. "I'm just so blessed." She recently posted an update on Instagram about her dark hair growing in. She also shared a sexy shot of herself in a bikini — from 12 years ago — with her "real boobs" and slim shape. "That was after two children! My body went down to 105 pounds with Nutrisystem. It was shot for an ad. I was 42."
View this post on Instagram
Her One Regret
She's 54 now and proudly looks back at her bod and has just one regret: that she never posed for Playboy. "Playboy offered four times, and I said no, like an idiot. I would have had something to look at, to remember."
As for cancer? "It's in my rear-view mirror," says Barberie, "It adds to my story." Other than taking Letrozole, an estrogen blocker every day, she says that cancer does not affect her life "in any way shape or form."
She learned that the things she used to find important — dressing up and having great shoes — don't matter so much anymore. "I'm selling all that stuff on Poshmark!"
In this COVID era, she masks up wherever she goes, regardless of whatever the latest rule is in Los Angeles. "When I hit my five-year mark, I will be celebrating."
The biggest lesson she's learned is: "Cancer can hit anyone at any time. I remember saying, 'I guess it's my turn.' It was a glitch in my life that I dealt with very well. I appreciate that I got through it so easily."
Getting a Mammogram
Barberie regularly encourages her Twitter followers to get their yearly mammograms.
Women aged 45 and 54 should have annual mammograms; women with a history of breast cancer in their family should begin screening even earlier.  Dr. Connie Lehman, the chief of the Breast Imaging Division at Massachusetts General Hospital, emphasizes in an earlier interview how mammograms save lives. She says, "If you haven't gone through menopause yet, I think it's very important that you have a mammogram every year. We know that cancers grow more rapidly in our younger patients, and having that annual mammogram can be lifesaving."
Related: When You're Getting a Mammogram, Ask About Dense Breasts
"After menopause, it may be perfectly acceptable to reduce that frequency to every two years," says Dr. Lehman. "But what I'm most concerned about is the women who haven't been in for a mammogram for two, three, or four years, those women that have never had a mammogram. We all agree regular screening mammography saves lives."
When Should I Get a Mammogram?
Doing a Self-Exam at Home
In addition to regular mammogram screenings, women should also do self-exams at home. The American Cancer Society (ACS), says, "Women should be familiar with how their breasts normally look and feel and should report any changes to a health care provider right away."
Related: You Should Be Aware of These Signs of Breast Cancer
The National Breast Cancer Foundation says here's how to do a self-exam at home:
While standing straight in front of a mirror, place your hands on your hips and look at your breasts for any swelling, bulging, changes in the shape of breast or nipple (inverted), redness, rashes, or any fluid leaking. Then do the same with your arms in the air.
Next, while lying down, use your right hand to examine your left breast and vice versa, while using your first three fingers to apply pressure. Ensure you cover the entire breast area, from your collarbone to below your ribcage and from your armpit to your cleavage area. Do the same self-exam standing or sitting up. Be sure to use light to medium pressure for the middle breast area and firmer pressure when feeling deep breast tissue.
Learn more about SurvivorNet's rigorous medical review process.
---