Coping With a Diagnosis
Kyle Benoit was only 29 when he was diagnosed with testicular cancer, a rare disease that is often curable.
He endured nine rounds of chemotherapy and was declared cancer-free in 2022.
Testicular cancer often affects younger and middle-aged men, and the signs include a mass or lump in the testicles, or a change in their size of shape.
Justine became Kyle's caregiver, and the challenging experience brought them even closer together.
Kyle and his wife Justine shared their story to help end the stigma around testicular cancer.
Kyle Benoit, 29, and his wife Justine had a wonderful life going in their small Kansas town: recently married with two kids and one more bundle of joy on the way. But their world was turned upside down when Kyle felt a lump in one of his testicles.
Kyle had testicular cancer, and Justine was now his caregiver. They would be challenged like never before.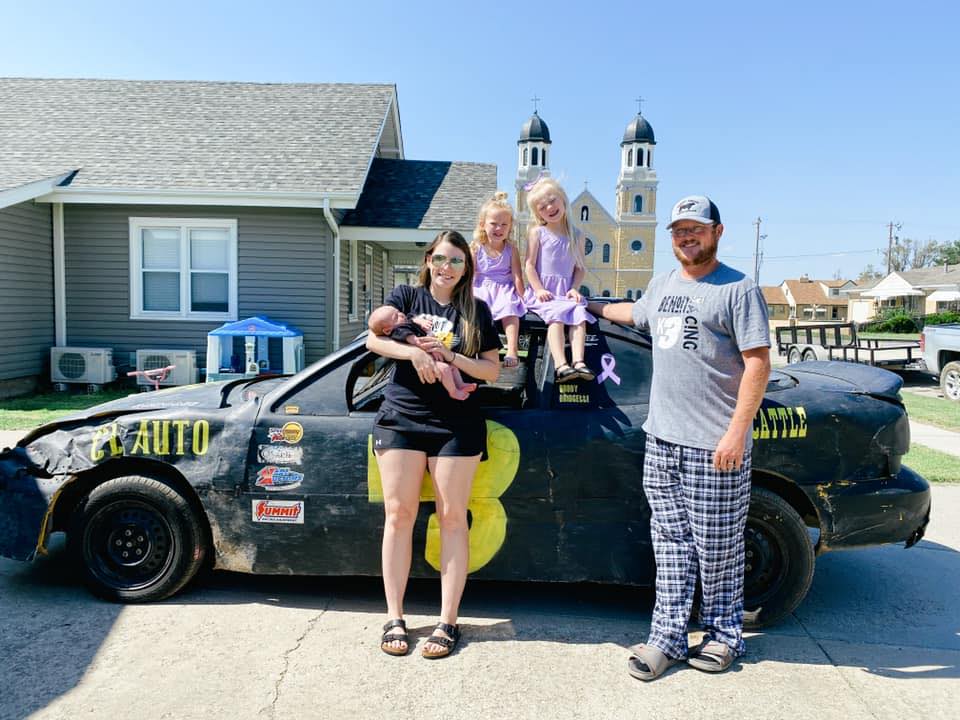 Read More
It was in January of 2021 when Kyle first noticed the lump. Concerned, he went to see a doctor, who conducted a sonogram, a painless exam that uses
ultrasound technology
to produce a visual image of what's happening inside an organ. In an interview with SurvivorNet, Justine Benoit, Kyle's wife, recalled, "The doctor did not think it was a concern and referred to the lump as a potential cyst." In fact, many men who experience lumps on their testicles may have suffered an injury to the area, or the lump may be caused by epididymitis, an inflammation of the epididymis (the coiled tube) at the back of the testicle. Justine added that the doctor said Kyle "could come back in 6 weeks for a follow up ultrasound."
But life got busy, as it often does. The Benoits were busier than most: they were expecting a baby boy, who was born in August of 2021. Just one week later, Kyle's grandmother passed away.
Kyle's intended follow-up appointment was a thing of the past; he barely mentioned it anymore to Justine.
However, a few days after his grandmother's funeral, Kyle sought medical care for a very different reason: a bug bite had become swollen and infected. Justine took him in for the appointment.
"Kyle just happened to mention the lump was still there," she told SurvivorNet, "and the local hospital got us in right away for an ultrasound. We were on our way home when we got the call. The doctor told us the mass had doubled in size and there was blood flow, which is an indicator of cancer."
The diagnosis was confirmed in September of 2021, shocking the Benoits, whose son was only 3 weeks old.
Kyle himself was only 29 years old. Justine says, "I just know Kyle's Grandma had some play in Kyle getting into the doctor. He is not the type of guy who goes in to the doctor often […] so this was a big deal he went and on his own mentioned the lump!"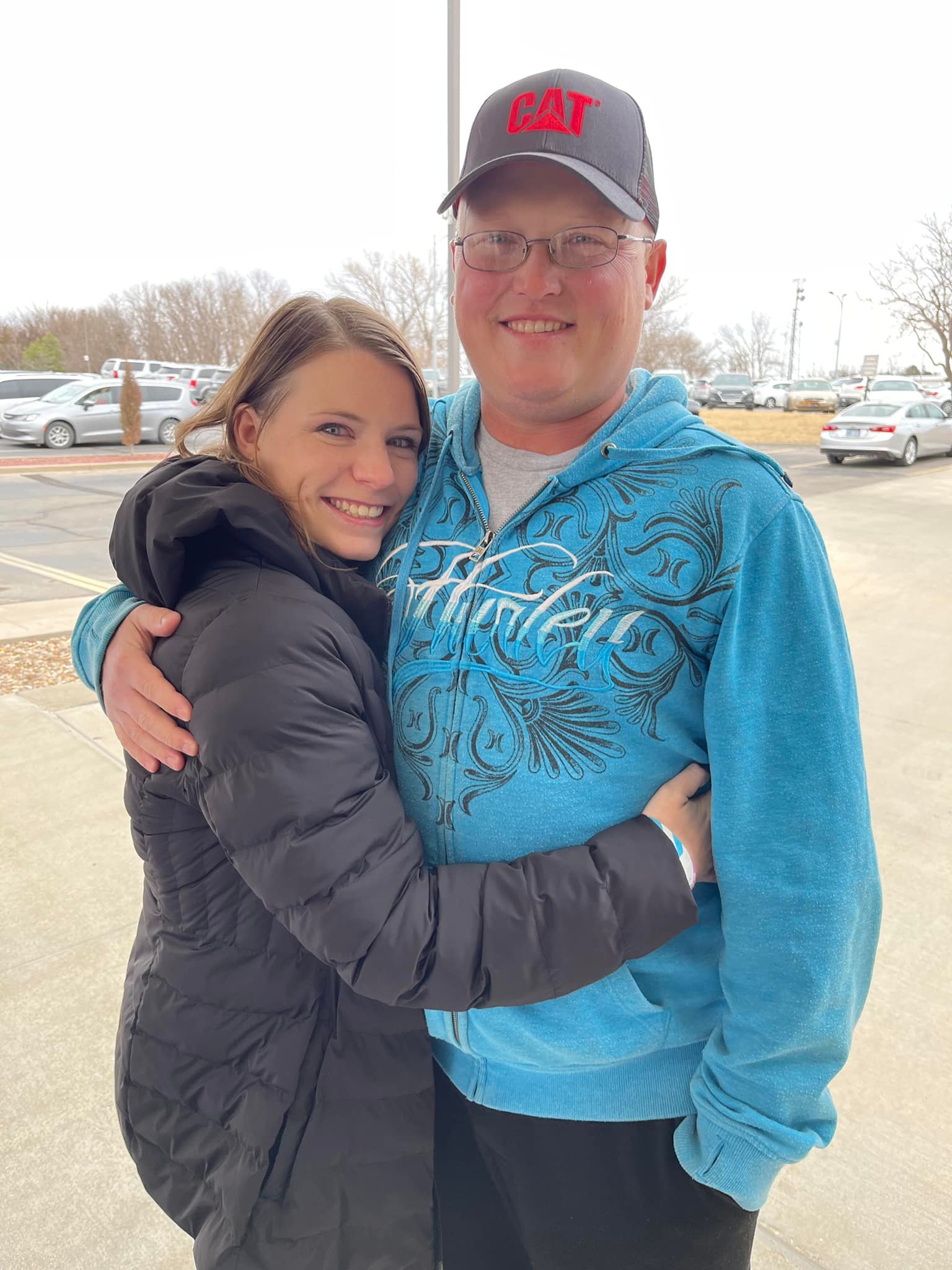 Justine and Kyle's Love Story
Justine and Kyle Benoit had known each other for years. In fact, Justine had been best friends with Kyle's sisters in school.
One summer, they both worked at the local grain elevator in their small Kansas town of less than 200 people. They began officially dating in 2011 and married in a beautiful ceremony in June of 2015. They'd already had two young daughters when their son was born in 2021.
Justine was working full-time as a grant writer, but she knew her life would change when the doctor called as they drove home from the ultrasound.
"I will never forget the call. The doctor asked to be put on speaker phone and for us to pull over……I knew it was bad," she wrote on her blog.
Kyle's Treatment for Testicular Cancer
Despite Kyle's own resilience, Justine knew she would be challenged like never before. While she had a job and three young children, Justine would now become a caregiver to Kyle, whose treatment included nine weeks of chemotherapy.
On some days, Kyle spent eight hours in a chair, being administered the chemotherapy, an infusion of chemicals that kills fast-growing cells like cancer.
WATCH: When Your Caregiver Is Your Spouse
She also found ways to support him emotionally. His treatments took place in rounds, which included 21 days of chemotherapy, so she wanted to find a way to lift his spirits.
"I had 21 of our closest friends/family write a letter to him. Each day of chemo he got to open one and it made chemo not so horrible," she says. She also joined support groups, such as a Facebook group "Testicle Cancer Mama Bears."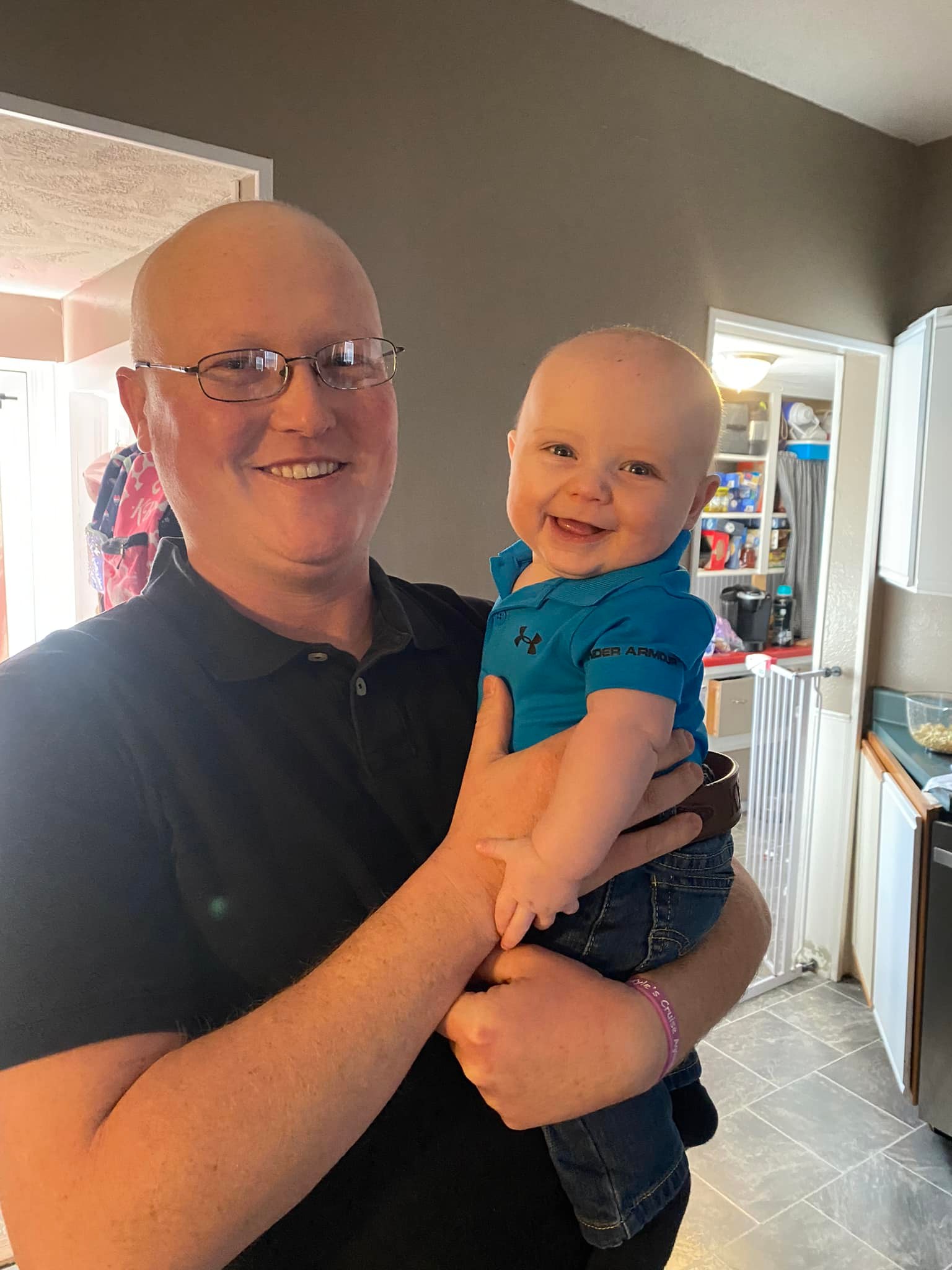 Kyle also displayed tremendous strength.
He was determined, he said, to survive for their three children.
Looking back at his journey, he tells SurvivorNet, he was not aware of how arduous it would be. "I wish someone would have told me how hard it was going to be," he says. "Someone to prepare me for the worst! It was a lot harder than I thought it would be."
In March of 2022, Kyle was told he was cured. He recently celebrated his one-year anniversary of being cancer-free.
On her Instagram account, Justine paid tribute to her husband: "I am amazed at your strength, endurance, and ability to conquer all!"
View this post on Instagram
Our experts agree that a challenging time – such as a cancer battle and taking on a caregiving role – can be difficult for couples. But it can also make a strong relationship even stronger.
Kyle and Justine Benoit's continued strength is a testiment to how great of an impact your relationship can have while battling cancer. Many patients worry that cancer will change their relationship, but there are tools and resources to help you keep a strong and healthy marriage.
While it's important to know your physical and emotional boundaries — what you may or may not have the strength for during treatment — having people by your side during this "arduous chapter" of your life can be hugely beneficial, licensed clinical psychologist Dr. Marianna Strongin wrote in a column for SurvivorNet.
"Studies have found consistently that loneliness is a significant risk factor for physical and mental illnesses and the trajectory of recovery," she wrote. "Therefore, it will be important that you surround yourself with individuals who care and support you throughout your treatment."
Know the Signs of Testicular Cancer
April is Testicular Cancer Awareness Month. It's important to know that the disease tends to strike younger and middle-aged men, according to the American Cancer Society, but it is usually a curable form of cancer: "Because testicular cancer usually can be treated successfully, a man's lifetime risk of dying from this cancer is very low: about 1 in 5,000."
Symptoms tend to include a mass in the testicles, or even a change in their size and shape. These tumors can cause pain, but they can also be painless. Some men may experience a heaviness in the testicles.
Advanced signs of testicular cancer include:
Headaches or confusion
Shortness of breath, chest pain, or a cough
Low back pain
Belly pain
If you experience any changes to your body, it's important you talk about it with you doctor – just as Kyle did. And if you feel your concerns aren't being addressed adequately, our experts say it can help to seek second or even third opinions so you feel you are getting the care and attention you need.
Removing the Stigma of Testicular Cancer
Recently, the Benoits were featured on a new podcast, produced by the Testicular Cancer Awareness Foundation and hosted by Steven Crocker. Titled "It Takes Balls," the podcast aims to educate people about testicular cancer and to eliminate the taboos in discussing it.
Justine and Kyle were happy to share their story, as both a caregiver and a patient, who came out of the experience stronger than ever.
"We need to teach our society that it this needs to be discussed and the embarrassment put to the side because testicular cancer could cost you  your life!" says Justine. "We are passionate about sharing our story even if it could help just one person with early detection."
WATCH: Black Eyed Peas Rapper Taboo Says He Felt 'Embarrassed' After Testicular Cancer Diagnosis
Black Eyed Peas rapper Taboo, 47, knows what it's like to feel that stigma attached to testicular cancer.
As a founding member of the Black Eyed Peas, he was at the top of the world when he received a testicular cancer diagnosis. It filled him with embarrassment and like he lost his masculinity. But now, he shares his story to help end the stigma.
"I had just played the Super Bowl, I had just won a Grammy," the rapper said while speaking at SurvivorNet's "Close the Gap" conference on racial disparities in healthcare. "One minute, I'm on top of the world. I'm in the best shape of my life and I'm riding high — and then all of the sudden I get diagnosed with cancer … and then reality sets in."
Taboo, whose name is Jaime Luis Gomez, shared how much treatment — surgery to remove the cancer followed by chemotherapy — affected his confidence. "When I lost my right testicle, I lost a piece of that [masculine] strength," he explained.
"I was embarrassed. The doctor was like, well, you don't have a right testicle, but I can give you a fake ball to put in. I was like, I don't want a fake ball," he laughed. "Then I learned how to not be embarrassed. Fortunately, I had my wife and my kids and my bandmates to be able to pick me up — and they gave me that warrior spirit."
Learn more about SurvivorNet's rigorous medical review process.
---