Kareem Adbul-Jabbar Fights to Address Healthcare Inequality
Basketball legend Kareem Adbul-Jabbar is one of the most talented and iconic basketball players in the game's history. He is a six time NBA champion, and a six time MVP.
The athlete has battled prostate cancer and chronic myeloid leukemia. Last year, he opened up to the public about his experience with prostate cancer, and used his platform to draw attention to the effects of structural racism on healthcare in the United States.
Black Americans have the highest cancer death rates of any demographic in the United States, and they are genetically more likely to develop prostate cancer than their white counterparts.
Kareem Abdul-Jabbar is the NBA's all-time leading scorer, and the only player that has ever been named MVP six times. He's also a powerful voice speaking out about healthcare inequality. The basketball star recently created a Substack page where he can write about his interests in sports, politics, pop culture, and social justice. "Its cool because now I have complete independence to talk to my fans directly & no advertisers in between us," he tweeted.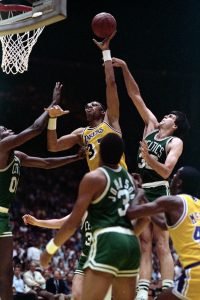 Kareem Abdul-Jabbar reaches for the basket, playing against the Boston Celtics in June, 1985.
Read More
In September 2020, Abdul-Jabbar
opened up about his experience with prostate cancer
, calling attention to the
persistent differences in the ways that people of different races receive treatment
for diseases in the United States. The basketball player feels fortunate that he has been able to persevere in his fight against prostate cancer, but he is open about the way his fame and wealth has enabled him to access superior medical care. "No one wants an NBA legend dying on their watch. Imagine the Yelp reviews," he joked in his piece on WebMD.
The basketball player knows that his experience is not representative of the care experienced by many other Black Americans. "While I'm grateful for my advantages, I'm acutely aware that many others in the Black community do not have the same options and that it is my responsibility to join with those fighting to change that. Because Black lives are at risk. Serious risk," he wrote.
Explaining his reasons for going public in his first television interview about his prostate cancer, Abdul-Jabbar told Good Morning America, "We're at a crossroads here. And people are either going to start taking healthcare seriously and promote it and support it, or people will be struggling. We want to end the struggling." The athlete pointed to the way the pandemic has exacerbated inequalities that were already present as a driving force behind his choice to use his fame to bring attention to racial differences in health and healthcare. Abdul-Jabar has joined a health equity program at UCLA, where he is working to help reach the Black community.
In addition to battling prostate cancer, Abdul-Jabbar fought chronic myeloid leukemia a decade earlier. In 2011, he tweeted that he had beat the disease completely—a statement he later retracted. "You're never really cancer-free and I should have known that," he wrote. "My cancer right now is at an absolute minimum."
In an interview with UCLA, Abdul-Jabbar told the story of how he was diagnosed with leukemia. He first realized something was going wrong after "having a series of night sweats."
"I made some very faulty assumptions about what was causing it," he said. When he brought the issue up to the L.A. Lakers trainer, he was told to go to the doctor and have bloodwork done. He received a phone call the next day saying that his white blood cell count was very high– a possible indication of leukemia.
"I managed to stay positive just because of all the support I've gotten, especially from family," he said. Abdul-Jabbar's son was the first person he called. The basketball star thought that he might only have months to live, but his son calmed him down, saying, "You need to learn everything you can about your condition, and about the kind of leukemia you have, because some of them can be treated." This advice helped Abdul-Jabbar re-focus his energy on educating himself and figuring out everything he could do to put himself in the position to beat his disease. Abdul-Jabbar wants patients to know, "With the help that we have now, we can beat it."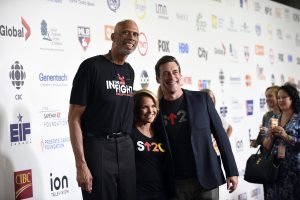 Kareem Abdul-Jabbar poses with Katie Couric and Jon Hamm at the annual Stand Up To Cancer event in 2014.
Racial Disparities in Health Care
Adbul-Jabbar's health troubles have given him an important perspective on the racial inequalities that pervade health care. The risks come "Not just from the diabetes, heart problems, obesity, and cancer that we as a group are prone to," he wrote, "But from a wide spectrum of health threats built into the foundation of American society." The COVID-19 pandemic, he wrote, has only made this inequality even more painfully obvious.
When it comes to prostate cancer, African-American men tend to have higher incidences and more aggressive cancers than white men.
The basketball player's critique pointed out how little attention these issues receive otherwise, and how pervasive structural racism harms people of color from all angles. From hiring discrimination to a lack of access to quality food, people of color are systematically disadvantaged in a way that ultimately puts their health and safety at risk. When a health crisis like the pandemic comes along, it is easy to see how the accumulation of all of these disadvantages leaves Black and Brown people more vulnerable.
Understanding Prostate Cancer
Prostate cancer develops in the walnut-shaped prostate gland, which creates the seminal fluid that transports sperm cells. The disease is the most common type of cancer for men, but many of these cases are very treatable. Prostate cancer patients have a 99% five-year survival rate, and advancements in treatment in recent years have improved patients' lives significantly.
Prostate cancer typically develops slowly, and most guidelines recommend that men without other risk factors begin being screened at age 55 and continue until they are 70 years old. People with other risk factors (including people of color or people with relatives who have had the disease should start screening at young as 40 to 50-years-old. Screening for prostate cancer typically involves a rectal exam and a PSA blood test.
Because so many men who have prostate cancer will not die from the disease, the challenge of when to treat is really complicated.
There is a significant range of treatment options for prostate cancer, and your approach to treatment may look very different depending on when the disease is detected. For some, surgery, radiation, or hormone therapy may be appropriate, but all of these options can come with meaningful side effects. For other patients, "active surveillance"—a process of watching and waiting to make sure that the cancer does not progress too quickly—may be sufficient.
In a previous interview with SurvivorNet, Dr. James Brooks of Stanford Medicine explained that because of advances in screening, more prostate cancer cases are being discovered now than ever. Many of these cases will not be fatal, and active surveillance can preserve sexual and urinary functions that might be disrupted by active treatment. Dr. Brooks noted that about half of men who choose active surveillance will see developments that require treatment within five years, but for the others, watchful waiting can help preserve patients' quality of life and avoid side effects.
Learn more about SurvivorNet's rigorous medical review process.
---