Paying It Forward
Katie Couric, 65, now cancer-free is paying it forward by surprising 111 new moms impacted by breast cancer with free formula for a year.
Couric disclosed her breast cancer diagnosis in a personal essay in September. She underwent a lumpectomy to remove the cancerous tissue and radiation.
All of the women who received the donated formula underwent a mastectomy, according to the CEO of the organic baby formula company Bobbie, which Couric teamed up with to provide the donations.
Mastectomy is the removal of the entire breast during surgery. There are a number of factors to weigh when considering a mastectomy, chief among them is whether breast-conserving surgery (or lumpectomy) is possible.
TV anchor and
breast cancer
 warrior Katie Couric, 65, is giving back in a big way. The former
Today
co-host announced she is providing free formula for a year to 111 new moms impacted by breast cancer.
"One of the reasons I wanted to be public about my diagnosis is I know that I have the capability to influence public health in this country and to educate and inform people and arm them with the knowledge they need to live longer lives," Couric told People, in an interview.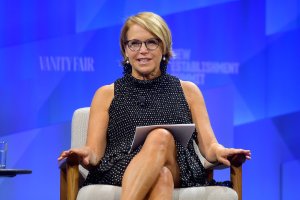 Read More
Couric has joined efforts with organic baby formula company Bobbie and non-profit organization The Breasties, a group of women who support each other through their cancer journeys. For some women baby formula is still hard to get, making this partnership a good communication strategy.
Don't be Afraid to Reach Out to People: Finding an Outlet After Cancer
"And not only is it a huge privilege, but also an enormous responsibility. I was really excited and honored to be a part of this initiative by Bobbie to be able to share some really good news with so many of these women who have been through an awful lot, and not only need emotional support but need financial support as well, some of them," said Couric, who has been deemed cancer-free.
According to Bobbie CEO Laura Modi, all the new mothers sponsored have at least had a mastectomy, which involves removing the breast.
"Currently, there is no public health policy that considers the physical capabilities of mothers when assessing coverage for formula or donor milk. This greatly effects mothers who cannot breastfeed due to breast cancer treatment, so Couric and Modi also are launching a public petition fighting for legislative changes that would create insurance equality and cover formula or donor milk for all parents who have undergone a mastectomy," according to reporting from People.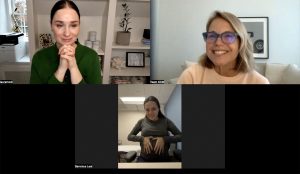 "I think they were just a remarkable group of women," said Couric, who People said, surprised the group with the news of the $25,000 worth of formula over Zoom. "Having children is stressful enough and is a big adjustment and very hard on your body as it is, but [even more difficult] in their situations dealing with cancer diagnoses."
Katie Couric's Breast Cancer Journey
Couric announced her breast cancer diagnosis on Sept. 28 in an essay for Katie Couric Media.
"June 21, 2022, was the first day of summer, my 8th wedding anniversary, and the day I found out I had breast cancer," the essay title reads.
Prior to her diagnosis, Couric revealed she was overdue for a mammogram.
RELATED: Check Out The Brave History Of Cancer Advocacy From Breast Cancer Warrior Katie Couric, 65
"'You're due for a mammogram,' my gynecologist said, looking over my medical chart. It was May; I had just gotten a pap smear and was still sitting on the exam table in my pink cotton (open in the front) gown," Couric wrote. "'That's crazy, I just got one!' I told her, with a hint of indignation."
But much to her dismay, Couric actually hadn't had a mammogram since December 2020.
When Should I Get a Mammogram?
"I'm normally vigilant, bordering on neurotic, about taking care of my health, especially after my husband Jay died of colon cancer in 1998," she wrote. "Had the pandemic given me a skewed sense of time? Had it messed with my memory?"
Following a 3D mammogram, a breast ultrasound and a biopsy, Couric was diagnosed with hormone receptor-positive, Her2neu-negative breast cancer. She's since undergone a lumpectomy and radiation treatment, but she'll need to take an aromatase inhibitor for five years.
RELATED: What is the Type of Breast Cancer Classified As HER2/neu?
Sadly, Couric – like so many others – is no stranger to cancer.
Her mother battled mantle cell non-Hodgkin's lymphoma that was "kept at bay for a decade," her father had prostate cancer that was successfully treated with "radioactive seeds," her mother -in-law died of ovarian cancer, her sister Emily died of pancreatic cancer at 54, her first husband, Jay Monahan, died of colon cancer in 1998 and her current husband, John Molner, 59, had to have a coconut-sized tumor removed from his liver in 2014. Thankfully, Molner remains cancer-free today.
"Given my family's history of cancer, why would I be spared?" she wrote. "My reaction went from 'Why me?' to 'Why not me?'"
RELATED: 5 Critical Lessons From Katie Couric's Breast Cancer Announcement
She seems to be doing well now, but Couric is determined to talk about her cancer journey to help others understand the importance of screening and knowing if you have dense breasts.
"Please get your annual mammogram," she wrote in her essay. "I was six months late this time. I shudder to think what might have happened if I had put it off longer.
"But just as importantly, please find out if you need additional screening."
What Is A Mastectomy?
A mastectomy is the removal of the entire breast during surgery. There are a number of factors to weigh when considering a mastectomy, chief among them is whether breast-conserving surgery (or lumpectomy) is possible, says Dr. Ann Partridge, an oncologist at Dana-Farber Cancer Institute and the founder and director of the Program for Young Women with Breast Cancer.
Your doctor will look at the size and features of your tumor as well as your family history in order to make a recommendation.
When Should You Consider a Mastectomy?
"So when I talk to a woman who comes to me and she has breast cancer, I evaluate what the standard options for treatment for her are, which typically include cutting out the cancer– which is either a lumpectomy if you can get it all with just a little scooping around of the area that's abnormal or a mastectomy for some women meaning taking the full breast because sometimes these lesions can be very extensive in the breast," said Dr. Partridge.
Breast Reconstruction Options
The new moms sponsored to receive the formula had all undergone a mastectomy.
If you've had a mastectomy, breast reconstruction is something to consider. There are several options available. The reconstruction process can happen at the time of the surgery to remove the breast, or later on in the case of implants. Some women opt for no reconstruction initially, but decide later on that they want reconstruction to restore a sense of self, or simply get back to they way they used to look, says Dr. Andrea Pusic, the chief of Plastic and Reconstructive Surgery at Brigham Health, in a previous SurvivorNet interview.
Breast Reconstruction: Implants vs. Your Own Tissue
"It's an intensely personal choice, and the surgery options do give a very real and natural look of breasts," she said. "The first option of using your own tissue is performed at the same time as the mastectomy. This involves taking tissue from your lower abdomen and implanting it into the chest. New connections for blood flow are devised and the end result is quite natural.  The lower abdomen will have a scar from hip to hip, it's much like a tummy tuck only the fat removed has now been formed into a mound to create the new breast. This is a long (eight hour) surgery, and the hospital stay is three to five days. You will leave the hospital with drains and will need at-home care until the drains are removed. If you are having radiation, this surgery is probably not available as the skin has to be in good condition. It would be done after you have healed."
"The second option is breast implants. This too can be done at the time of the breast surgery or completed later on. It involves implanting an expander that will be filled over several months with fluid, which will expand the chest tissue. Once the correct size is attained, a final implant of either saline or silicone is implanted," said Dr. Pusic.
Contributor: SurvivorNet Staff
Learn more about SurvivorNet's rigorous medical review process.
---