Fighting for a Cure
Metastatic breast cancer thriver Tami Eagle Bowling has a mission: to raise more awareness and fund more research for stage 4 breast cancer patients.
During Light Up MBC Live, there will be a tribute to Nightbirde, the late America's Got Talent who lost her fight with the disease after inspiring millions around the world with her courage and talent.
By raising awareness that young women like Nightbirde can get an advanced stage cancer diagnosis, we can inspire more people to fight back when they feel like they're not being heard due to their young age. Too many young women are ignored by medical professionals, even when presenting a lump.
Metastatic breast cancer thriver Tami Eagle Bowling has a mission: to raise awareness and funds for stage 4 breast cancer patients.
As creator and co-host of Light Up MBC Live, a global event live-streamed on metastatic breast cancer survivor day, that is exactly what the former publisher and mother-of-two is doing, with a little help from celebrities like superstar Lionel Richie, breast cancer survivor Mathew Knowles, and Anne with an 'E' actress Miranda McKeon.
Read More
There will be a special tribute to
Nightbirde
, the
America's Got Talent
sensation who won over millions of hearts around the world with her song and her fight, which she tragically lost in February at age 31. On October 13, 175 landmarks across the 50 United States, along with cities in Canada and Ireland, will light up world-renown places like One World Trade Center, Niagara Falls, and the Rock & Roll Hall of Fame, with colors of pink, teal, and green. The three colors—created and trademarked by METavivor—symbolize hope, immortality, healing, and spirituality for people living with advanced stage breast cancer.
View this post on Instagram
Too often, Tami says, the emphasis and funds are placed on early-stage breast cancer patients and research, with many patients living with this incurable disease left feeling helpless. Furthermore, pink October leaves some thrivers with mixed feelings.
Related: 'Pink is Not a Cure': Some Breast Cancer Survivors Say 'Pink' Doesn't Represent Them
As the campaign states, "pink alone does not resonate with the advanced stage MBC community." While it is wonderful to support breast cancer and wear pink every October, there are over 685,000 people dying from advanced stage breast cancer who need more hope.
View this post on Instagram
Women like model and actress Philecia La'Bounty, who is also involved with the event, have felt "failed by the system," denied testing due to their young age. La'Bounty was denied a mammogram at 30 after finding a lump. Meanwhile, she had breast cancer that had metastasized.
Now, she is another powerful voice in the community.
Remembering Nightbirde
America's Got Talent star Nightbirde melted hearts all over the world with her beautiful voice and infectious spirit as she battled stage 4 cancer bravely until the end.
The singer songwriter, born Jane Marczewski, lost her fight in February at 31 years old. Witnessing how much of an impact the young woman had on the entire world—with nearly 44 million views to date on her AGT debut—Nightbirde's family vowed to keep releasing her music.
View this post on Instagram
Nightbirde began her battle with breast cancer in 2017 when a 4-centimeter tumor was discovered in her breast. She underwent six rounds of chemotherapy and a double mastectomy — a surgery to remove the breasts — for treatment.
But her world turned upside down on New Year's Eve (which was also her birthday) in 2019; she was diagnosed with stage 4 breast cancer. Her doctors discovered multiple tumors on her liver, lungs, lymph nodes, ribs and spine. She was told she had three to six months to live, but the fighter surprised doctors with her strength.
Breast cancer is the most common cancer among women in the United States, according to the U.S. Centers for Disease Control and Prevention. The CDC also reports that breast cancer mostly occurs among older women, but it is possible for women under the age of 45 — like Nightbirde — to be diagnosed with this type of cancer.
Aggressive Breast Cancer in Young Women
In fact, about 9% of all new breast cancer cases in the U.S. are found in women younger than 45. Nightbirde was one of those young women; when she was diagnosed with stage 4 cancer, she was just 29 years old.
In some ways, a breast cancer diagnosis for a younger woman can often be even more devastating, Dr. Ann Partridge, an oncologist at Dana-Farber Cancer Institute in Boston, told SurvivorNet during a previous interview. This is because the cancer is likely to be a more aggressive form of the disease and also at an advanced stage (like Nightbirde's), as screening for younger women is not standard.
Related: Young Mom Told Multiple Times She Had 'Breast Inflammation:' It Turned Out To Be Cancer
"Young women are more likely to be diagnosed with breast cancer that is more aggressive," Partridge said. "Their disease is more likely to be of the subtypes of breast cancer, because breast cancer isn't one disease — the ones that are more aggressive and tend to be what we call a greater stage. That is, they're more likely to have bigger tumors and more likely to have lymph node involvement at diagnosis than older women."
Tami Eagle Bowling's Story
Tami Eagle Bowling, who has had a longtime career in publishing working for outlets such as Marie Claire and Teen Vogue, was diagnosed with metastatic breast cancer at age 41 when her children were just two and four years old.
She had no history of breast cancer in her family.
After doctors found some "concerning spots" in her left breast and one of her lymph nodes, Bowling received the gut-wrenching news that all spots were malignant; it was cancer.
Related: Handling Fear When You Get the Diagnosis
"It took me a little bit to digest that, and then I thought, 'you know what, I don't need my boobs, I don't need my hair,'" Tami told SurvivorNet of her attitude soon after her early-stage diagnosis—and her surgery was scheduled.
Then she had a PET scan to scan her body for cancer. Like many patients, she had no idea that breast cancer could even spread, but tragically, the exam "lit up" in her liver.
"'This means you have stage 4 cancer,'" Tami relayed of what her doctor told her. They explained that she probably had two or three years left, yet they were WRONG. Tami has been living with the disease for seven years, and so are so many other women. While the loss in the community is great, more and more women are living for many years beyond what they are told.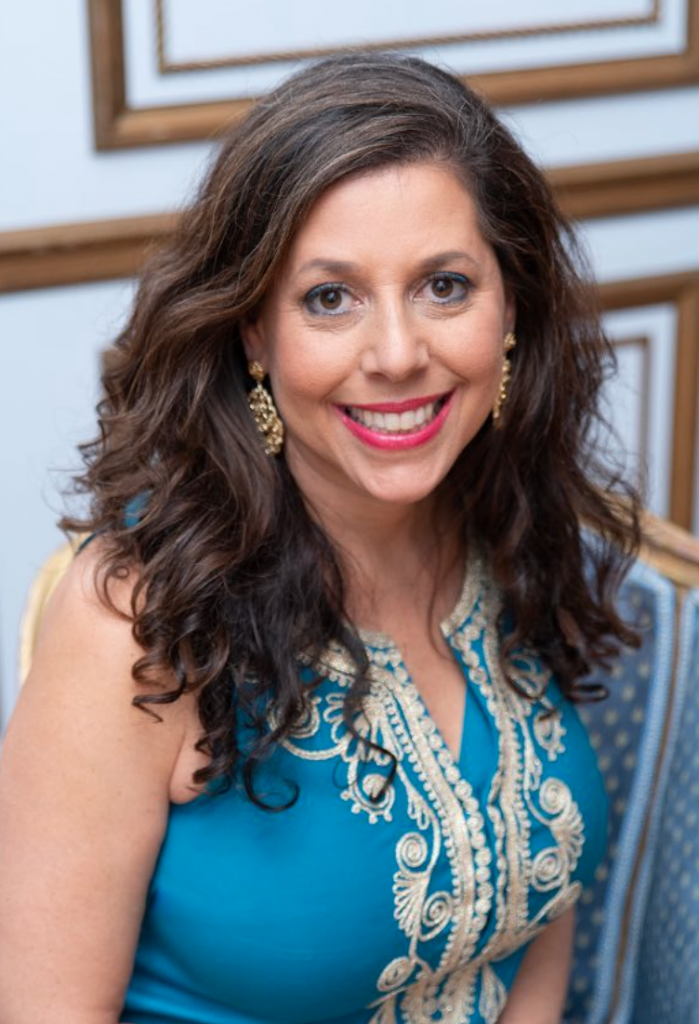 However, like most parents hearing the news they have cancer, the first thing Tami thought of was her kids and how she needs to be here for them.
Related: Telling Your Kids You Have Cancer: 'When it Comes to Your Kids, You Want to Protect Them'
Two months later, she was asked to speak at an event. Admitting she needed "purpose" to live life with this diagnosis, Tami decided to do everything in her power to raise awareness and "work hard to raise funds for research, to help save the lives of so many people affected by stage 4 breast cancer." Thus, the "Eagle Method" presentation was born.
"I go into different corporations and talk to them about how to overcome adversity, build resilience, and accept the unknown, so that you can live with purpose and make each day meaningful," she describes of her inspirational business, which she started during the mass uncertainty of the pandemic.
Tami started doing more and more speaking engagements—and even won a local humanitarian award—seeing firsthand how she was helping other women. However, with these events, she has also experienced too much loss, losing numerous friends along the way.
"I am constantly reminded to channel my grief toward advocacy, because stage 4 needs more," the national campaign director and producer says firmly.
Related: The Major Change That Every Metastatic Breast Cancer Patient Should Get Tested For– SurvivorNet Adviser Dr. Elizabeth Comen On 'GMA'
Thanks to Tami and artists who have joined the fight, he Light Up MBC virtual event, since its 2020 inception, went from raising $5,000 to over $325,000 last year.
"My story is hopeful because it has been seven years [since my metastatic breast cancer diagnosis], so I want to be a unicorn," Tami adds.
Metastatic Breast Cancer: You Are Not a Statistic
Dr. Kelly Shanahan is the medical director of METUP, an organization committed to changing the landscape of metastatic cancer through direct action. She's also living with metastatic breast cancer, or as she puts it, she's dying for a cure.
Managing Metastatic Breast Cancer
She's seen and heard all the breast cancer statistics, but she doesn't let those numbers control her life. As Dr. Kelly points out, statistics apply to large populations, they don't apply to individuals. She's living beyond the average life expectancy for her cancer; "I might live two months, I might live 25 years. And I'm going for that 25 years," she tells SurvivorNet.
Advocating for metastatic-specific research
As a doctor and a patient, Dr. Shanahan says her greatest hope remains with research, which is why she's an activist for improving clinical trials and an advocate for metastatic-specific research.
"I know that the only thing that is going to save my life and the life of my fellow sisters and brothers with metastatic breast cancer is research," she says.
As a community, we must listen to these women's voices, and do more to help people living with incurable cancer. By raising awareness that young women like Nightbirde can get an advanced stage cancer diagnosis, we can inspire more people to fight back when they feel like they're not being heard, or not being given proper testing when presenting with a lump, as in the case of Philecia La'Bounty.
Voices are stronger in numbers, let's lift them up!
Learn more about SurvivorNet's rigorous medical review process.