Heidi Klum Adores Cancer Caregiver Lily Meola
Lily Meola, 27, acted as cancer caregiver when her mom was diagnosed with cancer, and she blew AGT judges away with her performance on the show.
When acting as caregiver to someone with cancer, be sure to take care of your own mental and physical health, too.
After a cancer-related loss, therapy may help with the grief process.
Lily Meola, 27, is a singer-songwriter who also acted as a cancer caregiver for her mom and she wow-ed
America's Got Talent 
judges, including Heidi Klum, 49, after an incredible performance on the show this week. Her Golden Buzzer-winning act even brought some viewers to tears.
Klum says her "heart was melted" by Meola and her powerful performance of her original song "Daydream," PEOPLE reports. Meola says she wrote the song at a time when life was "beautiful," but then "flipped upside down" after her mother was diagnosed with cancer, and she became her mom's full-time caretaker.
Read More
"I think maybe it was a bit of a blessing because it gave me some extra time to be there for her," Meola she says on the show. "She was my biggest cheerleader," she said of her mother, who lost her battle with cancer.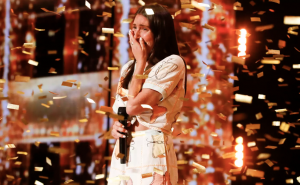 Klum was especially taken with Meola, saying, "After hearing Lily's story about her mom passing and her struggle with it, my heart was already melted. And then she sang and my gut told me, 'She is yours.'…I could not help but take her under my wing."
Meola as Caregiver & Being a Caregiver to Someone with Cancer
When you take on a caregiving role, as Meola did, there's a lot that can fall on your plate. It's important to understand your loved one's diagnosis and help them follow the instructions from the cancer-care team.
"I encourage caregivers to come in to visits with my patients, because in that way, the caregiver is also listening to the recommendations — what should be done in between these visits, any changes in treatment plans, any toxicities [side effects] that we need to look out for, changes in dietary habits, exercise, etc.," Dr. Jayanthi Lea, a gynecologic oncologist at UT Southwestern Medical Center, previously told SurvivorNet.
That being said, it's natural that filling this role can bring up a whole host of emotions. Tom Evans, a pastor of the Brick Presbyterian Church located in the Carnegie Hill neighborhood of New York City, previously spoke with SurvivorNet about the complexity of caregiving.
"When you find yourself suddenly having to care for somebody, to be the primary lifeline for them, you very well could have mixed emotions," he said. "Maybe it's anger. Maybe this person never cared for you in the past, and now you have to do it for them. And maybe you're gonna feel like you're selfish when you need a break."
How to Be a Better Caregiver for Your Loved One with Ovarian Cancer
Coping with Cancer Loss
Meola lost her mom to cancer, and the grief journey is a difficult one. Everyone's journey of grief looks different, but therapy and support groups can also be wonderful options to explore. It's also important to keep in mind that time does not heal everything, but it certainly helps.
In an earlier interview with SurvivorNet, Camila Legaspi shared her own advice on grief after her mother died of breast cancer. For her, therapy made all the difference.
"Therapy saved my life," Legaspi said. "I was dealing with some really intense anxiety and depression at that point. It just changed my life, because I was so drained by all the negativity that was going on. Going to a therapist helped me realize that there was still so much out there for me, that I still had my family, that I still had my siblings."
Legaspi also wanted to remind people that even though it can be an incredibly difficult experience to process, things will get better.
"When you lose someone, it's really, really, really hard," Legaspi said. "I'm so happy that I talked to my therapist. Keep your chin up, and it's going to be OK. No matter what happens, it's going to be OK."
"Therapy Saved My Life": After Losing A Loved One, Don't Be Afraid To Ask For Help
SurvivorNet reporter Abigail Seaberg contributed to this article. 
Learn more about SurvivorNet's rigorous medical review process.