Lindy Thackston Updates Fans on Her Recent Biopsy
Anchor Lindy Thackston is sharing a wonderful update about her recent biopsy results: She is still cancer-free!
Thackston has battled colorectal cancer, which spread to her lung.
Keeping a positive mindset can help a person's cancer battle, says experts, based on anecdotal evidence.
FOX anchor Lindy Thackston, 41, who has battled colorectal cancer, shared some INCREDIBLE news after a recent biopsy. She is 11 months cancer-free! Her biopsy showed that the lesion found on her thyroid was benign, as she'd suspected. This is amazing news for this cancer thriver.
Thackston writes on Twitter on Friday, "The biopsy on the cyst on my thyroid – Benign! 11 months cancer-free! So grateful to be alive and seeing my son in first grade and doing all the little and big things I was afraid I wouldn't. There is always fear, but I am doing better with it. #cancersurvivor"
Read More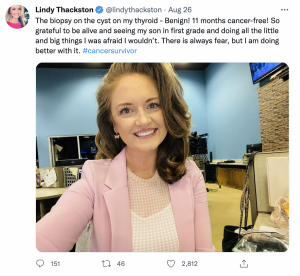 In an earlier post to Instagram, the Indiana-based mom and wife shared her feelings on the biopsy, accompanied by a cute bathroom selfie, "Been hiding this all week! I still have the bruise, but still no results. Ended up having to be put fully under because the biopsy on the (slowly) growing lesion on my thyroid was more complicated to get to than they thought. Still feeling confident it's not malignant."
 

View this post on Instagram

 
Thackston's Cancer Journey
Lindy Thackston was diagnosed with stage 3 colorectal cancer in May 2020. She went public with her diagnosis, as well as her treatment plan, and has continued to share updates with fans and followers. Thackston finished her chemotherapy treatment – she had 10 rounds of chemo – in spring 2021.
Thackston lost her hair while going through her cancer battle, as a result of chemotherapy, and bravely shared her ever-changing look on social media. Sadly, in September 2021, the anchor shared with her fans on Instagram that her cancer had spread to her lung.
"Unfortunately my biopsy came back with the news the colorectal cancer has metastasized to my left lung. I am now technically stage four, but the good news is, my oncologists say it's curable," she said. Thackston had successful surgery on her lung, which led to this current state of being cancer-free.
What To Do When Colon Cancer Spreads to the Liver
Staying Positive Through Health Battles
Focusing on hope and maintaining a positive attitude through a health battle – as Lindy Thackston is clearly doing – can help.
Anecdotal evidence from SurvivorNet experts points to how a positive mindset and gratitude can positively impact a cancer prognosis.
One oncologist at Cedars-Sinai tells SurvivorNet in an earlier interview, "My patients who thrive, even with stage 4 cancer, from the time that they, about a month after they're diagnosed, I kind of am pretty good at seeing who is going to be OK. Now doesn't that mean I'm good at saying that the cancer won't grow," he says.
"But I'm pretty good at telling what kind of patient are going to still have this attitude and probably going to live the longest, even with bad, bad disease. And those are patients who, they have gratitude in life."
Learn more about SurvivorNet's rigorous medical review process.