Lung Cancer: Symptoms & Risks
In 2018, Karen McCarthy was diagnosed with lung cancer and had surgery to remove a small, non-aggressive tumor. She is now urging others to be aware of the symptoms and take action.
Smoking isn't the only cause of lung cancer; other risks could include air pollution, exposure to asbestos, and inhaling poisonous chemicals.
Some symptoms of the disease include constant coughing that becomes painful over time, shortness of breath, and unexplained weight loss.
Karen McCarthy, 66, received a lung cancer diagnosis four years ago—after deciding to see a doctor about a chest infection that lasted approximately two weeks.
"After having a chest infection for more than two weeks, my GP sent me for an x-ray as I was over the age of 60. I was later diagnosed with lung cancer and had surgery to remove part of my right lung which had a small, non-aggressive tumor," McCarthy, of Manchester, England, tells the country's National Health Service (NHS). "It was a scary time but now I feel lucky to be alive."
Read More
RELATED:
Nurse And Mom of Two, 46, Thought Her Lingering Cough Was Long Covid; It Turned Out to be Stage 4 Cancer
According to the NHS, lung cancer is the "biggest cause of cancer deaths in England" and cancer health chiefs are urging the public to seek medical advice if they've had a persistent cough for more than three weeks. Additionally, symptoms such as constant breathlessness or coughing up blood should also be reasons to get checked.
McCarthy notes that although she has since recovered, she feels less energetic when compared to herself before cancer. But she admits being four years older could be the reason behind that.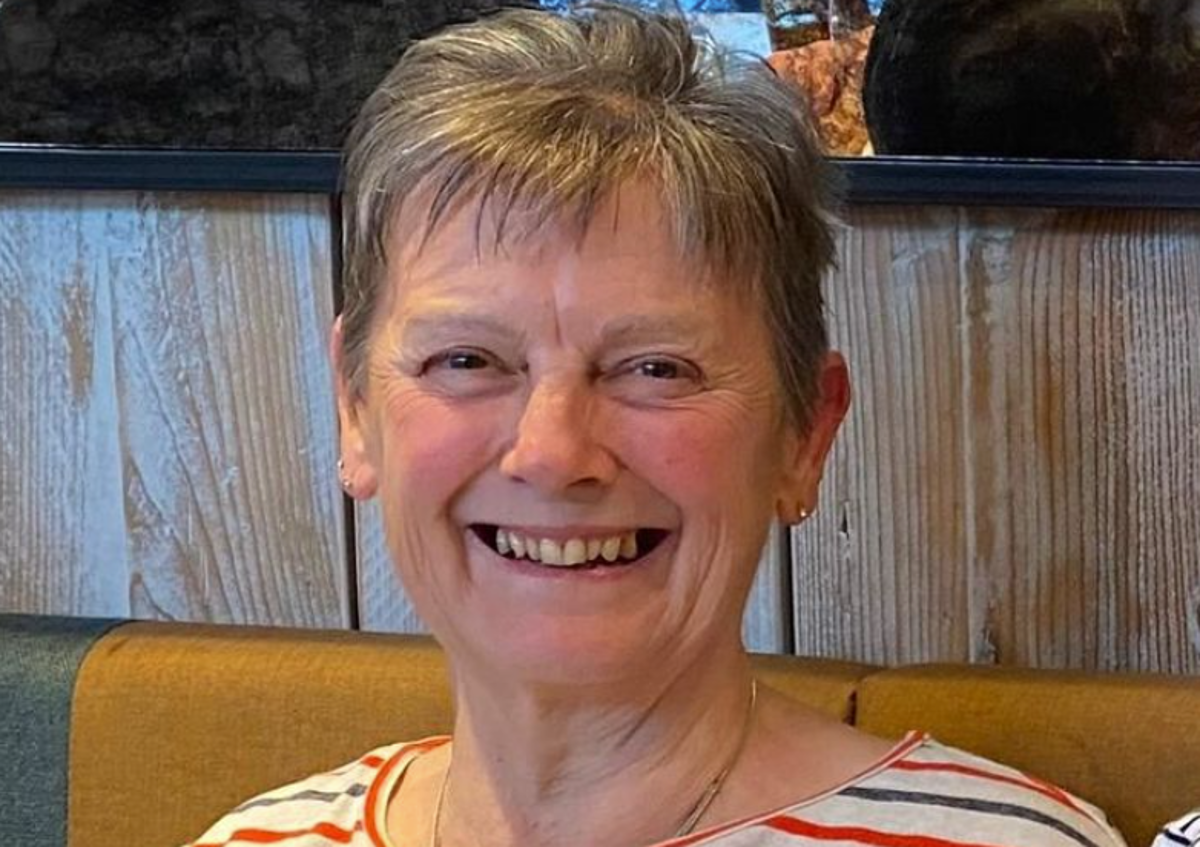 She adds, "I'm extremely grateful to my doctor who sent me for a life-saving lung screening which has allowed me to see the next generations of my family grow up." McCarthy is an aunt to three adult nieces and two adult nephews, and a great aunt to six, according to the Manchester Evening News.
"If you have lungs, you can get lung cancer, even if you're young and don't smoke. It's really important to speak to your GP if you notice any changes to your lungs and breathing, such as a persistent cough," McCarthy concludes. "Being diagnosed early could save your life."
The NHS explains that the North West of England, where McCarthy is from, sees about 8,496 people diagnosed with lung cancer a year. And the NHS 'Help Us, Help You' campaign to raise awareness of lung cancer symptoms will be shared on various digital platforms over the next few months.
RELATED: Doctors Stumped As Mom And Dad Nonsmokers Are BOTH Diagnosed With Lung Cancer Within Months: The Community's Rallying Around Them
Understanding Lung Cancer
There are two main types of lung cancer. And the type of lung cancer a person is diagnosed with will inform their treatment path, as well as the predicted progression of the cancer. The two types of lung cancer are:
Non-small cell lung cancer (NSCLC) is the most common type and makes up about 85% of cases
Small cell lung cancer (SCLC) is less common, but it tends to grow faster than NSCLC and is treated very differently
Lung cancer is a serious cancer, but fewer people annually are getting diagnosed with this disease because of a decline in smoking rates. Additionally, advancements in treatment options exist, too, which means better prognoses for some patients.
RELATED: In Diagnosing Lung Cancer, The Symptoms Often Come Late 
Symptoms of lung cancer typically include:
Sudden and unexplained weight loss
Constant coughing that becomes painful over time
Shortness of breath
Changes in voice or difficulty speaking without getting winded
Pain in the torso, mid- and upper-back, and shoulders
Discoloration or a sudden change in color of mucus and saliva
RELATED: Too Many Cancer Patients Ignoring Serious Life-Threatening Symptoms, Says NYU Oncologist — 'Just Call Us'
What Happens When You've Been Newly Diagnosed With Lung Cancer
Lung Cancer in Non-Smokers
Declining smoking rates have led to an improved outlook for lung cancer since cigarette smoking is the number one risk factor for the disease. In fact, the U.S. Centers for Disease Control & Prevention reports that cigarette smoking is linked to about 80% to 90% of lung cancer deaths, and people who smoke cigarettes are 15 to 30 times more likely to get lung cancer or die from lung cancer than people who don't smoke.
It's important to remember, however, that people who've never smoked before can still get lung cancer. The CDC reports that in the United States, about 10% to 20% of lung cancers, or 20,000 to 40,000 lung cancers each year, happen in people who've never smoked.
"Some lung cancers are from unknown exposure to air pollution, radon or asbestos," Dr. Raja Flores, system chair of thoracic surgery at Mount Sinai, previously told SurvivorNet. "We also see more never-smokers with lung cancer who have a family history of it."
Radon is the second-leading cause of lung cancer. It's responsible for anywhere from 3% to 16% of cancer cases depending on the levels present in a given area, according to the World Health Organization, but smokers are still 25 times more at risk from radon than non-smokers.
RELATED: Oklahoma Woman Battles Lung Cancer for the Fourth Time, Even Though She Never Smoked; Understanding Lung Cancer Risks for Non-Smokers
Another possibility for the cause of lung cancer in a non-smoker can be second-hand smoke. The American Cancer Society estimates that about 7,000 adults die of lung cancer annually from breathing secondhand smoke.
Air pollution, family history, HIV or AIDs can also all impact the chances of a non-smoker getting lung cancer. No matter what, it's important to not rule out the disease just because you don't smoke.
Steps to Take After Lung Cancer Diagnosis
Contributing: SurvivorNet Staff
Learn more about SurvivorNet's rigorous medical review process.
---