Learning About Lung Cancer
Amara Taft, a 42-year-old non-smoker, was diagnosed with lung cancer earlier this year after suffering a seizure while exercising and experiencing severe migraines. Doctors discovered five cancerous masses in her brain, all of which were tumors that started out as cancer in her lungs.
Lung cancer is the second most common type of cancer and it can develop in both smokers and non-smokers, but people who smoke cigarettes are 15 to 30 times more likely to get lung cancer or die from lung cancer than people who don't smoke.
Still, the CDC reports that about 10 to 20 percent of lung cancers in the United States, or 20,000 to 40,000 lung cancers each year, happen in people who've never smoked.
Amara Taft was diagnosed with lung cancer earlier this year after suffering a seizure while exercising and experiencing severe migraines. After undergoing testing, doctors discovered five cancerous masses in her brain, all of which were tumors that started out as cancer in her lungs.
The 42-year-old mother of two and non-smoker, from Worchestershire, England, learned she had small cell and non-small cell lung carcinoma on May 12 of this year.
Read More
"In the middle of March I was exercising and I had a ­seizure. My husband witnessed it and it was scary. And sometimes during exercise, the left side of my body would start moving to the left on its own and I felt like I couldn't control it," said Taft, who felt as if the left side of her
body was feeling weaker
, according to
The Mirror
. In addition to experiencing weakness, Taft was dealing with excruciating headaches. "I was trying to get my daughters ready to go to ­nursery and I was sitting on the floor of the room crying because my head hurt so much," she recounted. "I was clumsier and my hands felt less coordinated."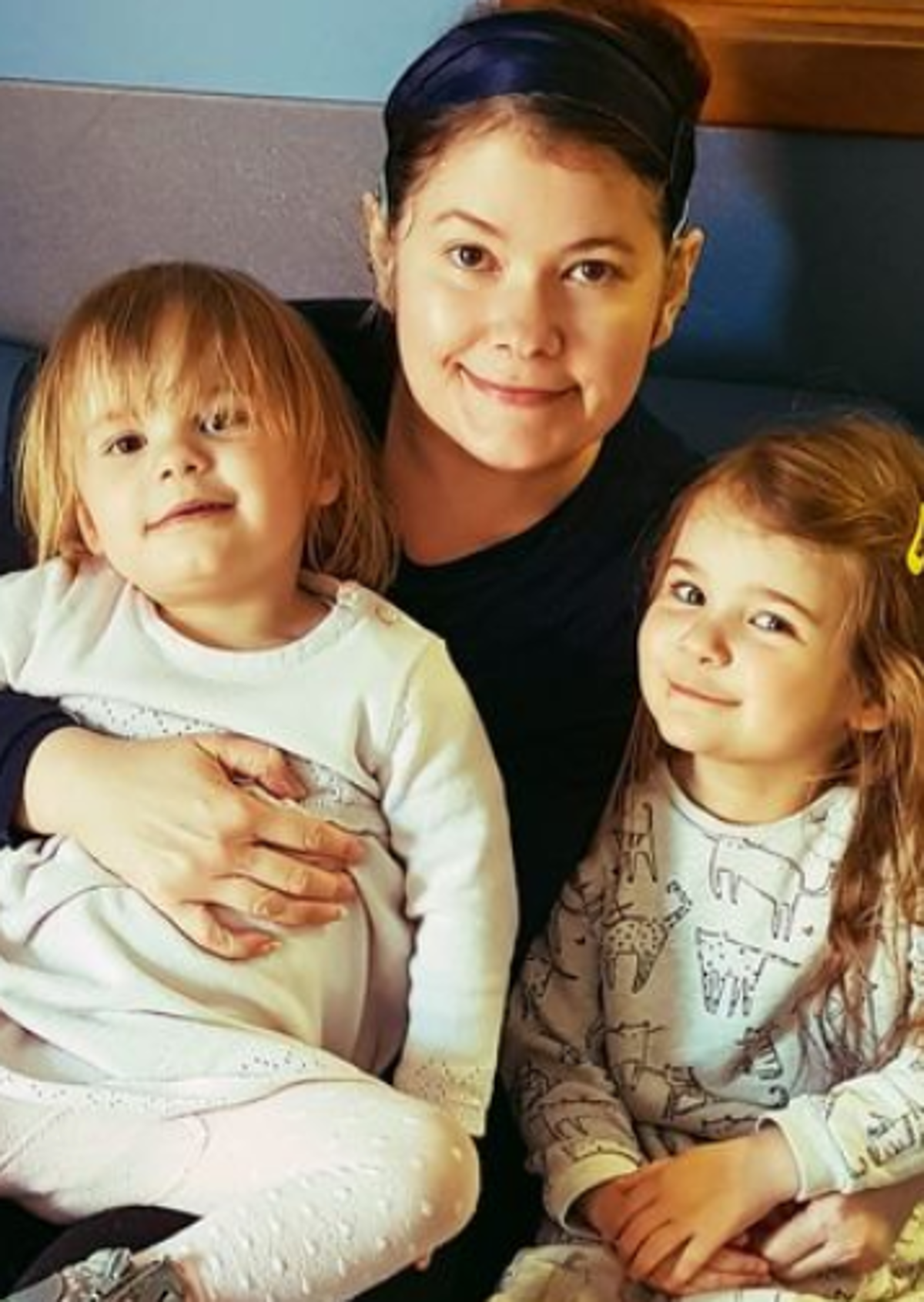 A CT scan later revealed large brain lesions which were confirmed to be cancer.
"They found it in enlarged lymph nodes inside my lungs. I don't have any tumors or ­lesions in my lungs themselves. It only created them in my brain. Having never smoked a day in my life, a lung cancer diagnosis came as a huge shock," Taft, who was 41 and considered "healthy otherwise" at the time of her diagnosis, said. "Six neurosurgeon teams across the UK met and concluded that the five brain tumors, the biggest measuring 4.5cm, originated from the cancer in my lungs and are malignant."
Doctors told her she had stage 4 cancer, about a year to live with treatment, and that chemotherapy was the only form of treatment she could receive as the tumors couldn't be treated directly.
Her chemotherapy treatments eventually needed to be stopped as they caused her to develop ­pericarditis (a heart condition) and sepsis.
"Two months had passed by the time I was able to resume, but my body had become resistant to chemo," she explained, noting that a full brain radio­therapy become her only treatment option. "If my tumors respond and shrink, they may become responsive to chemo again. And if chemo works this time, I might be able to have immunotherapy."
"But these are very big 'ifs'. At the ­moment, doctors are telling me radiotherapy will buy me one last year of life," she added.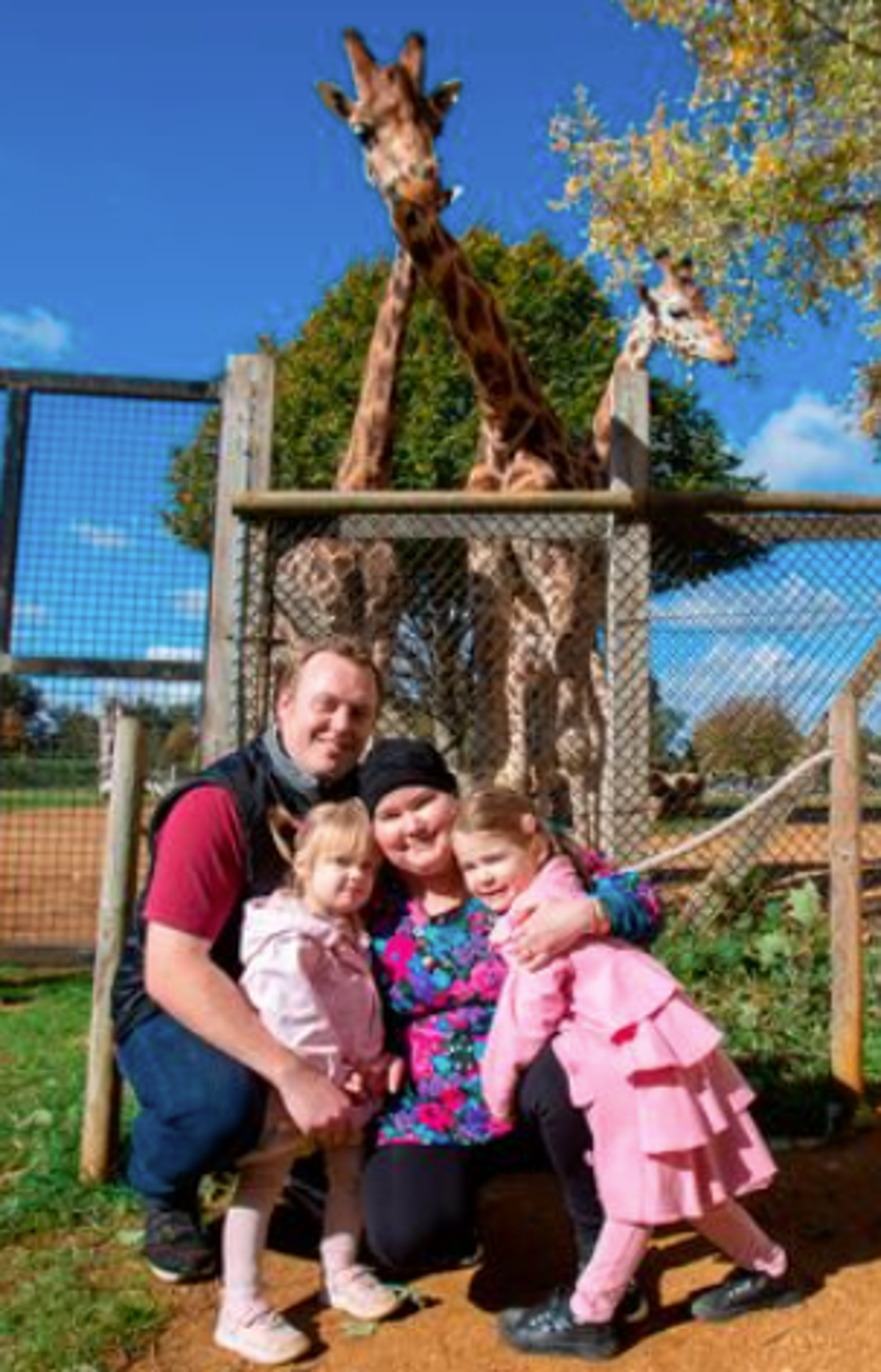 RELATED: Mom, 49, Was Told Her Persistent Cough, Shortness Of Breath Were 'Chest Infections' After MULTIPLE Doctor Trips: It Was Cancer
Taft, who now wants to spend as much time as possible with her 31-year-old husband Jack, four-year-old daughter Chloe, and soon-to-be three-year-old daughter Nina, continues to maintain positivity and fight for her life during her battle with cancer.
"I want to believe there is hope. But it's hard when you have an oncologist telling you that your time is going to be up in a year," she said. "I need to fight to have as much time with my girls as I can. Another year could be the difference between them remembering me or not. I can't imagine trying to grieve for a mother you have no memory of."
She is hoping to raise about $32,000 through a GoFundMe she created to help pay her medical bills and raise enough to take her husband and two daughters on a trip to Disney World in Florida.
In an October 12 update on her GoFundMe page, Taft said she's completed her 10 full brain radiotherapy sessions with minimal side effects.
"I also had an appointment with my oncologist yesterday and he said that the new plan for treatment is I'll receive two rounds of chemotherapy and then I've been approved to receive immunotherapy with the new drug Atezolizumab (aka Tecentriq) afterward," she wrote. "This plan will address both the small and non-small cancer cells."
She continued," This is fantastic news because at the start of this immunotherapy was completely off the table and it's difficult to have it approved within the NHS. While immunotherapy can be more unpredictable, If it does work it could add years to my life. I'm now allowed to come off the corticosteroids too so they won't be suppressing my immune system anymore and in six weeks I should look like a normal person again."
Understanding Lung Cancer
Lung cancer, the second most common type of cancer, is the leading cause of cancer deaths for men and women in the United States. Diagnosis and treatment of the disease can be tricky since symptoms often don't appear until the cancer has spread.
An initial symptom, for example, could be as serious as a seizure if the lung cancer has already spread to the brain. But other symptoms can include increased coughing, chest pain, unexplained weight loss, shortness of breath, wheezing, losing your voice or persistent infections like bronchitis or pneumonia.
The two main types of lung cancer are non-small cell, which makes up 85 percent of cases, and small-cell. These types act differently and, accordingly, require different types of treatment.
Dr. Patrick Forde, a thoracic oncologist at Johns Hopkins Medicine, tells SurvivorNet about how distinguishing between the two types – and their subtypes – can be very beneficial.
What Happens When You've Been Newly Diagnosed With Lung Cancer
"Within that non-small cell category, there's a subtype called non-squamous adenocarcinoma, and that's the group of patients for whom genetic testing is very important on the tumor," he explains. "Genetic testing is looking for mutations in the DNA, in the tumor, which are not present in your normal DNA."
Lung Cancer for Non-Smokers
Declining smoking rates have led to an improved outlook for lung cancer since cigarette smoking is the number one risk factor for the disease. In fact, the Centers for Disease Control & Prevention states that cigarette smoking is linked to about 80 to 90 percent of lung cancer deaths, and people who smoke cigarettes are 15 to 30 times more likely to get lung cancer or die from lung cancer than people who don't smoke.
It's important to remember, however, that even people who've never smoked before can still get lung cancer. The CDC reports that, in the United States, about 10 to 20 percent of lung cancers, or 20,000 to 40,000 lung cancers each year, happen in people who've never smoked.
RELATED: 87% of Eligible People Skipped Lung Cancer Screening, Analysis Finds; Knowing the Importance of Lung Cancer Screenings
"Some lung cancers are from unknown exposure to air pollution, radon, or asbestos," Dr. Raja Flores, system chair of thoracic surgery at Mount Sinai previously told SurvivorNet in a previous interview. "We also see more never-smokers with lung cancer who have a family history of it."
Radon is the second-leading cause of lung cancer. It's responsible for anywhere from 3 to 16 percent of cancer cases depending on the levels present in a given area, according to the World Health Organization, but smokers are still 25 times more at risk from radon than non-smokers.
Another possibility for the cause of lung cancer in a non-smoker can be second-hand smoke. The American Cancer Society estimates that about 7,000 adults die of lung cancer annually from breathing secondhand smoke.
Air pollution, family history, HIV or AIDs can also all impact the chances of a non-smoker getting lung cancer. No matter what, it's important to not rule out the disease just because you don't smoke – a fact that Donna Hunting knows all too well.
Just like Taft, Hunting was a non-smoker when she was diagnosed with lung cancer. But the active 54-year-old's cancer had progressed further given that she had stage four non-small cell lung cancer.
If You Have Lungs, You Can Get Lung Cancer — Survivor Donna Hunting Shares Her Story
"That day was shattering to my family and to me," she previously told SurvivorNet. "It's not a smokers' disease. If you have lungs, you can get lung cancer."
Fortunately for Hunting, testing revealed that her tumors had a mutation in a specific gene called EGFR. This meant that doctors were able to give her a pill to block those mutations and effectively rid her body of the disease.
"After 50 days, miraculously, my PET scan showed no evidence of disease," she said.
Hunting took the drug for over a year, until it stopped working as well. Now she's on a different daily medication, but – thanks to advancements in treatment – she's able to live with the disease.
"Cancer is a part of my life now, but it isn't my whole life. I'm not letting cancer define me," Hunting said.
Contributing: SurvivorNet Staff
Learn more about SurvivorNet's rigorous medical review process.
---