Forgiveness Is Key for Mental Health
According to a new Harvard study, forgiveness — something actor Matthew McConaughey knows all too well — can significantly help improve your mental health.
 McConaughey previously forgave his estranged mom Mary Kathlene "Kay" McCabe years after they had a falling out and became estranged for eight years.
It's really important to keep tabs on your mental health and, if necessary, seek treatment.
This doesn't necessarily mean traditional therapy because while it may be really helpful (even life-changing) for some, that doesn't mean it's for everyone.
Whether you're living with cancer, going through a major life change, or simply having a disagreement with a loved one, emotions will certainly run high as you cope with the stressors that may accompany these life events. And this can create rifts in what were once loving relationships.
Now it seems practicing forgiveness is good for more than the relationship – can help improve your mental health and overall quality of life. Actor Matthew McConaughey's relationship with his once-estranged mom is proof of this.
Read More
According to a
new study
, an international research team from the Harvard T.H. Chan School of Public Health found that people who had been hurt or offended by someone else and then worked on forgiving that person had reported improved mental health. The researchers studied more than 4,500 adults, from Colombia, Hong Kong, Indonesia, South Africa, and Ukraine, by having them complete "self-directed exercises in a forgiveness workbook." Overall, participants were said to have reduced symptoms of depression and anxiety just two weeks after starting the workbook, in comparison to those who didn't receive the workbooks.
The study states: "A brief self-directed workbook intervention was effective at promoting forgiveness and reducing depression and anxiety symptoms and could be used as a supplemental therapeutic and preventative approach to improve global mental health."
This study appears to hold true in the case of actor Matthew McConaughey, who had forgiven his estranged mom Mary Kathlene "Kay" McCabe years after they had a falling out.
The 53-year-old Texan, known for his roles in "Interstellar" and "How to Lose a Guy in 10 Days," opened up on "The Howard Stern Show" back in 2020 on why he didn't speak to his mom for eight years.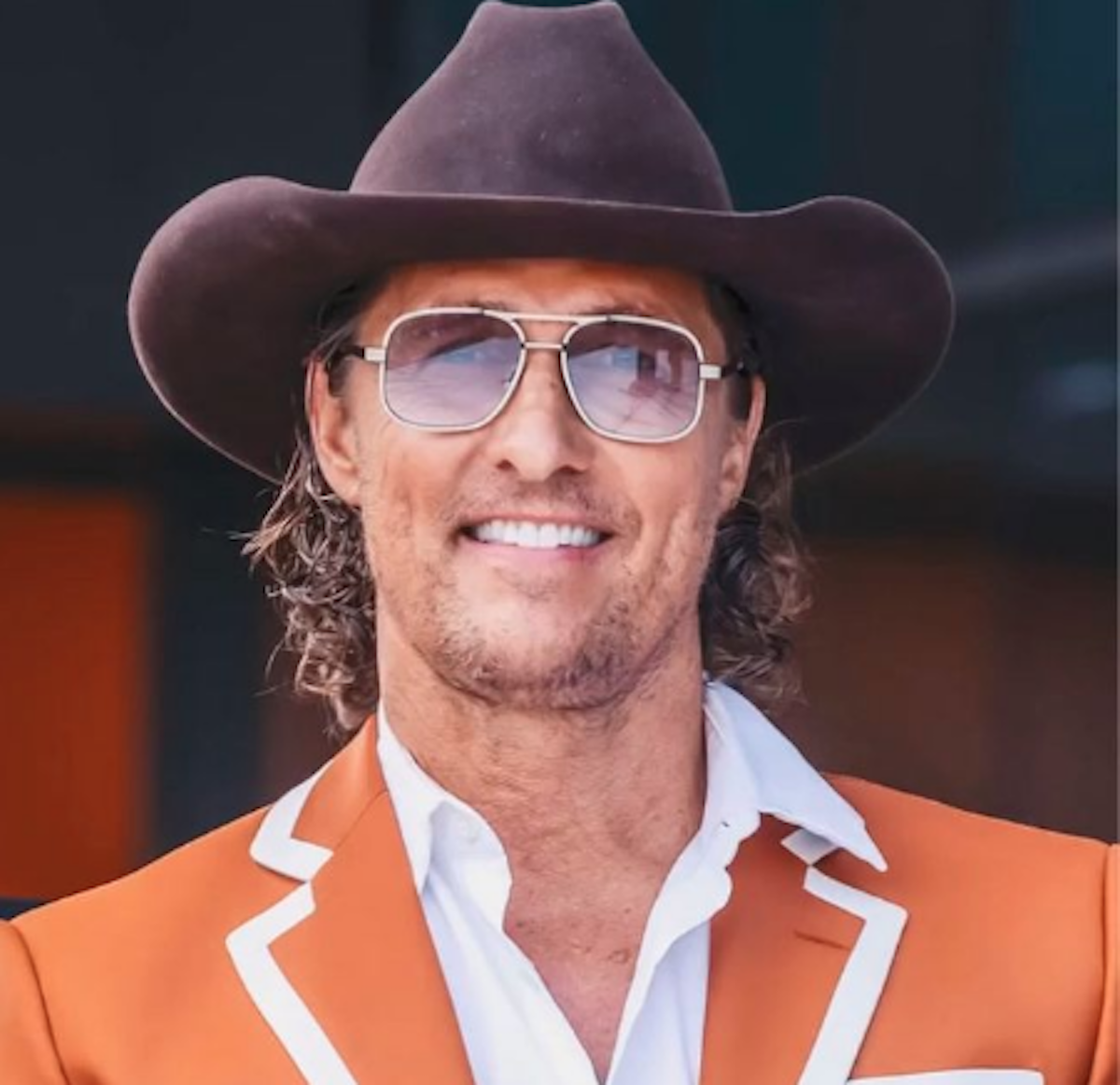 "I was calling my mom at that time after I'd gotten famous, needing to talk to my mom," he said told Howard Stern, noting he was in search of his mom's support while feeling a "little unbalanced" with his success.
McConaughey explained, "And my mom was not the only one on the phone. The woman that was on the phone was a fan. Of my fame."
"And so I would have conversations and all of a sudden, whoop, what we talked about shows up in the paper three days later," he continued. "I was like, 'Mom, that was between us.' … Loose lips can sink my ship."
He also recounted his mom giving someone a nationally-televised tour of his childhood home, which prompted him to talk to her less.
"So we went through a time where I didn't really share much with her," McConaughey said. "She was always still my mom but she became a different person.
"Look, nobody is perfect. This was something that was out of the realm of any relationship my mother has ever had."
McConaughey has since forgiven his mom, insisting it all "wasn't her fault."
He explained, "I mean, I just had to make some boundaries and it was a strenuous relationship for eight years."
"We're back completely now. Once I got my career sort of stable and fell to my feet, I let go of the reins and said, 'Go get it, Mom. Whatever you want. There's the camera.'"
"It was tough for eight years, but we went through it and we're on the other side of it. It's good," the Oscar winner concluded.
Kay is now 91 and has been living with McConaughey, along with his wife Camila Alves McConaughey and their three children, have been living with her since the start of the Covid pandemic.
Earlier this year, McConaughey's loving mom took to his wife's Instagram to leave a message.
She said, "I wanted to tell people about a saying that I said to my three boys over the years. It's, 'Are you going to see the rose in the vase or the dust on the table?'"
"I had said it so many times that Matthew, my son, made a frame, a really, really, really big frame, and he put on it, 'Are you going to see the rose in the vase or the dust on the table?' And then he put a mirror in the frame, and it's in my house and so every time I go down the hall, I have to have a look at myself and see it," Kay said.
"So that is a thought for the day for you. It is so easy to make that your thought. Doesn't just have to be today."
It's great to see McConaughy's mom doing so well as she ages, especially with her son's continued support, even after 8 years of being estranged.
Mental Health: The Basics
The term mental health refers to both our emotional and psychological well-being. Our mental health can affect how we think, feel, and behave.
RELATED: Be Kind to Yourself — We All Need the Reminder
Certain triggers like stress, traumatic events, change in your physical health, or even a major disagreement with a family member, as McConaughey dealt with, can affect mental health.
It's really important to keep tabs on your mental health and, if necessary, seek treatment. This doesn't necessarily mean traditional therapy because while it may be really helpful (even life-changing) for some, that doesn't mean it's for everyone.
Problems with mood and overall mental well-being can be attributed to several factors. For some people, it's genetic, while others may be experiencing a response to some sort of stressor or past trauma.
How To Be 'Realistically Optimistic' When Learning To Cope With Mental Health Struggles
In order to keep your mental health in check, it's important to be aware of signs — which can be subtle — that there is something affecting your mind. These signs include:
A change in eating or sleeping habits
Losing interest in people or usual activities
Experiencing little or no energy
Numb and/or hopeless feelings
Turning to drinking or drugs more than usual
Non-typical angry, upset, or on-edge feelings
Yelling/fighting with loved ones
Experiencing mood swings
Intrusive thoughts
Trouble getting through daily tasks
RELATED: SurvivorNetTV Presents: 'True North' — A Story of Formidable Obstacles and Unwavering Determination
These symptoms can be wide-ranging and vary a great deal from person to person. Everyone experiences grief differently, for example. However, if you are feeling unusually sad, on edge, or like you're no longer interested in activities you used to love, know that there are many treatment options available and many different healthy ways to help you cope.
Vulnerability & Learning Acceptance
For some people, mental health struggles may manifest themselves as feelings of anger. Dr. William Breitbart, chair of the Department of Psychiatry and Behavioral Sciences at Memorial Sloan Kettering Cancer Center, says that anger is to go-to response for some when they feel they have fallen short, or will fall short, of some life goal.
Dealing With Feelings Of Anger And Frustration
This anger and frustration may arise from a new challenge, a perceived failure, or just general feelings of hopelessness. Dr. Breitbart explained that one way professionals can help those dealing with these feelings is to encourage them to accept themselves the way they are — only human.
"The last resort of relieving existential guilt is this act of being able to forgive yourself for being a human being that is vulnerable and susceptible to not being able to fulfill their full potential. So, it's forgiveness ultimately," he explains.
Mindfulness & Meditation
For some people, learning how to slow life down and live in a certain moment can have great benefits for mental health. Mindfulness is the feeling of being fully present in the moment. And when it comes to meditation, there's a great deal of scientific research that shows it can be really helpful for people facing some sort of challenge.
Acclaimed author and pioneer of the mindfulness movement Deepak Chopra told SurvivorNet in a previous conversation that a big step in taking charge of mental health is understanding what stress does to our bodies.
"Stress is nothing other than the perception of threats," Dr. Chopra said. "Whether it's real or imagined doesn't matter. You perceived stress emotionally or you imagine a super stressful, threatening situation — it doesn't matter. It will create the same biological responses, compromising your immune system to basically offset its fine-tuning and also increasing inflammation."
Recognizing where this stress comes from can help in the healing process for some.
Dr. Marianna Strongin Explains How Patients Can Learn To Cope With Their Anxieties 
Clinical psychologist Dr. Marianna Strongin told SurvivorNet that sometimes, anxiety is caused by questions we ask ourselves and feel, or fear, we don't have the answers to. If you are really struggling, a therapist may be able to help you find answers to your internal questions, and learn tactics to cope with the ones you can't answer.
"How often are you checking in with your anxiety?" Dr. Strongin asked. "Where do you feel it in your body? And what are the questions that it's asking you? Is it asking you, is everything going to be OK? What's happening? Will I survive? Now, the second most important thing is, are you providing it some answers? The answers are our coping skills."
When a stressful life event occurs, people may react with a range of different (and quickly changing) emotions – which is completely normal.
"The way people respond is very variable," Psychiatrist Dr. Lori Plutchik tells SurvivorNet. "Very much consistent with how they respond to stresses and challenges in their life in general."
"People have a range of emotions when they're diagnosed with cancer," Dr. Plutchik explains. "And they can include fear, anger … and these emotions tend to be fluid. They can recede and return based on where someone is in the process. Going through a cancer diagnosis is just the beginning of a complicated, complicated process."
Dr. Plutchik explains that the patient, or person going through a stressful event, should accept that emotions will be fluid. You may feel fine one day and then feel a massive wave of stress the next. It's also important for those you look to for support — whether that's a therapist, friends and family, or both — to understand the fluidity of stress-related emotions.
If a stressful event is affecting how you think and feel, it may be time to seek some sort of mental health treatment. This could mean traditional talk therapy, medication, changing lifestyle habits (like exercise and diet), seeking out a support group, or many other approaches.
Questions to Ask Your Doctor
What can I do if my emotions begin to feel overwhelming?
Are there approaches that don't involve traditional therapy?
Should I consider medication such as antidepressants?
What are the potential side effects should I decide to begin medication?
How Talk Therapy Can Help Patients Dealing With Grief
Contributing: SurvivorNet Staff
Learn more about SurvivorNet's rigorous medical review process.
---