Disparities in Access to Cancer Care
Disparities persist in the health care system
Some groups, including Black, LGBTQ, or immigrant patients, may not have access to affordable care
Transportation to medical appointments may also be a problem
Patients can benefit from interventions such as financial counseling, social workers, and transportation assistance
Inequalities persist in the American health care system, especially when it comes to treating cancer. Black, LGBTQ, and immigrant patients may not have access to the same level of care as women in other groups. Some hospitals are working to reduce these disparities, and ensure that every woman with ovarian cancer has equal access to the treatment they need to live longer, healthier lives.
Racial Inequalities in Cancer Care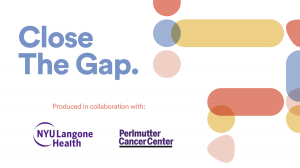 Read More
SurvivorNet and NYU Langone Health's Perlmutter Cancer Center are collaborating to help close the racial gap in cancer prevention, cancer care, and survival rates.
African Americans have the lowest survival rates for most cancers when compared to other racial and ethnic groups. For example, among men, the overall cancer death rate was 19% higher for Black men than white men, according to data compiled by the American Cancer Society in 2016. For Black women, the death rate was 13% higher compared with other groups.
When it comes to ovarian cancer, differences exist between Black and white women. Even though Black women are less likely to be diagnosed with the disease, they are more likely to die from it. Black women are also less likely to receive cancer care that follows treatment guidelines, according to research.
Serving the Community
One reason for the differences in care is socioeconomic–the inability to pay for treatment. The MetroHealth System in Cleveland, Ohio is one of many hospitals around the country known as "safety net hospitals." This means that any patient who walks through the door will be cared for, regardless of whether they have insurance or are able to pay for medical care.
"It's a very special patient population that we care for at Metro," says Dr. Kimberly Resnick, gynecologic oncologist at MetroHealth. "And it's a mission that all of the doctors at Metro take very seriously."
Lack of Access to Care
Unfortunately, a large number of the patients that safety net hospitals treat are underserved, including those with ovarian cancer. What this means is that, for one reason or another, they've been disenfranchised from the medical system.
While there are many reasons for this, one explanation is that patients may not have access to care. They may lack transportation, and therefore have no way to get to the hospital or clinic. They may be worried about the basic necessities of life, such as having a place to live, having enough food, or being able to take care of their children. "Unfortunately, care for their cancer may be way down on the list of things that they're concerned about," says Dr. Resnick.
Other Underserved Groups
Black Americans are just one of several special populations who may have more difficulty receiving the cancer care they need. Another is the lesbian, gay, bisexual, transgender/transsexual, and queer/questioning (LGBTQ) community. Research shows that LGBTQ patients face barriers like access to health insurance, as well as negative attitudes and a lack of understanding about their health care needs from the providers who treat them.
Immigrant patients may have more trouble understanding their diagnosis and treatment plans due to the language barrier, as well as because of cultural differences. Hospitals like MetroHealth provide translation services to ensure that every patient is heard in their own language, says Dr. Resnick.
Another group of people with unique medical concerns are veterans. While the majority of people who receive care from the Veterans Affairs (VA) Health Care System are men, female veterans are the fastest growing segment of VA users–and they have unique needs. A large number of veterans receive care at Metro, in conjunction with the VA. "We are very proud of the relationship that we have with the Cleveland VA in caring for these women," says Dr. Resnick.
Special Services
Hospitals like MetroHealth offer a variety of services to help patients in underserved groups get better access to health care. For example, social workers can help them figure out insurance benefits, provide financial counseling, and show them how to maneuver through the hospital system.
Some hospitals also provide free transportation, with a van that will pick up patients at home and bring them in for their cancer treatments. "We want our patients to come for treatment," says Dr. Resnick. "We really do everything in our power to ensure that patients are able to be seen in our health care system."
Learn more about SurvivorNet's rigorous medical review process.
---