How to Close the Gap on Cancer Inequalities
Poverty, a lack of access to health care services and insurance, and other issues have led to racial disparities in cancer care
Black woman with breast cancer and black men with prostate cancer are more likely to die from their illness than are white men and white women
Close the Gap is SurvivorNet's effort to educate, increase awareness, and eliminate disparities in cancer outcomes
When it comes to cancer diagnoses, survival rates, and deaths, the difference between rich and poor, black and white, Latino and Caucasian is stark. Poverty, a lack of access to health care services and insurance, and other disparities have led to one of the most glaring examples of inequality in the nation.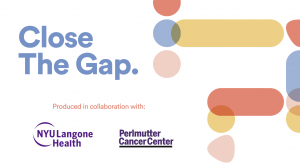 Read More
A black woman who gets breast cancer in America has a 39% higher
chance of dying
than a white woman.
African-American men with prostate cancer
are almost twice as likely to die from their illness as are white men with the same disease.
Hispanics and Latinos have the highest rates of liver, stomach, and cervical cancers, and they're more likely to be diagnosed at a late stage, when their cancer is less curable. Asian Americans and Pacific Islanders face the highest rates of both liver and stomach cancers, and are twice as likely to die from these cancers as whites.
Related: Why Do So Few Black Men Get Colon Cancer Screenings? Closing the Racial Disparity Gap In Cancer at Forefront After Tragic Death of Chadwick Boseman, 43
What Can We Do to Close the Gap?
The research is clear: Education and awareness are among the most effective ways to move the needle. That's where SurvivorNet—and you, our readers—come into the picture.
We need to educate, increase awareness, and share ideas about the most effective ways to eliminate the enormous disparities in cancer outcomes. Building on the success of our People V. Cancer conference, a collaborative effort between SurvivorNet and The Atlantic, Close the Gap is an initiative to break new ground, and break down barriers to care.
Related: Staggering Racial Disparities in Cancer — Black Melanoma Patients Wait Significantly Longer For Treatment Than Whites
We need to come together to discuss the critical blockers that prevent people in minority populations from accessing cancer care, engaging in basic preventive behaviors, and taking part in clinical trials.
Gynecologic oncologist Dr. Stefanie Avril, on ways to increase diversity in ovarian cancer research
Let's address questions such as:
How can we get more African Americans, Latinos, and Asians screened for breast, prostate, and colon cancer?
What's the right way to deliver the message to these populations?
Are young minorities getting the right information about human papilloma virus (HPV)?
Why is there still so much mistrust of scientific research in the Black community?
Close the Gap will have its own section on SurvivorNet dedicated to eradicating disparities in cancer care that we hope will reach millions of people across the country, and around the world.
Related: Terry Crews, of America's Got Talent, Says Ailing Mother Ignored At Hospital Until A Black Nurse Read Her Chart, She Later Died
By working together and collaborating with partners like NYU, we at SurvivorNet believe we can move the needle in a really profound way. We are hopeful that we will Close the Gap, and help to create a future that's free from healthcare inequality.
Learn more about SurvivorNet's rigorous medical review process.