An Unstoppable Positive Force
Heather Devlin, 62, has beat cancer nine times, but now she is facing a tenth battle as she was diagnosed in 2017 with an incurable form of blood cancer called multiple myeloma.
The Manchester, England mom-of-two credits her children and her extremely positive mindset to getting her through so many intense battles. Though this is the most challenging, she is happy to report she is now in remission from the complex disease.
Multiple myeloma starts with a single plasma cell making more copies of itself than it should. This abnormal reproduction can be detected in the bloodstream because of proteins that are secreted through the process. Symptoms are vague, which makes this disease harder to diagnose.
Heather Devlin, 62, was diagnosed with multiple myeloma, an incurable form of blood cancer in 2017. Incredibly, the fearless mother from Manchester, England has beat cancer nine times.
Though this tenth battle with a complex disease is different, this courageous woman has proved to be unstoppable thus far. She was lucky that her doctor, who happened to be researching the disease in his spare time, noticed "unusual protein levels," as symptoms can be vague, which makes it harder to diagnose.
Read More
"I don't know how long I've got left but I keep hoping it's long enough to see me through another 10 years," the determined mom-of-two told
Manchester Evening News
. "I wake up and think 'thank you for another day', it doesn't matter if it's raining or there are problems, I just feel I should be grateful you've got a life and that's what I do now every day."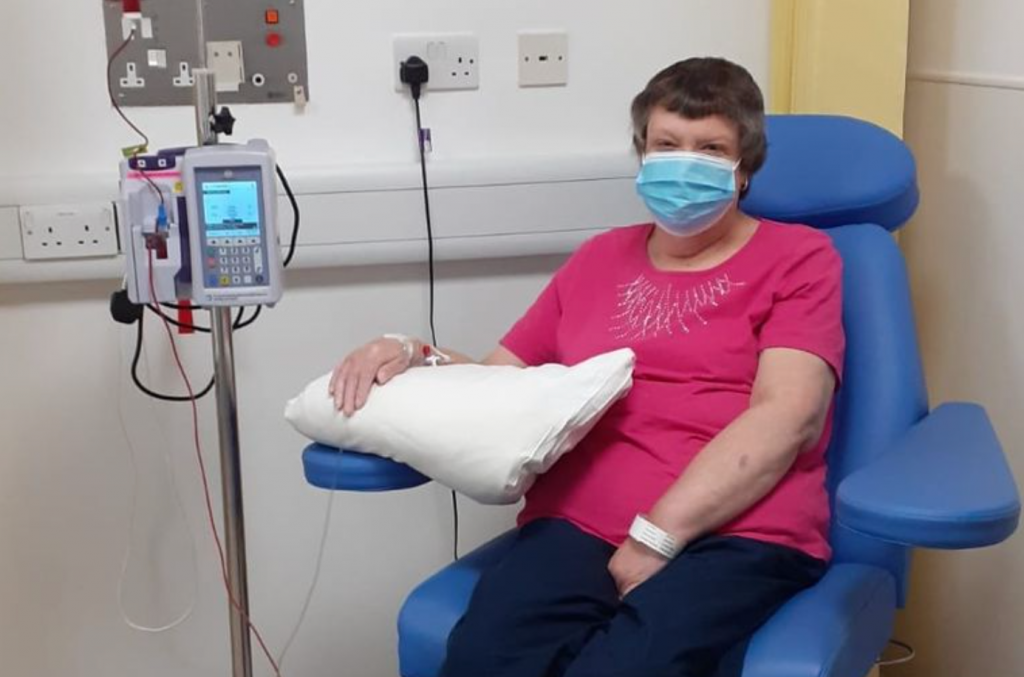 We have heard it time and time again in the cancer community—not to mention our daily life in general—but staying positive is not a cliché for many patients and doctors who swear by a sunnier mentality.
Related: Stay Positive, It Matters
"You've got to think positive, it won't change anything but that positive thinking, 'I'm going to fight this cancer and it's not going to fight me', really helps along the way," Heather shared of her mentality. "A lot of people don't make it but the doctors are there for you. It can happen to anybody. I just drew the short straw in life."
SurvivorNetTV Presents Breaking the Cycle The Power of Mindset
This is Heather's second time going through blood cancer, as she faced leukemia nearly 30 years ago. "I must have a strong back, I must be carrying 60 people's crosses. It does make you stronger but it changes you."
Diagnosed with leukemia immediately following a divorce, Heather said her "inspiration to keep going" was her 3-year-old and 7-year-old.
Related: Telling Your Kids You Have Cancer: 'When it Comes to Your Kids, You Want to Protect Them'
Now remarried to her husband Paul, whom she has been with for 30 years, she says "she's hopeful to see many more anniversaries."
Perhaps unsurprisingly, Heather is now in remission from this incurable disease. Yes, this disease can rear its ugly head at any time, but if anyone can keep it at bay, it's Heather, who reports that her health from her treatment and weakened immune system has even been improving.
Advocating for Yourself is the Most Important Thing—Multiple Myeloma Survivor Ann Bogle's Story
"You've got to go through the horrendous part to get to the other side where you can hear 'you're cured, go away and enjoy life,' she says of getting through all her past battles, reminding cancer patients that whatever they are going through now won't necessarily last your whole life.
Related: Major Development: New Drug Combination May Significantly Increase Survival Time For Some Patients With Advanced Multiple Myeloma
"You forget what you've been through when you get to that point. I want to pass those words onto other people starting their day one, if I can do it, you do it," she says, clearly still embracing her fighting spirit.
Understanding Multiple Myeloma
Dr. Matthew Ulrickson of Banner MD Anderson Cancer Center in Gilbert, Arizona, sat down with SurvivorNet to break down the way that multiple myeloma changes over time. Multiple myeloma can be detected in multiple phases of the disease:
Monoclonal gammopathy of uncertain significance (MGUS)
Smoldering (or asymptomatic) multiple myeloma
Multiple myeloma
What Is MGUS?
Multiple myeloma starts with a single plasma cell making more copies of itself than it should. This abnormal reproduction can be detected in the bloodstream because of proteins that are secreted through the process.
"If it is simply making this protein, but no other symptoms are present, it's referred to as an MGUS," Dr. Ulrickson explained to SurvivorNet. This acronym stands for monoclonal gammopathy of uncertain significance.
The Multiple Phases of Multiple Myeloma
In this phase of the disease, patients do not need treatment, but Dr. Ulrickson recommends connecting with a hematologist who can monitor the disease and adjust treatment if it progresses. A bone marrow biopsy may be warranted to look inside the bone marrow to see the level of abnormal plasma cells.  If you have less than 10% of abnormal plasma cells detected you fall into the MGUS category.
Most people with this condition do not develop multiple myeloma–the risk is about 1% per year. For most people living with MGUS, the condition requires regular check ups to make sure that it does not advance.
What Is Smoldering Multiple Myeloma?
People who are diagnosed with smoldering multiple myeloma have more plasma cells in their bone marrow than people diagnosed with MGUS, but they still have not experienced symptoms of myeloma. Smoldering myeloma occurs when a patient has greater than or equal to 10% abnormal plasma cells via bone marrow biopsy.
Related: Managing the Symptoms of Multiple Myeloma
There is a higher risk of patients with smoldering multiple myeloma developing multiple myeloma, so this condition requires close monitoring. For the first 5 years following a smoldering multiple myeloma diagnosis, patients have a 10% risk of the condition progressing. For the next five years the risk is 3%, and the risk is 1% a year from then on.
According to Dr. Ulrickson, there is not one solid answer to the question of whether or not people with smoldering multiple myeloma should be treated. "Some ongoing research is looking at whether or not patients with smoldering multiple myeloma need to be treated," he explained. "That's something you should talk about with your physician."
The standard approach to smoldering multiple myeloma used to be to monitor the condition and wait until there were symptoms of multiple myeloma before treating it. More recent research, however, suggests that there may be benefits to earlier treatment. This is particularly true for people with genetic traits that indicate a greater risk of development to full multiple myeloma.
Diagnosing a Complex Disease
When the cancer begins to damage the body, a patient will be diagnosed with multiple myeloma. People with multiple myeloma have more cancerous cells than people with MGUS and smoldering myeloma. "We usually refer to the CRAB criteria when diagnosing multiple myeloma," Dr. Ulrickson said.
C for high calcium
R for renal failure (kidney failure)
A for anemia (a low red blood cell count)
B for bone lesions, which can cause pain and lead to fractures
Any of these symptoms can lead to a multiple myeloma diagnosis. A person's health and the classification of their multiple myeloma will inform the treatment path that doctors recommend.
Hope for Multiple Myeloma Patients
Multiple myeloma survivor Ann Bogle was in her mid-fifties when she began to notice her multiple myeloma symptoms. She went through round after round of tests before receiving the news that she had this incurable cancer of the plasma cells. But today, she shows no evidence of disease.
Ann lives in Chandler, Arizona, which is about 30 minutes southeast of Phoenix. She has lived in Arizona all her life, except for the 10 years she spent in Indiana getting both bachelor's and master's degrees. Thanks to her treatment and her dedication to advocating for herself and her health, she's able to continue doing the things she loves, like baking and spending time with her grandchildren.
Related: Diagnosing Multiple Myeloma & Developing a Treatment Plan
Now nearly 15 years later, Ann is currently living her life to the fullest, with no myeloma cells detected in her blood; this is called MRD negative, short for minimal residual disease, meaning no disease was detected after treatment.
She was taken off her maintenance therapy drug in 2012; while this was a decision Ann was skeptical about at the time, she has had no problems with her myeloma since.
Given the fact that Heather Devlin has gotten through nine other types of cancer, we would not be surprised if her tenth battle is similar to Ann Bogle's. This is a reminder that there is always hope, even with incurable disease.
Contributing by SurvivorNet staff.
Learn more about SurvivorNet's rigorous medical review process.