Body Positivity and Cancer
Stacey Barbera, 31, found out she had thyroid cancer in January 2020 after discovering a lump in her throat.
Thyroid cancer and autoimmune illnesses have affected her health for quite some time. Eventually, her hair fell out and her teeth broke, so now she often rocks a wig and dentures. She's shared her story online to promote body positivity.
Thyroid cancer, like many other cancers, can be difficult to spot and early cancer detection is key to successful treatment. So, it is important to talk to a doctor if you have any concerns about your body.
Breaking body image stigmas is no easy task. But thyroid cancer warrior Stacey Barbera is trying to do exactly that after struggling with the state of her teeth and hair as cancer and autoimmune disease affected her overall health over the years.
Barbera, a 31-year-old mother of seven – soon to be eight, has dealt with autoimmune disease for a majority of her life with most of her issues going undiagnosed.
Read More
"It wasn't until my early 20s that I truly got an answer, but really no relief," she told SurvivorNet. "I started losing my hair at a really young age and they chalked it up to vitamin deficiency."
She's also suffered from extreme calcium deficiency and clinical anemia to the point where she needs 18 IV iron infusions a year. More recently, she found out she had thyroid cancer in January 2020. She'd been struggling with her thyroid levels for several years, but it wasn't until she was pregnant with her seventh child and had health insurance that her doctor found a lump in her throat.
"I ended up going for further testing and they found out that my thyroid was full of tumors, unsure whether they were cancerous or not," she told SurvivorNet.
She was only five weeks pregnant at the time and thyroid cancers tend to grow slowly, so her doctors decided to wait until after the baby was born to do anything invasive like a biopsy.
"Six weeks after my son was born I went in for my thyroid biopsy where it came back inconclusive," she said. "A specialist in Pittsburgh decided that it was time to remove my thyroid even if it wasn't cancer. Once my thyroid was removed we found out that I had papillary carcinoma."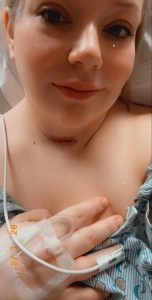 Barbera underwent radioactive iodine treatment after surgery. She also began feeling very sick and "losing an intense amount of weight" to the tune of 15 to 20 pounds per month. That's when she started having trouble with her teeth.
"All in all I ended up losing 110 pounds over the course of nine months," she told SurvivorNet. "During that time I noticed that my teeth are becoming extremely brittle… The issue was that my teeth were becoming hollow and breaking from the inside. They just became completely brittle."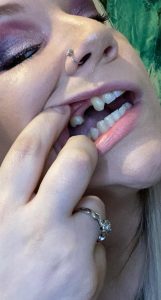 As far as what caused the issues with her teeth, Barbera said she didn't have an exact answer. It could've been caused by the cancer itself, the weight loss, her history with undiagnosed autoimmune disease or the radioactive iodine treatment. She'd hid the issues with her teeth for a while until last January when her front tooth broke. When she went to the doctors, Barbera was told her tooth would absolutely have to be pulled.
"After doing further research and talking more with my dentist, we realize that all of my teeth are super brittle and in the condition that they're not going to last me many more years," she said. "I made the decision to just get a full upper denture because my teeth are too weak to handle the clips of a temporary denture… It was a really hard decision but we decided that it would be best for me to just go through with getting a full upper denture."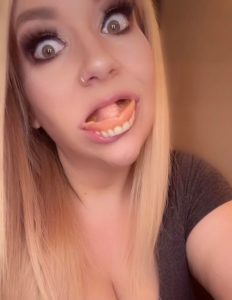 Barbera often rocks dentures and a blonde wig after various health battles caused her teeth to crack and her hair to fall out. She posts many videos on her Tik Tok showing off her looks with and without her wig and dentures to promote body positivity.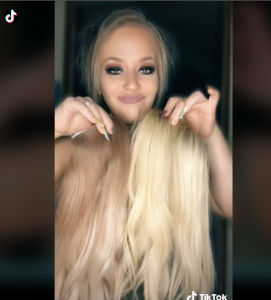 "I decided to use TikTok to bring awareness to young people with dentures and the many reasons why people have dentures at a young age," she said. "I'm trying to break the stigma surrounding the fact that only old people can have dentures… I want people to realize that sometimes people lose their teeth due to no fault of their own and many, many, many health reasons cause people to lose their teeth daily."
She loves that she's now able to help people "build their confidence" and "feel less alone" by sharing her experience. But Barbera said the decision to get dentures was not an easy one.
"At first I was extremely ashamed," She said. "I'm only 30 years old and I assumed people would make judgments that I was a drug addict or that I didn't have proper hygiene, but that was not the case at all."
But despite having to go through the "immensely painful" process of getting her dentures, Barbera is happier than ever with her new look.
"I still get feelings of insecurity when I take my dentures out, but it has still been life-changing for me," she told the Daily Mail. "I feel amazing now. I smile more than I have ever done before, and my smile is so much bigger now. It is the best feeling."
Understanding Thyroid Cancer
Thyroid cancer is a type of cancer that starts in the thyroid gland which makes hormones that help regulate your metabolism, heart rate, blood pressure and body temperature. Treatments for this type of cancer can include surgery, hormone therapy, radioactive iodine, radiation and chemotherapy.
RELATED: Did You Know 'Dirty Dancing' Actress Jennifer Grey Battled Thyroid Cancer?; She Lost Co-Star Patrick Swayze to Pancreatic Cancer
Spotting thyroid cancer can often be difficult. The American Cancer Society reports that symptoms may include a lump, swelling or pain in the neck, voice changes, trouble swallowing or breathing or even a constant cough.
"Most people have no discrete symptoms — the majority of cases now are found incidentally," Dr. Allen Ho, a head and neck surgeon at Cedars-Sinai Hospital, tells SurvivorNet. "However, a sizable number of people may first discover their cancer when they feel a bump on their neck. Other possible late symptoms include problems swallowing, the sensation of something in their throat, neck compression when laying flat or voice changes."
Dr. Beth Karlan says, "If You Feel Something, Say Something"
The good news is that many of these possible symptoms, including lumps in the thyroid, are both common and commonly benign – but it never hurts to ask your doctor. Chances of cancer recovery increase significantly with early detection, so it's important to address any warning signs of thyroid cancer, or any cancer for that matter, with a medical expert swiftly.
Body Positivity and Cancer
Stacey Barbera is very aware of the societal pressures surrounding women and their bodies – and her message is to do away with that and focus on being happy and healthy. Other cancer survivors, like Ann Caruso, share a similar perspective
RELATED: Flat, Fit & Thriving – 33-Year-Old TikTok Star Bares Her Post-Mastectomy Chest with Pride As She Battles Metastatic Breast Cancer; Understanding Treatment Decision Making
Caruso had 12 surgeries to treat her breast cancer and told SurvivorNet that all of the change  really affected the way she saw her body.
"You're not the same carefree person that you once were, and it was very hard for me to look at myself every day," Caruso said in a previous interview with SurvivorNet. "It was like I was a totally different person and didn't fit into any of my clothes for so long."
Celebrity Stylist Ann Caruso on Beauty and Femininity After Cancer
But the celebrity stylist has learned a whole lot about femininity and body image since beating breast cancer. She hopes to impart her knowledge upon others dealing with similar struggles.
"Femininity is a state of mind," Caruso said. "And I think that's something that we have to remind ourselves."
Learn more about SurvivorNet's rigorous medical review process.
---