Battling Breast Cancer as a Mom
Shelly Battista was breastfeeding when she found a painful lump, thinking it was simply a clogged duct, which many moms my recognize.
Breast cancer and a clogged duct, especially if there is an infection, can have similar symptoms, include a painful lump, swelling, nipple discharge and swollen lymph nodes.
Battista was diagnosed with triple-negative breast cancer, can be more aggressive but is typically more sensitive to chemotherapy treatment, which means that there is a high chance that the treatment will kill all of the cancer cells.
The BRCA gene mutation, which is passed on from a father or a mother, can increase a peron's change of developing a variety of cancers, including breast and ovarian cancer.
Battista preserved her fertility before undergoing treatment. That can include retrieving and preserving eggs, or fertilized embryos, for future use.
Battista gave birtht to two beautiful twin girls on the second anniversary of becoming cancer-free.
A breast cancer survivor who once believed she couldn't have any more children has had twins on the anniversary being declared cancer-free. And the symptoms she felt that led to her triple-negative breast cancer diagnosis was something that many moms may recognize from taking care of their newborns.
After having her first daughter in 2019,  Shelly Battista was breastfeeding when she found a lump.
Read More
"At first I thought it was a clogged duct from nursing," Battista
said
to "Good Morning America". A clogged milk duct is a common issue new moms face, when the new mom's milk can't flow to the nipple because the duct is either clogged or blocked. One of the telltale signs may be a hard, painful lump,
according to the Cleveland Clinic
. Other symptoms can include swelling and discomfort, and the lump may get smaller after feeding. Some people may also get a blister-like white dot on their nipple thought to be due to the inflammation. A clogged milk duct can lead to an infection that brings on fever, chills, redness at the lump, nipple discharge and flu-like symptoms. It's no wonder Battista thought she had a clogged duct when she found her lump, because similar symptoms of breast cancer can include:
Swelling in part or all of the breast
Breast or nipple pain
Nipple discharge
Swollen lymph nodes
Battista isn't alone in thinking her breast cancer symptoms were simply those of a clogged duct. Young mom Brittany Mistrot was 33 weeks pregnant when she discovered a lump that doctors initially blamed on a clogged duct. She was later diagnosed with stage 4 breast cancer.
It's important to know that symptoms from a clogged duct may typically subside with feeding or pumping and other home remedies. That could include resting your breasts, taking pain killers and applying ice. You may know the clog is gone when you no longer feel the lump or a fatty milk clot comes out. If your symptoms don't go away, or you're concerned at all about changes to your breasts, you should see your doctor.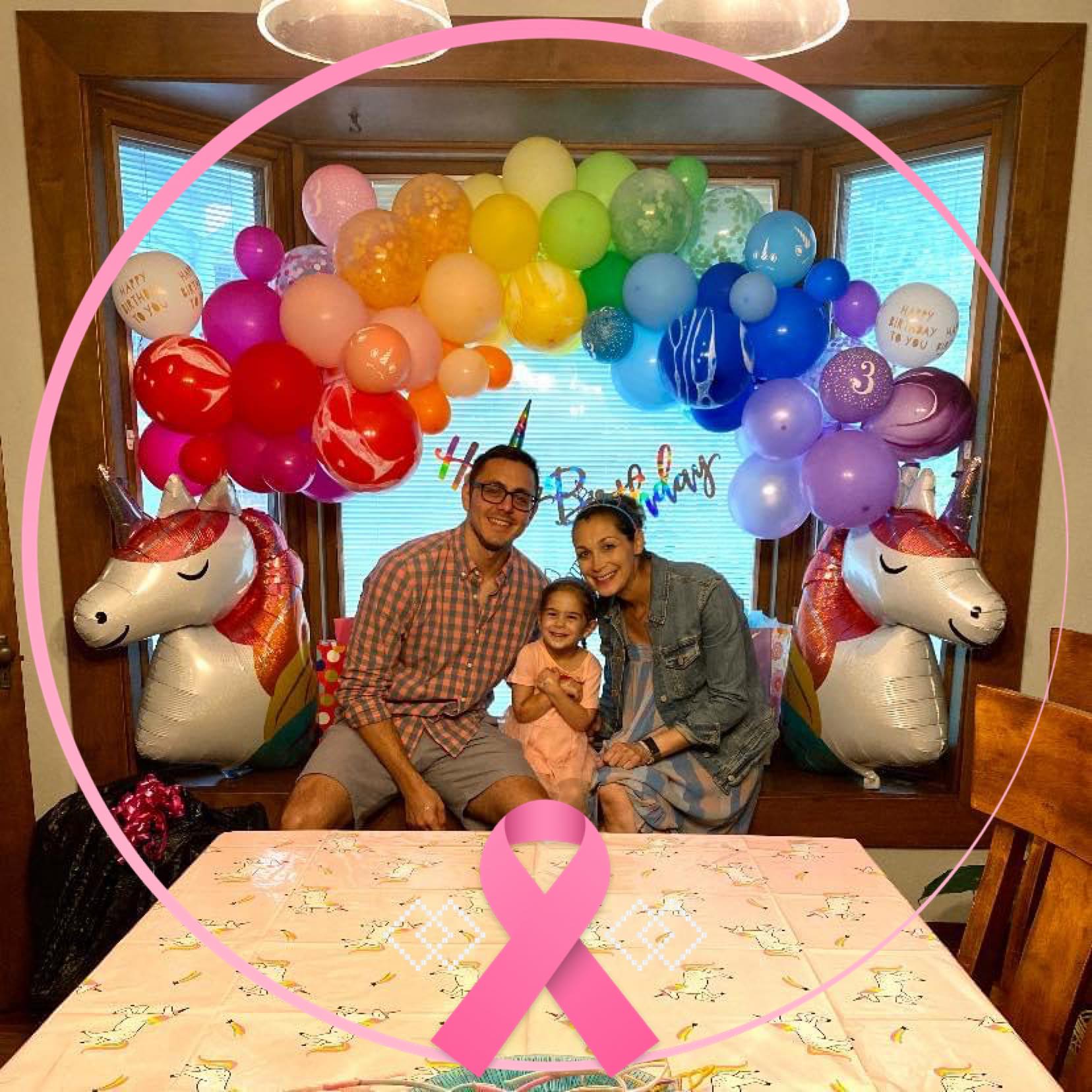 Battista had the lump checked out and a biopsy revealed the new mom had triple-negative breast cancer.
"We both just started crying and hugging each other," Shelly's husband Robert said.
A cancer diagnosis can be shocking and scary, along with a slew of other emotions. But cancer warriors starting their journeys are encouraged to ask lots of questions, learn as much as they can about the disease and build a network of support.
"There are a number of common things cancer patients can experience, such as anxiety, depression, financial toxicity, social isolation and sometimes even PTSD," Dr. Shelly Tworoger, a researcher at Moffitt Cancer Center told SurvivorNet.
Dr. Tworoger went on to say having a network of support helps ease those initial anxieties.
Triple-Negative Breast Cancer
Triple-negative breast cancer is an aggressive form of breast cancer and accounts for 20% of all breast cancers. It's called triple-negative because it does not have any of the main drivers of breast cancer, which include the estrogen receptor, the progesterone receptor, and the HER2 receptor. Because triple-negative breast cancer doesn't contain those receptors, it does not respond to treatments that target them.
"Any triple-negative cancer that's over half a centimeter or has lymph node involvement needs chemotherapy," Dr. Julie Nangia, medical oncologist at Baylor College of Medicine said.
"This is usually two different types of chemotherapy for three months each with two different classes of drugs: taxanes and anthracyclines," Dr. Nangia added.
Other types of breast cancers include hormone-receptor positive, which needs either estrogen and/or progesterone to grow, and HER2-positive breast cancer, where high levels of the HER2 protein can be found on the outside of the cancer cells.
BRCA Mutation
Battista is also a carrier of the BRCA1 gene mutation, which means she is at an increased risk of getting breast cancer.
The BRCA mutation covers two genes: BRCA1 and BRCA2, with each proteins working as tumor suppressors. They help repair damaged DNA and are important for ensuring the stability of each cell's genetic material. When these genes are altered, the mutation can mean the protein does not function properly.
"What a BRCA mutation is, is a defect in your ability to repair a double-strand break in your DNA," Dr. Rebecca Arend, associate scientist at the University of Alabama, Birmingham explained to SurvivorNet.
The BRCA mutation, can cause a variety of cancers, including fallopian tube and peritoneal cancer, which are ovarian cancers.
If you believe you are at an increased risk of having the BRCA1 or BRCA2 gene mutation, there are several different genetic tests available to find out for sure.
If you learn you have the mutation, there are options available to manage your cancer risk, which include enhanced screenings; prophylactic (risk-reducing) surgery, which involves removing as much of the "at-risk" tissue as possible; and chemoprevention, the use of medicines to reduce the risk of cancer.
Triple-Negative Breast Cancer Treatment
After Battista's triple-negative breast cancer diagnosis, she underwent chemotherapy. Her chemo began in February 2020 to treat the cancer. Good news for cancer warriors with triple-negative breast cancer is that it responds well to chemotherapy.
"Our primary line of attack is chemotherapy, and this is regardless of the cancer stage," Dr. Elizabeth Comen, a medical oncologist at Memorial Sloan Kettering Cancer Institute in New York said.
"There's one important point to note when speaking to your doctor if you've been diagnosed with triple negative breast cancer is it's very important to ask whether at the start of the diagnosis should you be receiving chemotherapy before surgery, which is what we call neoadjuvant chemotherapy, or should you be receiving chemotherapy after surgery, and that's called adjuvant chemotherapy," Dr. Comen explained.
"If women have a lymph node involved or have a particularly large tumor in their breast that makes it difficult to operate on, we very often will do chemotherapy up front, and that's what's called neoadjuvant chemotherapy," Dr. Comen continued.
Dr. Comen went on to say neoadjuvant therapy, or the first treatment given to help shrink a tumor, may be able to do some of the legwork in the beginning and make surgery unnecessary. However, talking with your doctor about the specific circumstances of your case will help you understand which options are best for you.
Double Mastectomy
Battista then had a double mastectomy, which involves removing both breasts to get rid of the cancer. This procedure can also serve as a preventative measure for women at high risk of developing breast cancer, though it may not be the right path for all women. While the decision to have a double mastectomy can be a stressful one for cancer warriors, some women decide to have their breasts reconstructed and have implants put in afterwards.
"A double mastectomy typically takes about two hours for the cancer part of the operation, the removing of the tissue," Dr. Elisa Port, Chief of Breast Surgery at Mount Sinai Health System, explained to SurvivorNet.
For women who opt for breast reconstruction, the process can last much longer.
"When you take tissue from another part of the body and transfer it to fill in the empty space where the breasts are, this is a very long operation…It can take anywhere from six to 12 hours because it's really like having a tummy tuck and then transferring the tissue and grafting the tissue, connecting the vessels, so those tissues have blood flow to live in," Dr. Port explained.
Battista's chemotherapy and mastectomy were both successful and, by December 2020, the cancer warrior beat the disease. However, her chemo treatment damaged her ovaries to the point they needed to be removed.
Fertility and Breast Cancer
Although Battista beat breast cancer, she had hoped to have up to three children. But with the damage done to her ovaries, her chances of conception decreased. Luckily, the cancer survivor managed to preserve eight embryos for future use prior to chemotherapy. Cancer patients should know that fertility preservation before treatment may be an option available to them if they wish to grow their family later.
"Fertility after a breast cancer diagnosis is fairly complicated," Dr. Sarah Cate, a breast surgeon at Mount Sinai said to SurvivorNet.
"Some patients that need chemotherapy may not be able to have children afterward because chemotherapy pauses menopause," Dr. Cate explained.
Dr. Cate encourages cancer warriors beginning their cancer journeys to talk with their doctors and be candid about their plans to have children.
"I always ask patients that either don't have kids or are at an age where they could have kids, do they want more children. Then we would talk about preserving fertility, meaning typically to either take eggs or to make embryos if they have a significant other," Dr. Cate said.
Dr. Cate says a woman who is diagnosed with breast cancer ability to conceive depends on the stage of the breast cancer and the type of breast cancer she has. Some doctors encourage women wishing to have children wait six months after finishing chemotherapy before trying to conceive. However, for some breast cancer warriors this is not a guaranteed obstacle.
Anniversary Gift
In December 2021, a year after Battista received her cancer-free diagnosis, she and her husband started trying to conceive for another child. In a wonderful turn of fat, she gave birth to beautful twin daughters on the second anniversary of becoming cancer-free, on Dec. 9, 2022.
"I always wanted at least three kids, so this was amazing…the stars aligned" Battista said.
"I hope this story empowers other women especially young women going through something traumatic such as breast cancer…you're able to advocate for your own health and also for your future family," Battista added.
Learn more about SurvivorNet's rigorous medical review process.
---