Finding Strength In What Brings You Joy
A mother, 39, who became passionate about cycling after giving birth to her children found the sport useful as she coped with the challenges of breast cancer treatment.
After discovering lumps in her breasts, Lisa Csencsits underwent a preventative double mastectomy which is a procedure to remove both breasts to reduce her chances of breast cancer. She also underwent breast reconstructive surgery which is common for women who receive a double mastectomy. However, complications from surgery left her in severe pain.
While receiving treatment to relieve herself of the pain, she also found solace in cycling to help her cope.
Gynecologic oncologist Dr. Dana Chase stresses the importance of maintaining good emotional health because it can be associated with survival, or in other words, a better quality of life is associated with better outcomes. Sometimes your favorite activities bring you the joy you need to boost emotional health and help improve your overall prognosis.
A brave and resilient mother of two who faced the onset of breast cancer found hope and inner strength through the sport of cycling.
Lisa Csencsits' story of undergoing a double mastectomy that left her in intense pain is filled with hope as she discovered she had what it takes to elevate her cycling abilities to the next level while coping with cancer treatment. While she had been cycling for years before her run-in with breast cancer, the sport gained a greater sense of purpose amid her journey. Her story is among many stories SurvivorNet shares showing cancer patients finding ways to cope with their diagnosis.
Read More
"I was just a woman who got on her bike that happened to be strong," Csencsits
told
"Today" host Kristen Dahlgren.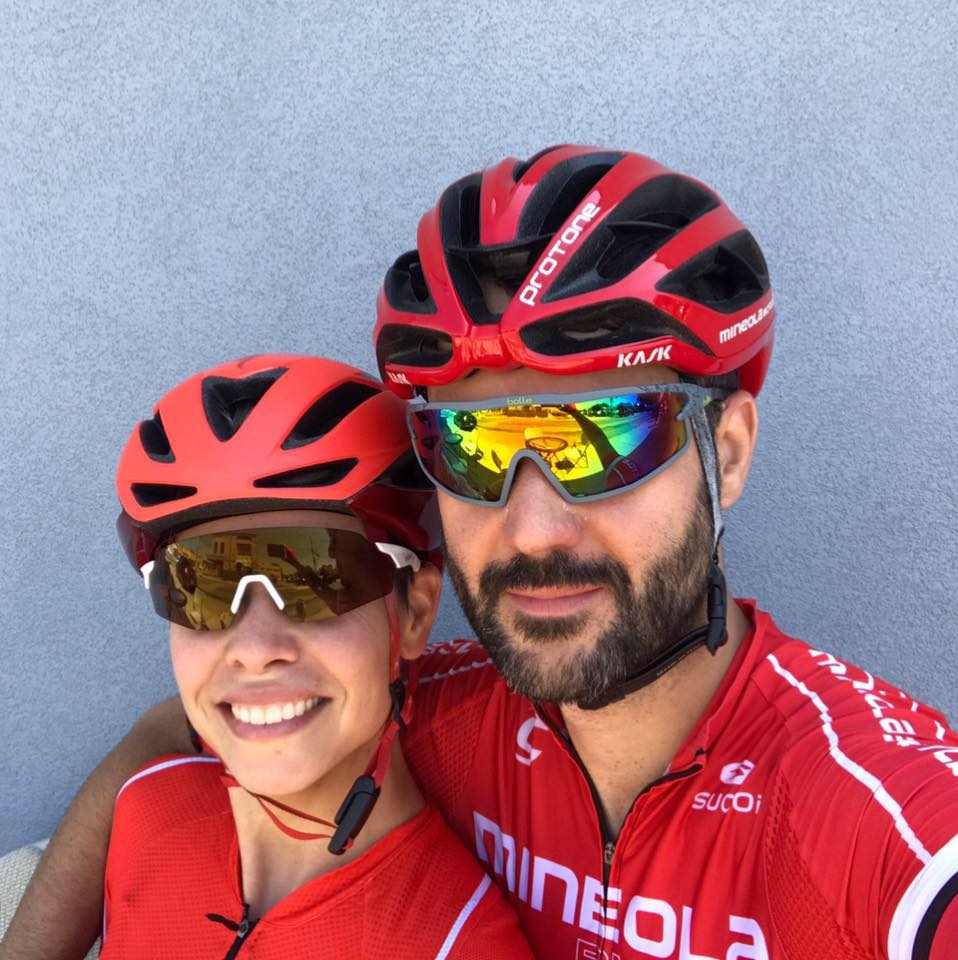 Csencsits
says her journey to a world cycling competition in Scotland began in her hometown of Long Island, New York. It was there her breast cancer journey began a few years earlier when she felt unsuspecting lumps in her breasts. She was familiar with the tell-tale signs of
breast cancer
because many women in her life also experienced similar symptoms before their breast cancer diagnosis. "Every woman in my immediate line has been affected by breast cancer," she said.
While specific details of Csencsits' prognosis were not publicly revealed, symptoms associated with breast cancer may include a lump in the breast among other symptoms. A self-exam of your breasts can help you identify signs of something unusual prompting further examination. Things to look for include new swelling in one or both breasts, changes in the nipple, redness or flaking in the breast or nipple, discharge from the nipple, and pain in the breasts.
WATCH: Understanding self-exams.
Again, while we do not know details of Csencsits' breast cancer screening, we do know she opted to get a preventative double mastectomy in 2020 at age 36 to reduce her chance of cancer. She also said she does not have a genetic mutation that increases her risk of developing breast cancer.
"Risk-reducing mastectomies are an operation where we take women at, usually, very high-risk for getting breast cancer … for genetic mutation carriers, who are the ones at the highest risk, there's unfortunately only one way to actually prevent breast cancer," Dr. Elisa Port, Chief of Breast Surgery at Mount Sinai Health System, tells SurvivorNet.
A double mastectomy is a procedure to remove both breasts to get rid of cancer. The procedure can also be a preventative measure for women at higher risk of developing breast cancer.
"My babies need their mom, and I will do anything, absolutely anything to make sure that they have her," she said.
"A double mastectomy typically takes about two hours for the cancer part of the operation, the removing of the tissue," Dr. Elisa Port, Chief of Breast Surgery at Mount Sinai Health System, tells SurvivorNet.
After the double mastectomy procedure, Csencsits then underwent reconstructive surgery.
"Breast reconstruction is a restoration of a woman's form and her sense of self," Dr. Andrea Pusic, Chief of Plastic and Reconstructive Surgery at Brigham and Women's Hospital, tells SurvivorNet.
WATCH: Reconstructive surgery helps restore a sense of self.
Dr. Port says most women opt to have some sort of reconstruction. The length of these surgeries can vary a great deal. When implants are used, the procedure can take two to three hours (so the total surgery time would be around five hours). There is also the option to take one's own tissue (usually from the belly area) and transfer it into the breast area, but this is a much longer procedure.
RELATED: Did you know most health insurers are required to pay for breast reconstructive surgery?
However, after Csencsits' surgeries wrapped up, she found herself in intense pain.
"I couldn't raise my arms fully above my head, I couldn't sleep, I couldn't embrace my babies, I couldn't do anything without experiencing pain," she explained.
What she was experiencing was post-mastectomy pain syndrome (PMPS). This is a persistent pain a woman experiences following breast surgery. The pain tends to affect the chest and shoulder area for three months or longer after surgery.
"Persistent pain is a postoperative complication estimated to affect between 20% and 50% of mastectomy patients with considerable negative influence on quality of life," according to research published in JPRAS Open which is an international open-access journal of surgical reconstruction.
To help her cope with the pain, Csencsits sought a post-mastectomy pain syndrome specialist to help manage the pain and ultimately rid herself of it. Thankfully, she said a procedure eventually brought the pain relief she was looking for.
Meanwhile, she never lost sight of her cycling ambitions. She said although she was never an athlete growing up, she found herself increasingly drawn to the sport after the birth of her children. She started cycling alongside her husband to help lift her spirits after childbirth.
To her surprise, she ended up being pretty good at it. According to USA Cycling, she's been racing on a more elite level since 2017. Over the years, her abilities improved over time, leading her to some national championships.
Cycling also helped her cope during her breast cancer journey.
"I loved challenging myself during my breast cancer journey and throughout all of my breast reconstruction surgeries, I felt like I hit rock bottom and I don't think I would have ever felt so comfortable admitting that before I went through that process," she said tearfully.
Her skills led her to a world cycling competition called, the "Race of Truths." The race was held in Scotland and lasted 15 miles. While competing against athletes from around the world, she managed to place 11th. Although the race was hugely successful for the mother of two who never considered herself an athlete, more satisfying was her ability to find the inner strength to confront breast cancer boldly and bravely.
"I really hope other people who are going through this can just really bounce back and feel this amount of pride and know you can come out of the other side better than you ever could before," Csencsits said.
Finding Joy Amid Cancer
Lisa Csencsits' desire to focus on cycling while recovering from her breast cancer journey helped bring positive emotions for her.
Dr. Dana Chase, a gynecologic oncologist at UCLA Health, says that maintaining good emotional health and quality of life is associated with better survival and better outcomes for patients. She encourages cancer patients to prioritize their emotional health for this reason.
"So definitely working on your emotional health, your physical well-being, your social environment, your emotional well-being, definitely working on those things and making them better are important and can impact your survival," Dr. Chase told SurvivorNet.
WATCH: How emotional health plays a role in the cancer journey.
Dr. Chase suggests tapping into your support network, which includes loved ones like friends and family if you need help discovering what brings you positive emotions. You can also seek help from a patient advocate or a support group either in-person or virtually that shares your cancer or disease. These important people in your life can help you navigate your emotions and even join you for fun activities to boost your emotional health.
Questions to Ask Your Doctor
Should I undergo genetic testing to assess my breast cancer risk?
What are the benefits of a watch & wait approach vs. preventative surgery?
What should I know about implants should I opt for preventative surgery?
What kind of surveillance is required after the surgery?
Learn more about SurvivorNet's rigorous medical review process.
---