A Cancer Survivor Thriving in the NFL
James Conner, 26, has been making headlines this season during his first season with the Arizona Cardinals, but he had to overcome Hodgkin lymphoma before he could start chasing touch down Franchise records today.
Early symptoms of lymphoma can be tricky to notice as they may include swollen lymph nodes, fatigue or unexplained weight loss.
Conner is cancer-free and, clearly, doing well, but cancer care is not necessarily over once the disease is gone. Conner, just over five years cancer-free, is likely dealing with long-term surveillance with his health care team.
James Conner has been making headlines during his first season with the Arizona Cardinals. But did you know the 26-year-old had to battle cancer before he could continue to pursue his football dreams?
Like many players in the NFL, Conner is doing everything he can to perfect his craft and make a name for himself. Despite a team loss against the Rams last night, Conner still managed to tie a franchise record by scoring a touchdown in his seventh consecutive game. The 1-yard touchdown run tied John David Crow's record from the 1959 to 1960 season and also served as Conner's 13th rushing score so far this season. Only David Johnson with 16 in 2016 and Crow with 14 in 1962 have had more rushing touch downs in a single season.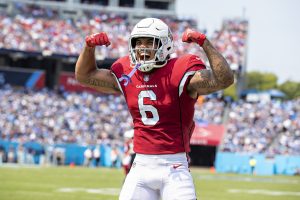 Read More
"He's a dog,"
quarterback Kyler Murray said
. "Simple."
Conner had a more humble reaction to his latest achievement.
"I just tried to do my job as always," Conner said. "That's my main focus when I take the field, just one play at a time."
But prior to his NFL career, Conner faced an obstacle off-field when he was diagnosed with stage 2 Hodgkin lymphoma during his junior year at the University of Pittsburgh. His diagnosis came after he tore his MCL in the first game of his junior season. During rehab for his MCL, Conner's health started suffering in unexpected ways. And it wasn't until a chest X-ray and biopsy confirmed his diagnosis that he realized he had cancer.
But Conner wasn't going down without a fight. His mantra? "Fear is a choice. I choose not to fear cancer." These words – which eventually lead to the publication of his book, Fear Is a Choice: Tackling Life's Challenges with Dignity, Faith, and Determination – carried him through along with his faith and the unwavering support from his community and loved ones.
View this post on Instagram
Conner underwent 12 rounds of chemotherapy, but continued to practice with his team despite the intense physical toll of treatment. And in an amazing story of resilience, he was declared cancer-free within a year and returned to the field in 2016 to finish his college career. He left the university with a record-breaking 3,733 rushing yards and 56 touchdowns.
And, thankfully, that's not where his story ends. He was selected by the Steelers in the third round of the 2017 NFL draft, and then signed with the Cardinals earlier this year. He's still out there scoring touch downs and thriving more than 5 years post-cancer, and there's likely to be more amazing news from this resilient cancer warrior to come.
Understanding Hodgkin Lymphoma
Lymphoma, in general, is a cancer of the immune system that begins in the white blood cells called lymphocytes. There are more than 40 different types of the disease, but Hodgkin lymphoma and non-Hodgkin lymphoma are the main two sub-categories with the latter being more common. According to the Leukemia & Lymphoma Society, about 90,390 people in the United States are expected to be diagnosed with lymphoma in 2021 – 8,830 cases of Hodgkin lymphoma and 81,560 cases of non-Hodgkin lymphoma. The type of white blood cells linked to the disease determines the distinction. If doctors are unable to detect the Reed-Sternberg cell – a giant cell derived from B lymphocytes – then it is categorized as non-Hodgkin lymphoma.
In a previous interview, Dr. Elise Chong, a medical oncologist at Penn Medicine, explained that Hodgkin lymphoma is most often seen in younger adults. And although less common, it is generally easier to cure than non-Hodgkin lymphoma.
What Kind of Lymphoma Do You Have? Why Your Type Matters
Dr. Chong also said lymphoma symptoms can be difficult to detect.
"The symptoms of lymphoma, especially if you have a low-grade lymphoma, often are no symptoms," Dr. Chong explained. "People say, but I feel completely fine, and that's very normal."
Lymphoma treatment depends greatly on the nature of your specific diagnosis. For non-Hodgkin lymphoma patients, their cancer is more likely to spread in a random fashion and be found in different groups of lymph nodes in the body. Hodgkin lymphoma cancers, on the other hand, are more likely to grow in a uniform way from one group of lymph nodes directly to another. Some lymphomas, called indolent lymphomas, might not even need to be treated right away because they're slow-growing. In this case, careful monitoring – including imaging scans such as PET/CT – is used to track the progress of your cancer and gauge whether it needs treatment yet.
"Where I use PET/CT in my practice quite a bit is if I'm observing a patient … and there is some new symptom or situation which makes me concerned that the patient may be changing from an indolent lymphoma to a more aggressive lymphoma," Dr. Jakub Svoboda, medical oncologist at Penn Medicine, previously told SurvivorNet. "We refer to it as transformation."
Hodgkin Lymphoma and Age
Conner is cancer-free and, clearly, doing well. And while his age is certainly not the only reason for his successful course of treatment, it could've been a contributing factor for.
"One of the things that we encounter when we're treating older adults is even with the same treatment, their outcomes are not as good in Hodgkin lymphoma as younger adults," Dr. Sairah Ahmed, an associate professor in the lymphoma/myeloma departments of the division of cancer medicine at MD Anderson Cancer Center in Texas, previously told SurvivorNet.
Hodgkin lymphoma occurrence sees a peak in ages 18 to 25 and then again over the age of 50. And, generally speaking, older patients are diagnosed at a later stage of the disease and are likely to have more underlying issues that can affect treatments like chemotherapy.
"As we age, you have more comorbidities," Dr. Ahmed explained. "You can have organ dysfunction including renal dysfunction. Your kidneys don't work as well. Cardiac dysfunction and all of these things can then make giving chemotherapy difficult, [and] when chemotherapy is given, you can have more side effects."
Even though about 85 percent of younger people will have "a durable longterm remission" after treatment, according to Dr. Ahmed, that doesn't mean there aren't special considerations to keep in mind when younger people are being treated for the disease – particularly longterm side effects from chemotherapy.
"When we're doing that frontline therapy, generally it's a combination of drugs, ABVD, adriamycin, bleomycin, vinblastine and decarbonizing, and those drugs are fairly well tolerated," Dr. Ahmed said. "When we give those drugs to a younger person, we always check for cardiac function and pulmonary function. But as 18 year olds are less likely to have those issues… they do have longterm side effects."
But Dr. Ahmed says these side effects are generally something that can be followed closely and dealt with. Also, if it does happen that your cancer comes back, hope for a complete cure is not lost, especially if an autologous STEM cell transplant – the use of your own STEM cells after high dose chemotherapy to try to achieve complete remission – is an option.
"For our relapsed Hodgkin lymphoma, autologous STEM cell transplant is the standard of care to help cure disease," she said. "You can receive an autologous STEM cell transplant even if you're an older adult. In fact, you can have an autologous STEM cell transplant even up to the age of 80."
But even still, it's important to consider any possible comorbidities or other factors that might lead to issues associated with the transplant.
"Geriatric assessment prior to transplant for older adults is necessary and a comorbidity analysis to make sure that patients do not have significant toxicity associated with the autologous transplant," she said. "But, as of right now, we would try to get everybody to an autologous STEM cell transplant if we can."
Thriving as a Survivor
A cancer diagnosis will change your life. But as we've seen in the case of Conner, it is more than possible to thrive on the other side of your cancer journey.
Take Marecya Burton, for example. She was diagnosed with ovarian cancer at just 20 years old. Burton was a college student-athlete looking forward to graduation at the time, but all that had to change when she was forced to move home to start treatment.
Former College Cheerleader Reinvents Herself after Surviving Ovarian Cancer
"That was definitely challenging for me," Burton said in a previous interview with SurvivorNet. "I was looking forward to graduating."
She also had planned on pursuing a law degree after graduation – another dream she had to give up.
RELATED: 'Up in the Clouds': Model and Ovarian Cancer Survivor Ash Foo, 24, Is Seeing Her Dreams Come True as a Billboard of Her Now Stands in NYC
"I really had to, in a sense, put my life on hold," she said. "Sometimes I look at where I am, and I can't help but wonder, would I be further had I not had my diagnosis?"
But instead of law school, Burton found a new passion: teaching. She became a high school teacher in Baltimore, Maryland, and she's since made peace with her new direction in life.
"I wouldn't change my career for the world," she says. "It's so fulfilling."
Learn more about SurvivorNet's rigorous medical review process.