Finding Purpose Amid Health Challenges
Actress Christina Applegate, 51, has partnered with a walking stick company to launch a line of walking canes inspired by the beloved actress' signature cane that has the defiant message, "FU MS" etched into it.
Applegate was diagnosed with multiple sclerosis (MS) in 2018 and has been open about her condition since that time. MS causes the immune system to attack cells that form the protective sheath that covers nerve fibers in the spinal cord. The disruption leads to communication problems between the brain and the rest of the body.
Her acting career has been impacted due to symptoms associated with MS. She's since resorted to more voiceover work because it's easier on her body.
MS causes people impacted by the incurable chronic disease to struggle with balance and experience tingling and numbness in the limbs. Luckily, options exist to help manage symptoms including wheelchairs, canes, leg braces, and some medical treatments.
Resilient actress Christina Applegate, 51, and her signature walking cane have seemingly become synonymous with each other and now a walking stick company is adopting her defiant message. "FU-MS" are the letters Applegate had etched into her walking cane at the Screen Actor Guild Awards earlier this year. Applegate is often seen in public using a cane that helps her manage symptoms associated with her multiple sclerosis (MS) diagnosis. The disease impacts the central nervous system and can cause numbness or tingling in your limbs.
"[It] symbolizes the invisible differences people have with chronic illness," Lyndsay Watterson told People.
Read More
Watterson is the founder of the U.K.-based walking stick company, Neo Walk. She is also an amputee. She collaborated with the actress to design a clear acrylic cane with a black DNA strand weaving through the center of the Applegate-inspired cane. "Christina is one of the strongest people I know and also one of the most caring and generous, so it doesn't surprise me at all that she took time to collaborate and create a design that reflects her attitude and will also benefit others," a friend of Applegate told People. Applegate was diagnosed with multiple sclerosis in August 2021 and has been open about her condition ever since.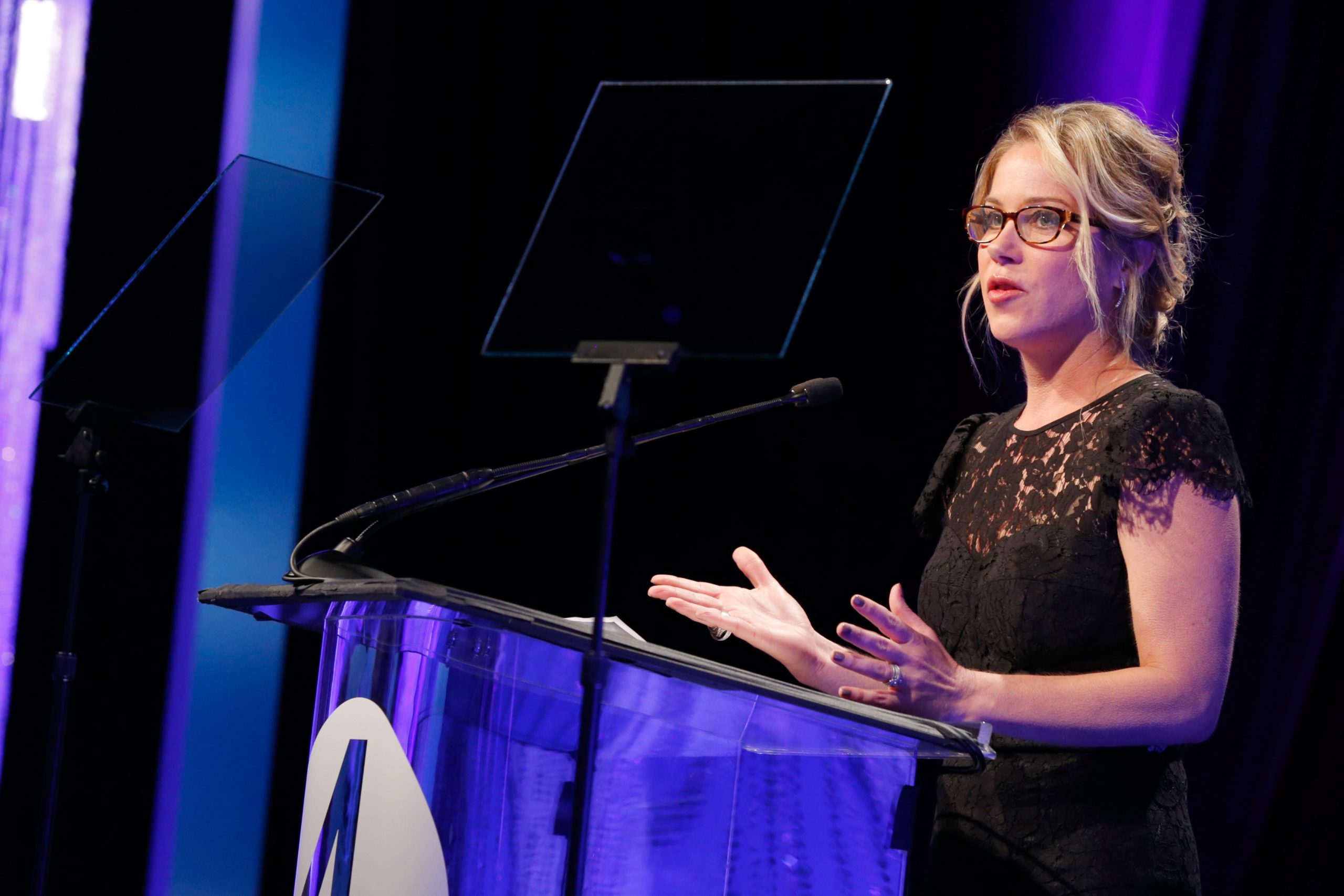 Applegate's Hollywood career is expansive dating back to the 1970s. One of her biggest successes includes her role as Kelly Bundy in "Married With Children," which launched in 1987 and lasted until 1997. She also starred in "Dead to Me," "The Sweetest Thing," and "Anchorman."
Despite her willingness to keep up with her acting career, her symptoms from MS caused her to shift the way she works. She's resorted to voiceover work rather than appearing on camera. By doing this, she can better manage her symptoms, and voice acting is easier on her body.
"I can do voiceover stuff because I have to support my family and keep my brain working," she said to Vanity Fair.
"I can't even imagine going to set right now. This is a progressive disease. I don't know if I'm going to get worse," she continued.
Recently she gave supportive fans an inside look into the impact MS is having on her home life.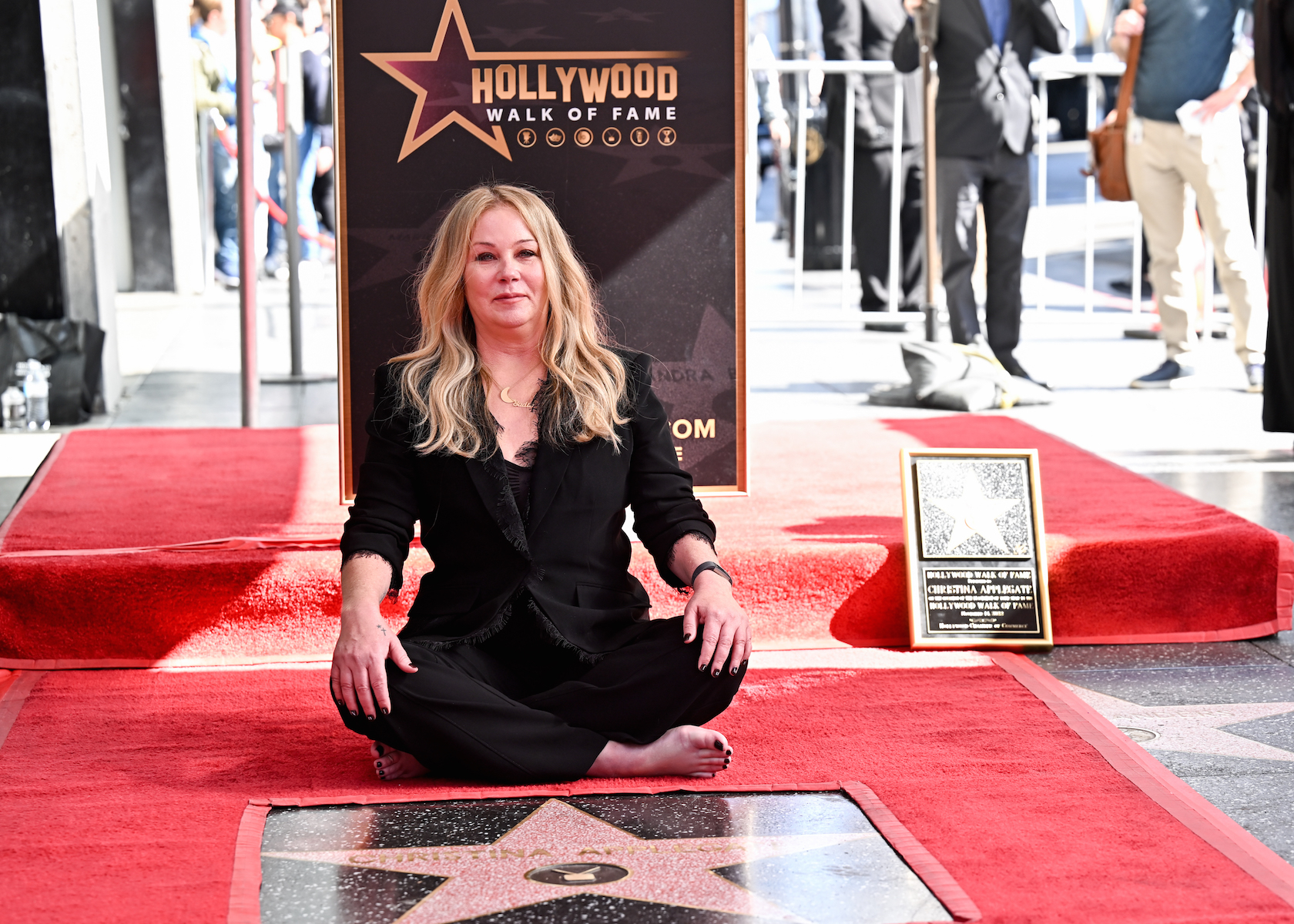 "With the disease of MS, it's never a good day," Applegate wrote in her Instagram post.
"Having MS f—ing sucks, You just have little s—– days," she said.
She went on to say everyday activities like taking showers, using stairs, and carrying things are all challenging.
Her willingness to persevere is what makes her so inspiring for so many.
Living with Incurable Multiple Sclerosis
Multiple sclerosis causes the immune system to attack cells that form the protective sheath that covers nerve fibers in the spinal cord. The disruption leads to communication problems between the brain and the rest of the body.
Once the protective barrier is damaged, the spinal cord struggles to send messages to the arms, legs, and other parts of the body to function normally.
There is no cure for MS, but MS warriors battling the disease do have methods to manage their symptoms.
Common tools MS patients use to improve their quality of life include wheelchairs, canes, leg braces and some medical treatments called disease-modifying therapies (DMTs).
Applegate has most notably adopted using a cane to help her with balance issues.
A study in American Family Physician found that DMTs "has been shown to slow disease progression and disability; options include injectable agents, infusions, and oral medications targeting different sites in the inflammatory pathway."
WATCH: Inspiring stories from multiple sclerosis patients overcoming adversity.
While chemotherapy is widely known as a cancer treatment that uses drugs to kill cancer cells, it is also effective at slowing down or stopping disease activity in MS. Fellow actress Selma Blair, 51, previously underwent chemotherapy as part of her treatment for MS. She shared a photo on her Instagram post-chemotherapy of her hair regrowth after losing it during treatment, a common side effect of chemotherapy.
Understanding Multiple Sclerosis
Multiple Sclerosis causes people diagnosed with the chronic disease to experience balance issues, numbness, and tingling in the limbs. Other common MS symptoms include vision and bladder control problems. Mood changes and mental and physical fatigue are other symptoms people living with MS may experience according to the National Institute of Health.
The National Multiple Sclerosis Society outlines the different types of multiple sclerosis:
Clinically isolated syndrome (CIS): This is when an individual experiences a single neurological episode lasting 24 hours or less. CIS is what MS is diagnosed as until there is a second episode.
Relapsing-remitting MS (RRMS): The most common MS among the million people battling the disease in the US, RRMS is marked by sudden flare-ups, new symptoms, or worsening of symptoms and cognitive function. The condition will then go into remission for some time before reemerging with no known warning signs.
Primary progressive MS (PPMS): These individuals have no flare-ups or remission, just a steady decline with progressively worse symptoms and an increasing loss of cognitive and body functions.
Secondary progressive MS (SPMS): This is an almost transitional form of MS that progresses from RRMS to PPMS.
WATCH: Inspiring stories from multiple sclerosis warriors.
SurvivorNet has had the opportunity to share the stories of resilience from other multiple sclerosis patients. The disease impacts everyone differently. This resilient group of people shares how they work every day to persevere.
Questions for Your Doctor
If you are diagnosed with MS or may be concerned you have the chronic disease due to symptoms you're experiencing, consider asking your doctor the following questions.
Although there's no cure for MS, which treatment option to manage my symptoms do you recommend for me?
Are there any potential side effects of MS treatment?
What if the treatment to manage symptoms doesn't work?
Will exercise or therapy help my symptoms?
Are there any MS support groups you recommend to help me cope?
Learn more about SurvivorNet's rigorous medical review process.
---