People sometimes like to fantasize about who would play them in the movie of their life. Imagine if the person playing you shared one of your most difficult life experiences.
Olivia Newton-John has wanted to keep some parts of her struggle with cancer private, but now a Lifetime movie called "Olivia Newton-John: Hopelessly Devoted To You," which recently aired, focuses on her experience after her initial cancer diagnosis. And who is playing her? Delta Goodrem, Australian singer, songwriter and actress, and like Olivia, a cancer survivor.
Read More
Olivia and Delta ("House Husbands," judge on "The Voice, Australia"), met when Delta was 11 years old. Olivia was Delta's idol, and Delta used to hang around Olivia's shows. One night, Olivia walked right into the restaurant where Delta was eating. "I was like, 'It's Sandy, it's Sandy!'" Goodrem told
Glamour Magazine
, referring to Newton-John's iconic role as Sandy in Grease. "Olivia heard my Australian accent and walked over to ask why we were in New York. She was so sweet and said, 'I hope I see you around tomorrow,' so the next day I looked around the entire city trying to find her again. I did not." Years later in 2003, at age 18, Goodrem was diagnosed with Hodgkins Lymphoma. Olivia had had her first breast cancer diagnosis 9 years prior in 1992, and underwent partial mastectomy, nine months of chemotherapy, and breast reconstruction, according to
People Magazine
. When Newton-John found out about Delta's cancer diagnosis, she wrote a personal letter to Delta. "She said that one day I'll understand this is a gift to give strength to people," Goodrem told Glamour. "As time went on, she became my mentor, friend, and greatest influence." Groodrem told Glamour that she referenced Olivia's letter in a gala speech, and used it as inspiration to be active when she comes across people with cancer. "We were doing a gala together for her charity, and I told the story to the entire ballroom," Goodrem said. "I talked about the impact that moment had, and now when I see young kids, I always think of [Olivia coming up to me] and I approach [others] rather than sit back."
Goodrem is playing Olivia Newton John at five different stages of life. "My first day on set was filming [the music video for] 'Let's Get Physical,' and the crew was all dressed up in headbands," she says. "I thought, Oh my God, what a way to start this project! And then my last day on set was the scenes during Grease, so that was really fun." But Goodrem hopes that a deeper message comes through, too. "There's only one Olivia Newton-John, and she's a beautiful, unique, one-of-a-kind person," Goodrem told Glamour. "She's a reminder that it's cool to be kind, and strength comes in many forms. No one can rock those Greasepants like her."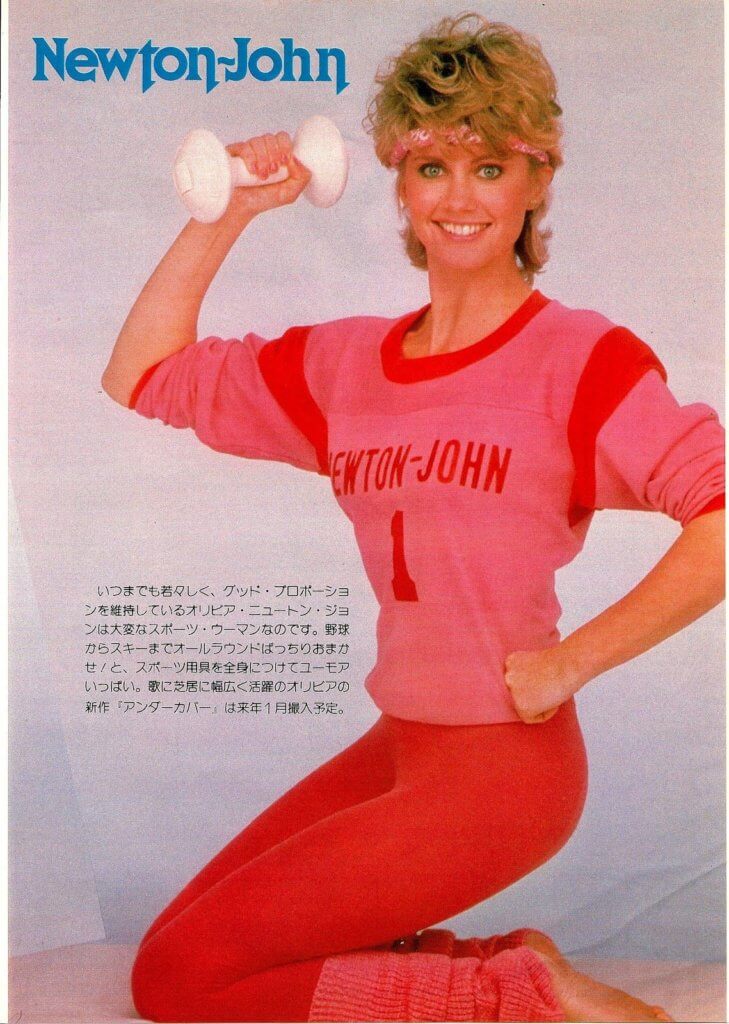 Publicity for Olivia Newton John's 1981 Album "Physical"
"There are some intense moments. Obviously, her life has had so many challenges, and I think opening up those wounds in certain parts that we both had, some similar experiences was definitely a big challenge," she said. "Both being cancer survivors and going through that moment, I think that was definitely some of the big challenges, but really worth it for people to feel that moment," Delta told Hollywood Life.
"Hopelessly Devoted" doesn't include Olivia's breast cancer's return in 2013 and 2017, but still gives ample screen time to her first diagnosis in 1992 and subsequent recovery, according to USA Today. At the end of the movie, Newton-John asks, "What's the point of all this media attention if I can't (use) it to some advantage?" perhaps a hint toward the cancer research institute she opened in Melbourne in 2013. The Olivia Newton-John Cancer Research Institute has seven core research programs, according Institute's website, investigating cancers including breast, bowel, liver, lung, melanoma, gastrointestinal and brain cancer, with Institute experts overseeing 60-70 clinical trials at any given time.
When Olivia Newton-John's disease returned in 2013, she chose to keep the information quiet. When the disease returned again in 2017 and metastasized to her lower back, she had to postpone some of her shows, and began to share the news with her fans, according to Marie Claire. 'I am a great believer in the power of positive thinking. 
It can get you through an awful lot,' she says. 'Every year for the last 20 years, I thought I was retiring, and then somebody would say, "How about this?" And it's like, "Oh, that looks fun,"' Newton-John told Marie Claire at that time.
Learn more about SurvivorNet's rigorous medical review process.