Returning to the big screen is cult classic film Grease starring the late Australian actress and icon Olivia Newton-John.
In honor of the star's passing, AMC CEO Adam Aron has announced that admission to the film at 135 AMC locations will only cost $5 per admission – $1 of each admission will go toward breast cancer research.
Read More
View this post on Instagram
Newton-John's mission was to "find kinder ways to treat cancer," and she was a true champion for people battling cancer. The "Physical" singer leaves behind an incredible legacy not only of film and music, but also her contributions to the cancer community. Newton-John was a role model for people battling cancer. She gave all cancer fighters and survivors hope for a better future.
Olivia Newton-John Says She Battles Nerve Pain & Used Medical Cannabis to Get Off Prescription Meds—New Update on Remarkable Breast Cancer Journey
No cause of death was immediately given by her family, although Newton-John had battled metastatic breast cancer for many years, and she continued to thrive and live life to the fullest while living with her disease.
Her husband, John Easterling, shared the news of her passing on Newton-John's Facebook page. He wrote:
"Dame Olivia Newton-John (73) passed away peacefully at her Ranch in Southern California this morning, surrounded by family and friends. We ask that everyone please respect the family's privacy during this very difficult time."
He continues, citing her work and advocacy, "Olivia has been a symbol of triumphs and hope for over 30 years sharing her journey with breast cancer. Her healing inspiration and pioneering experience with plant medicine continues with the Olivia Newton-John Foundation Fund, dedicated to researching plant medicine and cancer…"
Grease co-star John Travolta shared a moving tribute on social media, honoring his former co-star. He writes, "My dearest Olivia, you made all of our lives so much better. Your impact was incredible. I love you so much. We will see you down the road and we will all be together again. Yours from the first moment I saw you and forever! Your Danny, your John!"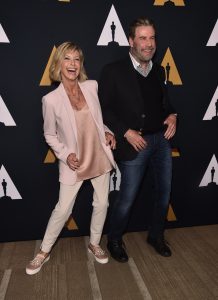 Olivia's Breast Cancer Journey
Newton-John lived for over five years with advanced breast cancer and remained a cancer thriver throughout her journey.
Related: 'It's Finally Here!' Olivia Newton-John, 73, Joyfully Invites Loving Fans to Buy New Vinyl Collector's Edition of 'Let's Get Physical' As She Thrives While Surviving Cancer
The Aussie singer was first diagnosed with breast cancer in 1992. To treat her cancer, she had chemotherapy and a partial mastectomy (surgical removal of cancerous breast tissue). In 2017, Newton-John's cancer returned and it had spread to other parts of her body, so she had radiation therapy to treat it.
Related: Olivia Newton-John, 73, Gives Fans an Update on Her Health Amid Metastatic Breast Cancer Fight: 'Your Mind Is a Very, Very Important Part of Your Healing'
A mastectomy is the removal of the entire breast during surgery. There are different factors to weigh when considering a mastectomy; chief among them is whether breast-conserving surgery (or, a lumpectomy) is possible.
In an earlier interview, Dr. Ann Partridge, an oncologist at the Dana-Farber Cancer Institute, explains the process for determining whether or not a woman should have a mastectomy to treat her breast cancer. The doctor says, "So when I talk to a woman who comes to me and she has breast cancer, I evaluate what the standard options for treatment for her are, which typically include cutting out the cancer– which is either a lumpectomy if you can get it all with just a little scooping around of the area that's abnormal or a mastectomy for some women meaning taking the full breast because sometimes these lesions can be very extensive in the breast."
"And I'll talk to a woman about that and I'll say these are two main options or the big fork in the road," she says.
In a previous interview with SurvivorNet, Newton-John spoke about her experiences with breast cancer and the effects of treatment. She said, "I have some neuropathy in my feet, which is probably my biggest problem because I love to walk. I love to hike. I love to play tennis and all those things. I can't do anything about the trade-off; it's okay. My feet have been my biggest issue and I get some back pain."
When Should You Consider a Mastectomy?
Staying Positive Throughout Cancer
We love how Olivia stayed positive throughout her cancer battle and uplifted others. She not only stayed positive and grateful, she also sought ways to mitigate the negative effects of cancer treatments like chemotherapy.
The singer was a proponent of using medical marijuana as a complementary therapy to treat her cancer. She advocated for use of marijuana not as a replacement for traditional therapies, like chemotherapy, but to support them, too.
She told SurvivorNet in an earlier interview, "I weaned myself off [prescription pain med] with cannabis, which I think is incredible. People should know that, because you're not going to die from cannabis. That was really powerful for me to find out as well. I've continued on a regime with cannabis ever since."
Newton-John was determined to help others living with cancer. She lost her friend Kelly Preston, wife of John Travolta, in 2020.  "Obviously, Kelly was a friend and a beautiful human inside and out," Newton-John told SurvivorNet. "It really strengthened my determination to find treatments for people. I've lost many friends in this last year, and I seem to have lost a lot of people to cancer that I know."
She continues, "So it just makes me more determined to get this foundation going and get information out there. How people can help themselves on the journey and live better with it."
Olivia Newton-John, 72, Says She's Missing Family in COVID Lockdown During Stage IV Battle 'I Send You All My Love'
Learn more about SurvivorNet's rigorous medical review process.