In the 2018 Olympic Games in PyeongChang, Kikkan Randall teamed up with Jesse Diggins to win the United States' first gold medal in women's Olympic cross-country skiing. Just three months later, she was diagnosed with stage 2 breast cancer. Now, the 36-year-old, five-time olympian is planning another triumph — running in this weekend's New York City Marathon.
Randall will join more than 50,000 runners in the streets of New York City on Sunday for the 26.2-mile race — an incredible feat for someone who, just last November, was undergoing a lumpectomy to have her cancer removed, and in the midst of a months-long chemotherapy regiment. A lumpectomy is a breast-conserving surgery that removes only the tumor and surrounding tissue from a woman's breast.
Read More
RELATED: IF I CAN GET THROUGH CANCER, I CANT GET THROUGH ANYTHING — CANCER SURVIVORS ON SETTING FITNESS GOALS
Randall's appearance at this year's marathon — the olympic skier's first time running the race — will bring awareness to AKTIV against Cancer, an organization co-founded by legendary runner Grete Waitz, who passed away from cancer in 2011. The organization's goal is to encourage people battling cancer to incorporate physical activity into their lives during treatment.
As a professional athlete herself, Randall has certainly been heeding AKTIV's message. She kept as active as possible all throughout her treatment, and in a recent interview with The Washington Post, even said that being an athlete — in a unique way — prepared her for the experience of being sick.
RELATED: STAYING ACTIVE DURING CANCER TREATMENT
"It's surprising how many similarities there are between being an athlete and being a cancer patient," Randall said. "As an athlete, I was always careful about not getting sick. I was always being sure to wash my hands and avoid public places, all that kind of stuff. You've got to get enough sleep, you've got to eat right. You've got to get through a big process one step at a time. I just actually used some of the same tools and mind-set that I used as an athlete to go through my treatment."
Kikkan Randall's Cancer Journey
Randall announced in July 2018 that she had been diagnosed with breast cancer. She took to social media to share some photos of her receiving chemotherapy treatments, along with the caption: "The color pink has taken on a new chapter in my life as I was recently diagnosed with breast cancer. Although we caught it early and the prognosis is good, my life will change quite a bit in the coming months. I have returned to Anchorage for treatment at @providencealaska Cancer Center. It's a scary thing to learn you have cancer and I have wondered every day since how this could have possibly happened to me. But I have promised myself that I will remain positive and active and determined throughout my treatment."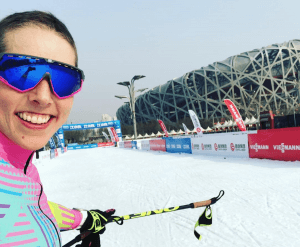 Randall regularly updated her fans throughout her experience with the disease. Since she began chemotherapy in July 2018, Randall has been very candid about her journey — from battling the disease as a mom with a young son to how her hair began growing back in a very different way after chemotherapy. And all throughout the ups and downs of treatment, Randall stayed as active as possible. Like so many survivors battling cancer, Randall found solace in keeping her body moving.
She had initially planned to run the NYC marathon last year, but due to her surgery, and the fact that she was still new to chemo — Randall decided to sit the race out, cheer on her fellow athletes, and make plans for the future. Now that she is feeling healthy again and able to compete in such a demanding physical activity, Randall said that she's just hoping for the best in the race (her goal is to finish in under three hours), and the whole experience has taught her to appreciate the little things in life.
"Now that I'm mostly finished with treatment, I'm trying to continue with that mind-set but with the perspective of 'I get to be out here doing things. I appreciate how good I feel. I am just incredibly grateful that my treatment was effective and that I do feel good,'" Randall told The Washington Post. "I'm really trying to honor the experience and not take any moment for granted. I want to make the most of every day because you don't necessarily know how many days you have. I'm positive and optimistic — trying to be in the moment while trying to be optimistic about the future."
Learn more about SurvivorNet's rigorous medical review process.