When Jamaican Olympic sprinter Novlene Williams-Mills was diagnosed with breast cancer in 2012, the then-30-year-old athlete was just weeks away from competing in the 2012 Olympics in London. She was devastated, but she managed to get back on track — literally. In a new interview with SurvivorNet, the Olympic athlete explained how she stayed motivated to keep competing throughout the cancer journey.
Williams-Mills, now 37, is currently embarking on a new adventure — she just gave birth to twins earlier this month. She took some time out of her new mom schedule to share some wisdom she learned along the way after her diagnosis, recovery and subsequent return to the Olympic track with the SurvivorNet community.
Read More
RELATED: Aggressive Breast Cancer in Young Women
"When I first got diagnosed, it was shocking being young — 30s," she says. "Cancer doesn't care who you are, but 30s — pretty much everything that they tell you you're supposed to do, I was that person. I was the person that was never dreaming about being a cancer patient — a cancer survivor. That really threw me through a loop. I was devastated."
After the diagnosis, she says, she called her husband — she barely remembers the conversation — but she says he was her rock throughout the whole ordeal. He was also the one who, after she got the OK from her doctor, convinced her that despite the diagnosis, she should absolutely still head to the Olympics that year.
RELATED: More Young Women are Being Diagnosed with Breast Cancer – What's Behind the Shocking Increase?
"He was like, 'Go ahead and go, because if you don't, you're just going to sit home and watch the games, and all these other athletes are going to be there. There's nothing more for you to do, just go and have fun. Take your mind of what's going to happen in a few weeks, and then the following months coming up.'"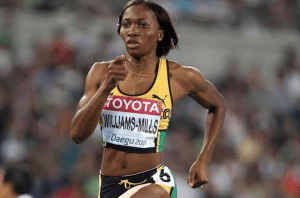 Williams-Mills' doctor assured her that her cancer wouldn't likely progress in the time she was away competing in the Olympic Games, and they scheduled her surgery for when she got back. And despite the diagnosis, she helped Jamaica win a silver in the 4×400-meter relay and placed 5th in the individual 400-meter race.
The athlete ended up needing four surgeries. After an initial surgery and an unsuccessful attempt to clear out all the cancer, Williams-Mills decided with her doctor and her husband that a double mastectomy was the way to go. Her last surgery was in January of 2014 — by February she was up and walking around again. By that April, she was competing.
Getting Back on Track
Being an athlete, she says, was what motivated her during her recovery period when she needed it the most. She wanted to get back out there.
"Just hearing the stories … hearing how [other runners'] practice was going. I knew the track season was coming up, so that was the thing that motivated me to be like, 'You've got to get back out there. You've got to get back out there just to train, to see how the season would go with limited training," she says.
Even though she wasn't back to 100% as soon as she hit the track again, the fact that she was out there competing again was the confidence boost she needed.
"The times were not the times I used to run," Williams-Mills says of her first competition after the surgeries in April 2013. "But it was a confidence booster for me because, knowing the training I had, knowing what I'd been through the past couple months … and to still be able to be like, 'OK, I still got it.' It's not that bad."
Going Public — 'It Was Terrifying'
Later that year, at the urging of her family, Williams-Mills decided to go public with her diagnosis. She says it was her family that convinced her that even though she still felt a little uncomfortable talking about it, her story could be an inspiration to others.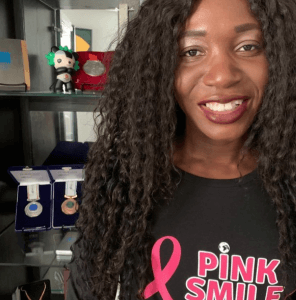 "It was terrifying because I didn't know how people were going to react … I didn't want to be known as, 'Oh, that's the athlete with breast cancer … I didn't want cancer to make people forget about what I'd done on the track," she says.
But the response she got from fellow athletes and fans alike was more than she could have asked for.
"All the emails, text messages … people would be like, 'I quit school, I went back. If you can go through that and still do what you're doing, why am I giving up so easily?" she says. "…So, that was good for me, to tell my story and to have other people overcome some of the challenges that they were going through at that particular time in their life."
Williams-Mills says one of the important things she learned along her journey was that you're not alone. Even as a young woman facing an aggressive cancer, there are so many others like you.
"Sometimes you're going to feel like you're alone. Believe me, you're not alone. When I was first diagnosed, I didn't know that so many young people have breast cancer. I started going to a lot of these functions and I started seeing people in their 20s going through it … so, you're not alone. For the first time I felt like I was not alone. A lot of people there can say, I know what you're going through," the athlete says.
And one more thing — ignore the horror stories on the internet.
"Going into my double mastectomy, my doctor was like, 'Don't go on the internet. Read nothing on there because those are the things that scare you,'" Williams-Mills says. "Honestly, I think that was the best advice that I listened to."
RELATED: Young Women Are More Likely to Present With Advanced Breast Cancer
Dr. Ann Partridge, of Dana-Farber Cancer Institute, explains how breast cancer affects young women differently than older women.
Learn more about SurvivorNet's rigorous medical review process.