When it comes to the future of ovarian cancer treatment, there's nothing more important than clinical trials– in which patients with advanced ovarian cancer receive revolutionary new therapies under the careful observation of doctors and scientists.
Clinical trials are crucial to advancing the fight against ovarian cancer. These trials are the reason that so many promising treatments, such as PARP inhibitors, have become more widely available. However, clinical trials don't always have enough patients enrolled that represent the diversity of women with ovarian cancer. We spoke to Dr. Dana Chase, a gynecologic oncologist at Arizona Oncology, about how increasing diversity in these trials is a growing priority. She says, "In terms of health disparities in [ovarian] cancers, there's definitely a certain patient population that gets enrolled in these clinical trials."
Read More
Dr. Chase makes clear that clinical trials for ovarian cancer still have a long ways to go to match the diversity of patients in the general population. She says,"When you look at the population of women that go on those studies, there's definitely certain populations that are not included."
Who is Underrepresented?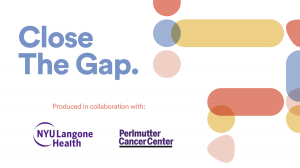 SurvivorNet and NYU Langone Health's Perlmutter Cancer Center are collaborating to help close the racial gap in cancer prevention, cancer care, and survival rates.
Clinical trials typically enroll mostly younger white women, which can be problematic when interpreting and generalizing the data to all women. These categories of women are often underrepresented in clinical trials:
Elderly Patients – Dr. Chase says these underrepresented women are often the elderly. This is particularly troubling given that the majority of ovarian cancers occur in post-menopausal women. In fact, a recent research report looking at the demographics of ovarian cancer clinical trials found that women over 65 accounted for only 37% of women enrolled in ovarian cancer clinical trials in the US, and just 12% worldwide.
Ethnic Minorities – Most ovarian cancer research is conducted with white women, according to Dr. Chase. In the same report, researchers found that only 11% of women with ovarian cancer enrolled in clinical trials in the US where racial and ethnic minorities, and just 13% of women in trials worldwide were minorities.
Why does it matter?
This underrepresentation is a problem because it calls into question whether the results of clinical trials apply to all women. Dr. Chase says, "The problem is whether or not this data from these large clinical trials can be reproduced in populations that have not been represented." For example, while PARP inhibitors have been shown to be effective in white women under 45, are they just as effective in Hispanic women over 70? Without adequate elderly, Hispanic women represented in these trials, these questions are difficult to answer.
The good news is that researchers have recently begun to prioritize increasing the diversity of women in clinical trials. As Dr. Chase puts it, in "certain populations it could be really multifactorial why they're not included on the study, so we should try to figure out how to include them." The hope in the near future is that clinical trial data can be widely applicable to everyone, regardless of age or ethnicity. This way patients and physicians alike will have more certainty in using that data to treat women who are often the most vulnerable and susceptible to ovarian cancer, such as the elderly. According to Dr. Chase, "Clinical trials can be very very helpful. They can potentially change practice forever, and potentially improve outcomes…maybe even cure a patient."
Learn more about SurvivorNet's rigorous medical review process.
---