Encouraging Your Partner to Take Care of Their Health
If you're worried about your partner's cancer risk, do what you can to encourage their healthy habits.
Encourage your partner to take proactive cancer-preventative steps, like healthy eating and little to moderate alcohol consumption.
Skin cancer is the most commonly diagnosed cancer in the U.S.; always encourage your partner to protect their skin!
They say opposites attract – are you a health nut and your partner couldn't care less about their health? And how does that affect a relationship when disagreements about best health practices relate to cancer prevention?
This tension  was encapsulated Friday in a widely read advice column in The Guardian in which a widow whose husband died of cancer wrote about her frustration that her new partner will only wear sunscreen on his face.
Read More
"I am terrified of him getting skin cancer, especially as this is something his parents have experienced, and also because I was widowed at 34 when my first husband died of cancer," the widow writes to renowned advice columnist Annalisa Barbieri.
Related: Are Certain Cancers 'Preventable'? According to a New Study: Yes; Study Shows Half of Cancer Deaths Linked to Preventable Factors
"I have mentioned my fears to my partner many times, but I don't think he takes it seriously or knows how much it bothers me," the widow writes. "As he tans easily I think he thinks he is invincible. Am I just being selfish – perhaps I should let him make his own decisions, however potentially damaging the outcome? I am at a loss to know what else to do."
Barbieri advised the woman to sit her partner down and explain to him that it's not about sunscreen in particular, it's about her past trauma over her husband's death: "Important though sun cream use is, it may be acting as a useful foil for some rather more vulnerable emotions underneath."
If you find yourself in this situation, as the widowed writer to The Guardian did, there are some steps you can take to encourage your partner to make good, cancer-preventative choices. Also, you and your partner should get your regular cancer screenings, too! Screenings like mammograms, colonoscopies, and skin checks save lives.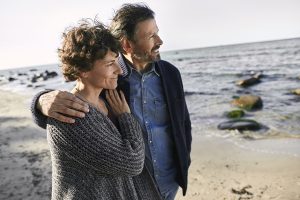 Encourage Your Partner's Healthy Habits
Does your partner eat a lot of junk food? Try to encourage them to stick to healthier foods, like fruits, vegetables, lean proteins, and unprocessed foods. New studies have shown the link between eating "ultra-processed" foods and the increased risk of colorectal cancer.
Related: Uproar in Australia After School Kids Told to Stop Bringing Their Beloved Ham Sandwiches to School Due to Cancer Risk From Processed Meat
Additionally, lowering your alcohol consumption may cut your cancer risk, too. Consider trying out non-alcoholic beer or a non-alcoholic cocktail next time you're craving a post-work drink or celebrating an occasion.
Alcohol Can Increase the Risk of Developing Breast Cancer
Lowering Skin Cancer Risk
Skin cancer is the most commonly diagnosed type of cancer in the U.S., and there are steps you and your partner can take to lower your risk. According to the American Cancer Society (ACS), 5.4 million basal and squamous cell skin cancers are diagnosed each year in the U.S.
Protecting your skin by wearing sunscreen and getting skin checks is so important. Skin cancer is the most commonly diagnosed type of cancer in the U.S., and you can protect yourself and lower your skin cancer risk by taking prevention steps.
In an earlier interview, dermatologist Dr. Dendy Engelman outlines five easy ways to protect your skin, and lower your skin cancer risk. She tells us:
Avoid sun during peak hours. This means from 10 a.m. to 2 p.m. It doesn't mean you should never go outside during the middle of the day, but make sure you're protected when you do venture outdoors.
Cover your skin and eyes. A wide brim hat and sun glasses will protect your face, the top of your head, your ears, and the delicate skin around your eyes.
Wear an SPF of 30 or higher. Plenty of facial moisturizers have SPF built into them. Reapply often.
Get an annual skin check. You can check your own skin for anything that looks out of the ordinary, but you should still get a yearly check to make sure you didn't miss anything. If you do happen to notice anything out of the ordinary in between checks, schedule an appointment to talk to your doctor about it ASAP — it is always worth it to make sure.
Avoid tanning beds. "There's absolutely no benefit to going to a tanning bed," Dr. Engelman says.
Top 5 Ways to Protect Your Skin From Skin Cancer
Supportive Partners Through Cancer
If your loved one does get a cancer diagnosis, it's important to be a pillar of support to them as they move through treatment and the cancer journey.
Having a supportive partner or spouse through a cancer battle can help tremendously. In an earlier interview, actress and melanoma survivor Jill Kargman candidly expresses how she believes that cancer can be a litmus test for the strength of a relationship.
She says, "I think cancer is a great way to find out if you're with the love of your life or a shithead. I think it presses the fast forward button on getting to the bottom of that answer because a lot of people in middle age are kind of at a crossroads, waiting for their kids to fly the coop."
Kargman continues, "And I think if you're with someone who is not supportive and kind of emotionally checked out or doesn't tell you you're still beautiful with that, this might not be your person."
Jill Kargman on Relationships and Cancer
Learn more about SurvivorNet's rigorous medical review process.