Living With Glioblastoma
A beloved dad from Pennsylvania was shocked when his constant headaches turned out to be brain cancer.
He was diagnosed with glioblastoma (GBM), a type of glioma and the most common form of brain cancer.
Surgery often cannot remove all the glioblastoma because of the way the tumor burrows into the brain.
Former U.S. Sens. John McCain and Ted Kennedy, and son of President Joe Biden, Beau Biden, were all diagnosed with glioblastoma.
Always be your own best health advocate; if you don't get sufficient answers about what's going on in your body, seek a second, or third opinion.
A brave Pennsylvania dad of three is battling an aggressive brain cancer after what started as unseeming frequent headaches turned out to be tell-tale signs of glioblastoma.
Ryan's Cancer Journey
Ryan Russell considered himself a healthy man at the age of 39. His morning routines often included dropping the children off at school and a gym workout. However, in April 2022, his routine would be followed by frequent headaches. He grew accustomed to the morning headaches, but little did he know at the time they were signs of something more serious.
Read More
"About 20 minutes after leaving the gym, I would just start to get an incredible amount of pressure in my head," Russell
told
"Today" in an interview. "It would lead to these headaches, and it would cause some vision issues – tunnel vision, things like that, which was just really odd," he added. The frequent headaches felt like "severe migraines" and eventually Russell went to the doctor to figure out what's going on. He had to consult three different doctors before he finally got a diagnosis that provided him and his family some answers.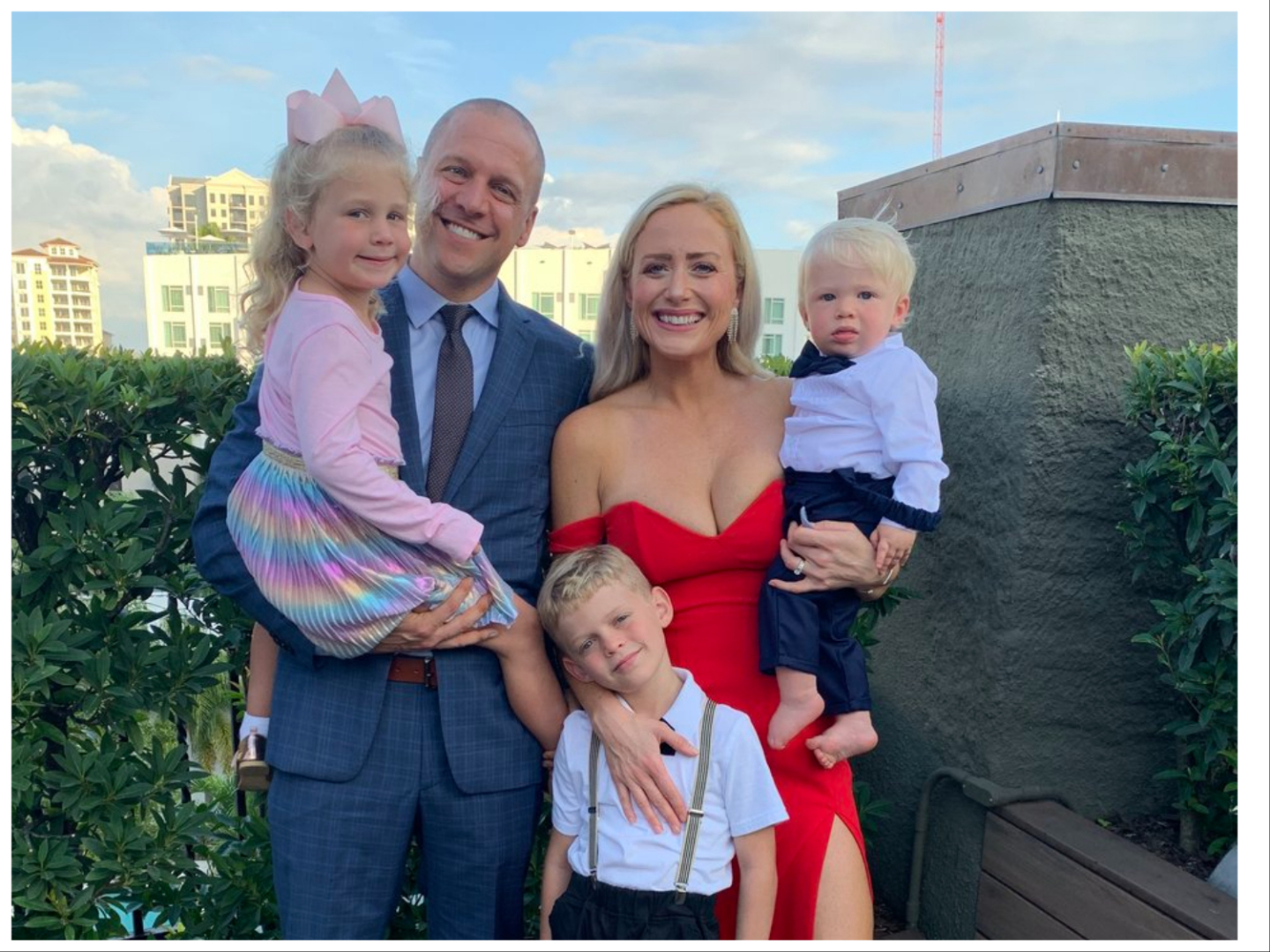 The first doctor thought "it might be an inner ear-related or COVID-related problem," while the second doctor wanted to try a "holistic approach," Russell said. But the third doctor conducted an MRI scan.
"When they pulled me out, the radiation oncologist was there and asked me to please come with him and I wasn't able to go home," Russell recalled.
His MRI scans revealed three lesions on his brain – which led to his glioblastoma diagnosis.
Russell and his family are chronicling their cancer journey on their blog My Grey Matters.
What Is Glioblastoma?
Glioblastoma (GBM) is a type of glioma and is the most common form of brain cancer. The glioma is a growth of cells that look like glial cells. It grows rapidly and is in the brain, the most protected part of the body. This means surgery should be performed swiftly, and there are few drugs that can reach the tumor because of the blood/brain barrier. While targeting the cancer cells, doctors must target each one individually to slow the tumor growth because the cells are not all similar or heterogeneous.
Surgery often cannot remove all the cancer because of the way the tumor burrows into the brain. That means the tumor may start to grow again soon after surgery.
Dr. Jon Weimgart from Johns Hopkins Comprehensive Brain Tumor Center told SurvivorNet that glioblastoma is a "grade 4 glioma brain tumor."
When it comes to brain cancers, they are "graded" from 1 to 4 with 4 being the more aggressive form of brain cancer. According to Moffitt Cancer Center, glioblastomas are always classified as grade 4 brain cancer because this type of cancer is an aggressive form of astrocytoma – a type of cancer that can form in the brain or spinal cord.
"Despite all the advances in treatment, we still don't understand what causes GBMs," says Dr. Weingart.
Glioblastoma is not hereditary, it's diagnosed in adults more than children, and is slightly more common in men.
Former U.S. Sens. John McCain and Ted Kennedy, and son of President Joe Biden, Beau Biden, were all diagnosed with glioblastoma.
Glioblastoma Risk Factors and Symptoms
Glioblastoma risk factors can include:
Prior radiation exposure
Gender, men are more likely to get glioblastoma than women
Age, people 50 years or older
Certain genetic syndromes, including neurofibromatosis, tuberous sclerosis, von Hippel-Lindau disease
Symptoms for glioblastoma can vary depending on the area of the brain where the tumor begins and spreads and its growth rate, according to MD Anderson Cancer Center. But common symptoms for glioblastoma can include:
Headaches
Seizures
Changes in mental function, mood or personality
Changes in speech
Sensory changes in hearing, smell and sight
Loss of balance
Changes in your pulse and breathing rate
Glioblastoma Treatment
Russell's treatment included craniotomy surgery, a procedure in which a piece of his skull was removed to cut out one of the tumors. The brave cancer warrior also underwent chemotherapy and radiation. Now, nearly a year later, Russell says his latest MRI scan showed "no tumor growth."
Mayo Clinic says treatment options for glioblastomas include:
Surgery
Radiation therapy
Chemotherapy
Tumor treating fields therapy
Targeted therapy
Clinical trials
Supportive care
The average survival rate is 15 months with treatment, and less than six if left untreated, according to the National Cancer Institute. And while there is a five-year survival rate of approximately 6%, those individuals will never be cancer-free and must continue receiving radiation and chemotherapy for the rest of their lives.
WATCH: New hope is on the horizon for those battling glioblastoma.
The biggest breakthrough in the fight against glioblastoma came in 2002 when the FDA approved temozolomide (commonly sold under the brand name Temodar) for use in patients. It's a chemotherapy drug that patients take after surgery and radiation.
It is also one of just five FDA-approved drugs that treat glioblastoma, along with lomustine (brand name Gleostine), intravenous carmustine, carmustine wafer implants and bevacizumab (brand name Avastin).
And for those patients who are not well enough for surgery, "radiation may be used to destroy additional tumor cells and treat tumors," Dr. Weingart said.
Dr. Daniel Wahl, professor of radiation and oncology at University of Michigan, notes that the downside to all of this is that there is no cure, just a delay.
"Outcomes for these patients are still suboptimal. What I tell my patients is that we have these effective treatments but what they do is they delay the time to when this tumor comes back. Only in exceptional circumstances would we ever talk about getting rid of one of these cancers a few."
Targeted drug therapies includ the bevacizumab (Avastin) drug, an option available to individuals who have not responded to other treatments. The drug blocks glioblastoma cells from sending requests for new blood vessels. The blood vessels feed and allow tumors to grow.
Russell currently receives Avastin every other week for his ongoing GBM treatments.
Second Opinions Are Sometimes Critical
Cancer warriors and their loved ones should always advocate for their health. One way to do that is by getting multiple opinions from doctors, especially if you suspect your symptoms don't match up to what the first or second doctor tells you what's wrong. Russell's push to get clear answers for his ongoing headaches proved crucial to getting him the necessary treatment, which is something SurivivorNet experts reccomend.
A year after his diagnosis, Russell considers himself in "relatively good health," as his speech has not been impaired and he's still able to work as an associate professor at Penn State University.
It's important to listen to your body and note any changes that may be occurring, so you can seek a physician's care if needed. Remember to always be your own best advocate for your health and physical needs. If you don't get sufficient answers about what's going on in your body, seek a second, or third opinion.
Also asking your doctor additional questions helps ease the initial shock and anxiety associated with a new diagnosis.
"I think it's really important for them to be able to hear it multiple times, take notes," Dr. Heather Yeo, colorectal surgeon at Weill Cornell Medicine said.
"I support second opinions. I actually think it's really important. I mean, if you think about it in life, how do you choose someone to cut your hair? You get an opinion, right? You usually don't just go in and sit down with the first person you see on the street and say, cut my hair. You ask around," Dr. Yeo added.
Dr. Yeo also suggests turning towards family and friends or find a support group to help you begin your cancer journey.
Russell's entire family are on his cancer journey together. He said he's been open with his children about his diagnosis.
Learn more about SurvivorNet's rigorous medical review process.
---