Mickelson Protects His Skin
PGA Championship winner Phil Mickelson is the oldest person to ever win the championship at age 50; Mickelson recently spoke about his use of Carac cream.
Carac cream treats symptoms of skin cancer, the most common type of cancer diagnosed in the U.S. The cream is a formulation of the chemotherapy 5-fluorouracil.
Mickelson's wife, Amy Mickelson, 49, battled breast cancer in 2009.
Pro golfer Phil Mickelson just made history when he became the oldest – at 50 years old – person to ever win the PGA Championship, and with all that time out in the sun on the course, he's smartly protecting himself, too.
In a new interview with Golf Week, Mickelson spills about his intriguing new skincare regimen to rectify sun damage and his new mirrored sunglasses.
Read More
"During the COVID break,
I did this Carac cream
, which is like a skin cancer chemotherapy treatment on your face, for like two weeks, and your skin blotches up and you kill these cancer cells that you can't see and when I went outside, I had to wear some protection so I wore these glasses to protect the area around my eyes," he says.
Dana-Farber Cancer Institute dermatologist Dr. Cecilia Larocca says of Mickelson's glasses and cream treatment, "Glasses can be a helpful addition only in the areas of skin it covers up, not because it is needed to protect the eyes. Sunscreen and a hat are more important [when it comes to protecting yourself from sun damage]. Outdoor athletes are at higher risk for the development of skin cancer and they should look into using these creams."
What is Carac Cream?
As Mickelson says, Carac cream protects from skin cancer.
Dr. Larocca explains that this cream is a formulation of the chemotherapy 5-fluorouracil, and it's used for treating actinic keratoses, which are the result of heavy sun damage and are considered pre-cancerous.
"If untreated over time it may transform into squamous cell carcinoma," says Dr. Larocca. "Chemotherapy creams can clear actinic keratoses and reduce the development of skin cancer. Carac is generally applied daily for up to 4 weeks, but some patients may experience benefit after 1-2 weeks of use. Carac is one of several creams available to treat actinic keratoses and superficial skin cancers, like squamous cell carcinoma and basal cell carcinomas."
Dr. Larocca says the frequency of use depends on the degree of the patient's sun damage, but generally carac use can be beneficial.
"If we could convince more patients to go through the 'trouble' of using the cream we could significantly reduce the number of non-melanoma skin cancers," she says.
The cream can be used anywhere on sun damaged skin, except the eyelids.
"While it does clear pre-cancerous or cancerous skin cells, they may not be 100% effective and new pre-cancerous or cancerous cells may develop over time," Dr. Larocca notes. "Therefore, it is not unusual to have to use these creams for multiple cycles over the years. "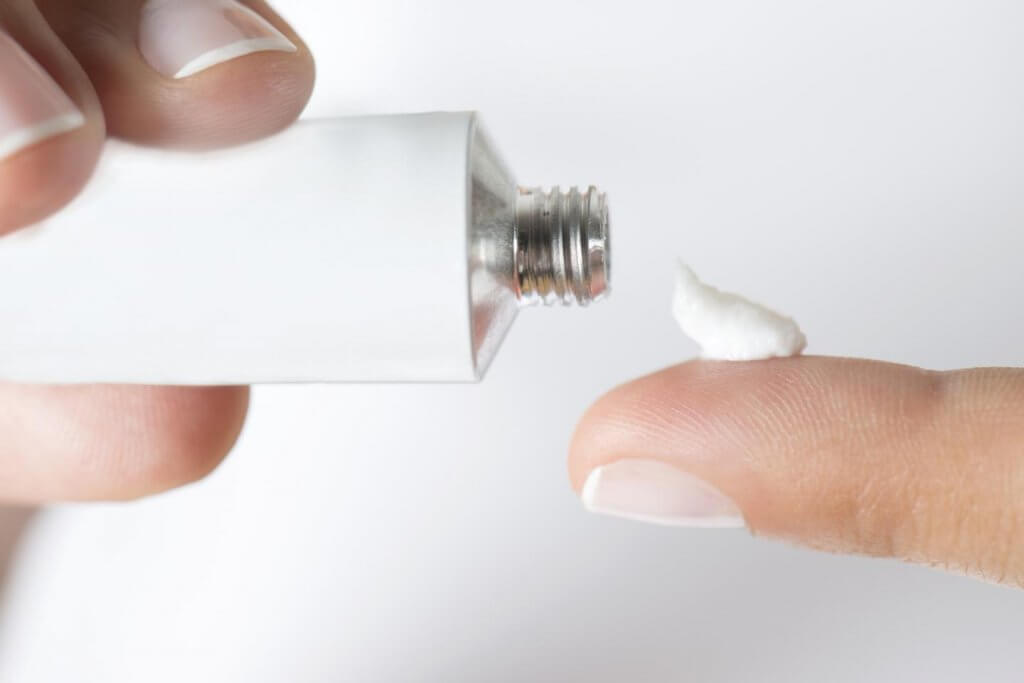 Skin cancer is by far the most common cancer. The three major types of skin cancer include basal cell carcinoma (BCC), squamous cell carcinoma (SCC) and melanoma.
According to the American Cancer Society (ACS), about 5.4 million basal and squamous cell skin cancers are diagnosed each year in the US. About 8 out of 10 of these are basal cell cancers. Squamous cell cancers occur less often.
Melanoma is less common, but it is more likely to grow and spread to other parts of the body. The ACS says that melanoma accounts for only about 1% of skin cancers but causes a large majority of skin cancer deaths.
Related: Am I at High Risk for Melanoma?
Mickelson is smart to be proactive about protecting his skin. Protect the skin you're in from skin cancer – the most common cancer in the U.S. – by wearing SPF, avoiding sun during peak hours and skipping tanning beds.
Top 5 Ways to Protect Your Skin From Skin Cancer
Mickelson's Wife Battled Breast Cancer
Mickelson's wife, Amy Mickelson, 49, battled breast cancer in 2009. She underwent several rounds of chemotherapy to treat her breast cancer. To help her, Phil Mickelson put his golfing career on hold for several months. In 2010, he celebrated her being declared "cancer-free" by winning the Augusta National golf tournament in her honor.
Related: How to Deal With the Side Effects of Chemotherapy
Mammograms screen for breast cancer and they can be life-saving. Women aged 45 to 54 should have annual mammograms, which look for lumps in the breast tissue and early signs of breast cancer. When getting a mammogram, ask the technician to look to see if you have "dense breasts" which a mammogram can show; having dense breasts makes it more difficult to detect cancer.
Breaking Down the Major Shift in Chemotherapy for Breast Cancer
Learn more about SurvivorNet's rigorous medical review process.