Young Girl & Cancer Survivor Inspires Others
Daisy Passfield is an 8-year-old from Abbots Langley, England who lost her eye due to retinoblastoma when she was an infant.
She was diagnosed with a grade D tumor in her retina at just 14 months old and after chemotherapy, Daisy underwent surgery to remove her eye.
Retinoblastoma is the most common type of eye cancer found in children, but it is rare; approximately 200-300 children will be diagnosed with it in the U.S. each year.
Daisy Passfield lost her eye after she was diagnosed at just 14 months old with retinoblastoma, a rare cancer of the retina that affects children. But now, the 8-year-old is embracing her loss with a pink sparkly prosthetic eye.
Months after getting diagnosed with a grade D tumor in her retina, Daisy underwent chemotherapy to minimize the cancer. However, after two months of chemo, instead of the tumor decreasing in size, it split into two, sparking fears it would spread. At two years old, Daisy, from Abbots Langley, England, underwent a four-hour surgery to remove her right eye.
Read More
After years of having a blue prosthetic eye, Daisy decided to change up her look this summer with her favorite color, pink glitter. "I feel happy because everyone can see my pink sparkly eye," Daisy, who is excited to show everyone at school her personalized prosthesis, told
SWNS
.  "I think they will love it just like I do. Everyone I have spoken to has said how lovely it is. I have been told it looks like a superhero eye, a dragon's eye and a unicorn eye and I like all those things."
Her mom, 30-year-old Alysia Passfield, first noticed something was wrong with Daisy's eye when she was looking at a photo of her daughter. Alysia explained, "I noticed from a photograph. She had a white glow in her eye and her eye had a glaze on it." Following her discovery, she recounts it was difficult to get a diagnosis for her daughter, whose eye's white glow was a common symptom of retinoblastoma.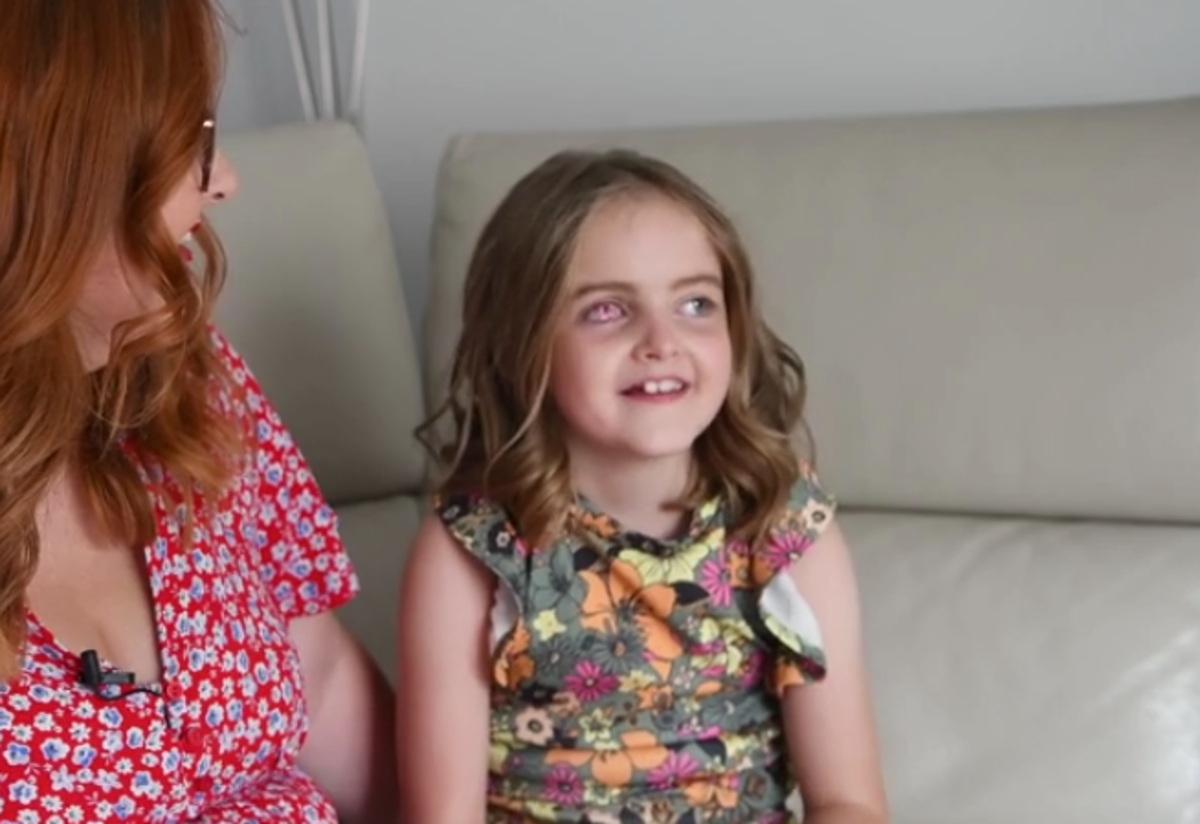 Alysia said she "knew there was something wrong," but once a diagnosis was confirmed, she admitted to feeling "upset and in a bit of a shock." She explained, "Daisy was absolutely fine, she took it in her stride, and she has six rounds of chemotherapy to try to shrink the tumor." The procedure used to decrease the size of the tumor is called intra arterial chemotherapy, a process of giving chemotherapy drugs through the eye.
Related: 24-Year-Old Model Who Lost Her Eye Due to Cancer Says Posing without Her Prosthetic Empowers Her: 'I Don't Need The Eye To Feel Pretty Anymore'
"By September 2016, we made the decision to remove her eye, because the chemo that she had, had broken the tumor into different parts and we didn't want the tumor to spread." Since receiving her first prosthesis, a blue eye to match her real eye color, Daisy received a pink eye on July 28 of this year.
Daisy, who has a 10-year-old sister and a four-year-old brother, has "always been into sparkly things, make-up and making herself look pretty," her mom added, noting how her daughter still lives a "completely normal" life.
"She is one of the most confident people I have ever met. The only thing she can't do is drive a combine harvester or fly a plane but I don't think we have to ever worry about that happening," Alysia said.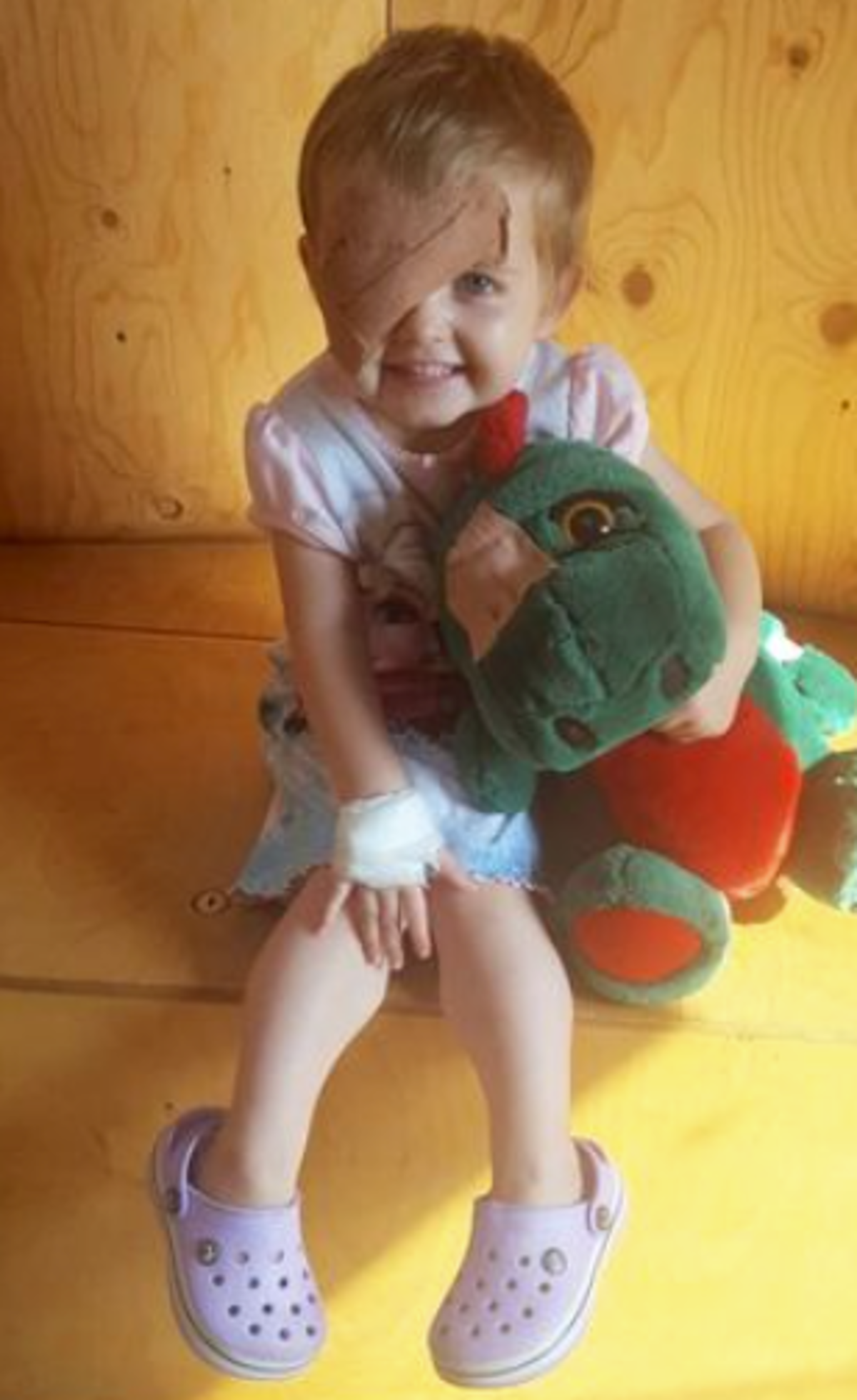 Understanding Retinoblastoma: A Type of Eye Cancer
The term eye cancer can refer to any cancer that originates in the eye. Melanoma is the most common type of eye cancer, but the kind that Daisy had – retinoblastoma – happens to be the most common type of eye cancer in children.
Related: Body-Positive Hairdresser, 32, Boldly Shows Off Her Glow-In-The Dark And Gold Prosthetic Eyes She Got After Beating Eye Cancer As An Infant
This cancer most often develops in infants and very young children, and it rarely occurs in children older than 6. Overall, retinoblastoma is rare, but it accounts for about 2 percent of all childhood cancers with about 200 to 300 children being diagnosed with the disease each year in the United States.
About 75 percent of children with retinoblastoma have a tumor present in only one eye (making it unilateral retinoblastoma), but another 25 percent will have both eyes affected (making it bilateral retinoblastoma). And, thankfully, more than 9 out of 10 children in the United States with retinoblastoma are cured.
The Impact of a Childhood Cancer Diagnosis on the Whole Family
Although retinoblastoma can be inherited, most children with the type of eye cancer do not have a family history of the disease – regardless of whether theirs is heritable or non-heritable – but children with the heritable form have a 50 percent chance of eventually passing on the RB1 gene change that causes the tumor to their children. Children with the non-heritable form of retinoblastoma do not pass on an increased risk for developing the disease.
Signs and Symptoms of This Type of Eye Cancer
Retinoblastoma is most often diagnosed after a parent or doctor notices something unusual about a child's eye. Two of the more common signs and symptoms include:
White pupillary reflex (leukocoria) – the pupil appears white or pink instead of red when you shine a light in the eye
Lazy eye (strabismus) – the eyes don't appear to look in the same direction
Related: Worried Mom, 21, Noticed Her Baby Was 'Slightly Squinting:' It Turned Out To Be Cancer And The Tot Needs SIX ROUNDS Of Chemo!
Other less common signs and symptoms can be:
Vision problems
Eye pain
Redness of the white part of the eye
Bleeding in the front part of the eye
Bulging of the eye
A pupil that doesn't get smaller when exposed to bright light
A different color in each iris (the colored part of the eye)
And if the cancer spreads outside the eye, symptoms can vary depending on where the cancer currently is. Symptoms for these scenarios can include:
Loss of appetite and weight loss
Headache
Vomiting
Lumps under the skin in the neck
It's important to note, however, that many of these signs and symptoms are more likely to be caused by something other than retinoblastoma. Even still, you should always bring up any of these symptoms to your child's doctor should they occur because the outlook for retinoblastoma patients is not as good if the cancer has had time to spread outside of the eye.
Body Positivity and Cancer
Despite having a prosthetic eye, Daisy's mom describes her as "one of the most confident people I have ever met." Other cancer survivors, like Ann Caruso, also feel secure despite having a prosthetic eye, and her message is to focus on embracing her differences rather than hide them.
Celebrity Stylist Ann Caruso on Beauty and Femininity After Cancer
Caruso had 12 surgeries to treat her breast cancer and told SurvivorNet that all of the changes really affected the way she saw her body.
"You're not the same carefree person that you once were, and it was very hard for me to look at myself every day," Caruso said in a previous interview with SurvivorNet. "It was like I was a totally different person and didn't fit into any of my clothes for so long."
But the celebrity stylist has learned a whole lot about femininity and body image since beating breast cancer. She hopes to impart her knowledge to others dealing with similar struggles.
"Femininity is a state of mind," Caruso said. "And I think that's something that we have to remind ourselves."
Contributing: Survivornet Staff
Learn more about SurvivorNet's rigorous medical review process.
---