A Prostate Cancer Survivor with a Story to Share
Mike Nuttall never used to pay much attention to his health. It wasn't until a bad knee pushed him to take better care of himself that he also found out he had prostate cancer.
Prostate cancer is the most common cancer in men and symptoms of the disease are hard to pinpoint. Many prostate cancer diagnoses in the United States are caught with screening examinations called PSA tests, so it's important to talk to your doctor about screening options and your level of risk for the disease.
Age, race/ethnicity, geography, family history and gene changes are the main risk factors for prostate cancer.
Health was not always a priority for Mike Nuttall. And while the debilitating arthritis in his knee was not something to be celebrated, he's grateful it pushed him toward a healthier lifestyle that ultimately lead to the early detection of his prostate cancer.
It was April 2018 when Nuttall woke up with incredible knee pain. He could barely move, and he was essentially left with no choice but to see an orthopedist.
Read More
"I had not been to a doctor for probably 15 or 16 years because I am literally never sick," Nuttall said in an interview with SurvivorNet. "I didn't really take care of myself… I think a lot of men take better care of their car or their tools or whatever than they do their own personal vehicle – their own body."
RELATED: U.K. Actress Kym Marsh Says Her Dad Skipped Regular Cancer Screening Due to Covid, Now Has Advanced Stage Prostate Cancer
Nuttall found out he had bad arthritis in his knee after that appointment. But with no real treatment options covered by his insurance, he decided it was time to get in better shape. He started working out, walking, paying more attention to the foods he ate and the results were astounding.
"I said, 'Well I just I gotta lose this weight if I'm ever gonna move again,'" he explained. "So, I went on this health kick and dropped about 70 pounds over the next few months."
By December, Nuttall wanted to see if all of his hard work was translating into better health outcomes beyond just the weight loss. He went in for a check-up and had all of the recommended blood work done.
"All my tests came back great," Nuttal said. "The blood work was excellent except for one test, and that was the PSA test."
The PSA, or prostate-specific antigen, test allows for doctors to detect the amount of a protein secreted by the prostate gland – elevated amounts of which can potentially indicate prostate cancer. Nuttall went back for a second test to double check, but doctors still found elevated levels of the protein. After that, he had to have a biopsy which indicated the presence of cancer cells in one part of his prostate. He was 59 years old.
"The biopsy report indicated after it was removed that only 10 percent of the gland was involved so we caught it very early," he said. "It's ironic, if my knee hadn't kind of blown up on me, I wouldn't have started paying attention to my health and I wouldn't have gone and gotten screened and detected it as early as I did."
In February 2019 he was dancing with his daughter at her wedding, but in April he had a radical prostatectomy – a procedure where the surgeon removes the entire prostate gland plus some of the tissue around it, including the seminal vesicles.
Flash forward to today, and Nuttall is two years and five months cancer-free. His recovery went fairly smoothly, but Nuttall said the biggest toll of his cancer journey was emotional.
"About 3 months after surgery, I really started going to some dark places," he said. "It was a deeply personal cancer, and just kind of the mental processing was the hardest thing… I felt – the only word I've ever been able to come up with – I felt tagged by cancer, like I'd been picked out."
So Nuttall went and got a tattoo on his right hand – the blue prostate cancer awareness ribbon.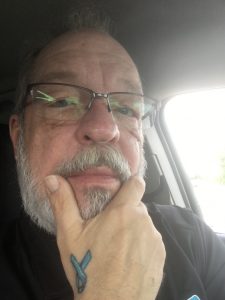 "I want every handshake to be an opportunity," he recalled telling the tattoo artist.
Since then, Nuttall has made it his mission to have important conversations with strangers and raise awareness for prostate cancer. He says younger women often inquire about his tattoo, and he uses these encounters as a chance to urge them to convince the older men in their lives to consider screening options. He's also a mentor for zerocancer.org and will take the time to talk with people who've recently been diagnosed with prostate cancer and could use a listening ear.
The Benefit of Support Networks for Cancer Patients
"I think for my mental recovery, becoming sort of that ambassador, if you will, raising awareness just in the people I'm in contact with, helps a whole lot," he said. "I've come to a real peace with it… and, like I said, I have chosen to take ownership of it and say, 'Okay, I've gone through that. I'll educate others and help others as best I can."
His advice to other cancer warriors: Take care of your mental health.
"Whatever you need to lean on, find that thing to lean on," he said. "It gets better, so you just have to keep putting one foot in front of the other… you have to remember to keep the darkness at bay."
Understanding Prostate Cancer
Prostate cancer is the most common cancer in men. About one in eight men will be diagnosed with prostate cancer during his lifetime. The disease begins in the walnut-shaped prostate gland located between the rectum and bladder. This gland produces the fluid that nourishes sperm.
RELATED: Prostate Cancer: Overview
Symptoms of the disease are inconsistent and hard to pinpoint.
"Prostate cancer is a very odd disease in that it doesn't have a particular symptom," Dr. Edwin Posadas, director of translational oncology and the medical director of the Urologic Oncology Program at Cedars-Sinai, explained. But changes in urinary function like urinating more or less often or waking up at night to go more than usual could be a sign of the disease. However, it's important to note that these potential symptoms could also could be caused by a urinary tract infection or even an enlargement of the prostate gland (which is not cancer).
There's No One Definitive Symptom for Prostate Cancer, But There Are Clues
Doctors that have spoken with SurvivorNet shared a hopeful outlook when considering a prostate cancer diagnosis, because there are many treatment options, and there's been significant treatment progress over the past decade. Surgical and radiation options, for example, have made improvements in reducing side effects of treatment while still providing excellent cure rates. Even for men with an advanced-stage diagnosis, many new options exist to treat prostate cancer and help them maintain an excellent quality of life.
Prostate Cancer Screening
In the United States, many prostate cancer cases are caught with screening examinations. Screening guidelines depend on your risk for the disease. Age, race/ethnicity, geography, family history and gene changes are the main risk factors for prostate cancer.
"As a man, you need to know your risk factors," Mike Nuttall said. "But start early conversations with the doctor… One of the risks factors is being older in age, and I didn't think 59 was particularly old, but I've come to know many men who were diagnosed in their 40s… so I think its a real misconception to say, 'Oh, I'll worry about that later,' because it really could come at any time."
You should talk with your doctor regardless, but here are some things to consider when gauging your risk for the disease:
Men younger than 40 are less likely to get prostate cancer, but age-related risk quickly rises after age 50. Approximately six of ten cases of prostate cancer are found in men older than 65.
Prostate cancer develops more often in African-American men and in Caribbean men of African ancestry than in men of other races, and these men tend to develop the disease at a younger age.
Prostate cancer is most common in North America, northwestern Europe, Australia and on Caribbean islands. It is less common in Asia, Africa, Central America and South America. The reasons for this risk factor are unclear, but more intensive screening and lifestyle differences like diet might be contributing factors.
Most prostate cancers occur in men without a family history of the disease, but it's still important to look at your family history because prostate cancer does seem to run in some families. Having a father or brother with prostate cancer, for instance, more than doubles a man's risk of developing the disease with a higher risk for men with a brother with prostate cancer than those with a father who have it. The risk is also especially high if a man has several affected relatives that developed the cancer at a younger age.
Inherited gene changes, or mutations, like that of the BRCA1 or BRCA2 genes can also elevate risk, but this probably accounts for a small percentage of overall cases.
It's not clear if the benefits of prostate cancer screening outweigh the risks for most men. Nevertheless, screening can be life-saving, and it's important to at least discuss the pros and cons of screening and your risk factors for the disease with your doctor.
Prostate cancer screening methods look for possible signs of the disease, but they can't determine for sure if you have cancer. The only way to know for sure if the patient has prostate cancer is with a prostate biopsy – a procedure in which small samples of the prostate are removed and examined under a microscope. But generally speaking, screening for prostate cancer involves a PSA (prostate-specific antigen) test and a digital rectal exam to feel the prostate gland.
When Should I Get Tested for Prostate Cancer?
"It's slightly uncomfortable but painless, and takes less than 30 seconds," Dr. Posadas said of these methods. "The amount of information that is gained from that is tremendous, and it can be a life-and-death type decision that is made."
But it's important to note that the PSA test is not perfect. The prostate-specific antigen is a protein secreted by the prostate gland. Men have a small amount of PSA in their blood all the time, but large amounts can be a sign of cancer because when cancer cells grow, PSA spills into the blood.
An elevated PSA test, however, does not always mean you have prostate cancer. It can simply reflect that your prostate is enlarged – which is common – or it could signal an infection or inflammation. Because of this, the PSA test is controversial since high levels may lead to over-treatment in men who are more likely to die from something else. Regardless, our experts maintain that the PSA tests are helpful, and you should talk with your doctor about your own risks for the cancer and screening options. For Nuttall, the PSA test was exactly what he needed.
"The digital exam didn't detect anything 'cause it was so early so there's no lump or bump," Nuttall said. "I thank God we have a blood test that can detect it."
Learn more about SurvivorNet's rigorous medical review process.