Julie Dombo of Derby, Kansas is one of the most extraordinary people we've seen in a long time. Dombo became a quadruple amputee after a she was caught randomly in the middle of a robbery and shot twice in the chest. Then, she was diagnosed with breast cancer. Now, after fifteen months of radiation, her cancer is in remission.
"Many people didn't know this because I didn't say anything but I have been dealing with breast cancer for the past 15 months. Luckily I just finished all of my radiation last July and my last chemo treatment today and got to ring the survivor bell! The nurses and volunteers who work in the cancer center are true angels!" Dombo wrote in a Facebook post.
Read More
When "My daughter, Amy, was giving me a shower and shaving under my arm, and she found a lump," Dombo told Wichita's KSN station. "When I got down and out thinking, God why are you doing this to me? Cancer too? But I just think, God has been with me through all the amputations, and he is going to be with me through the cancer too," she said.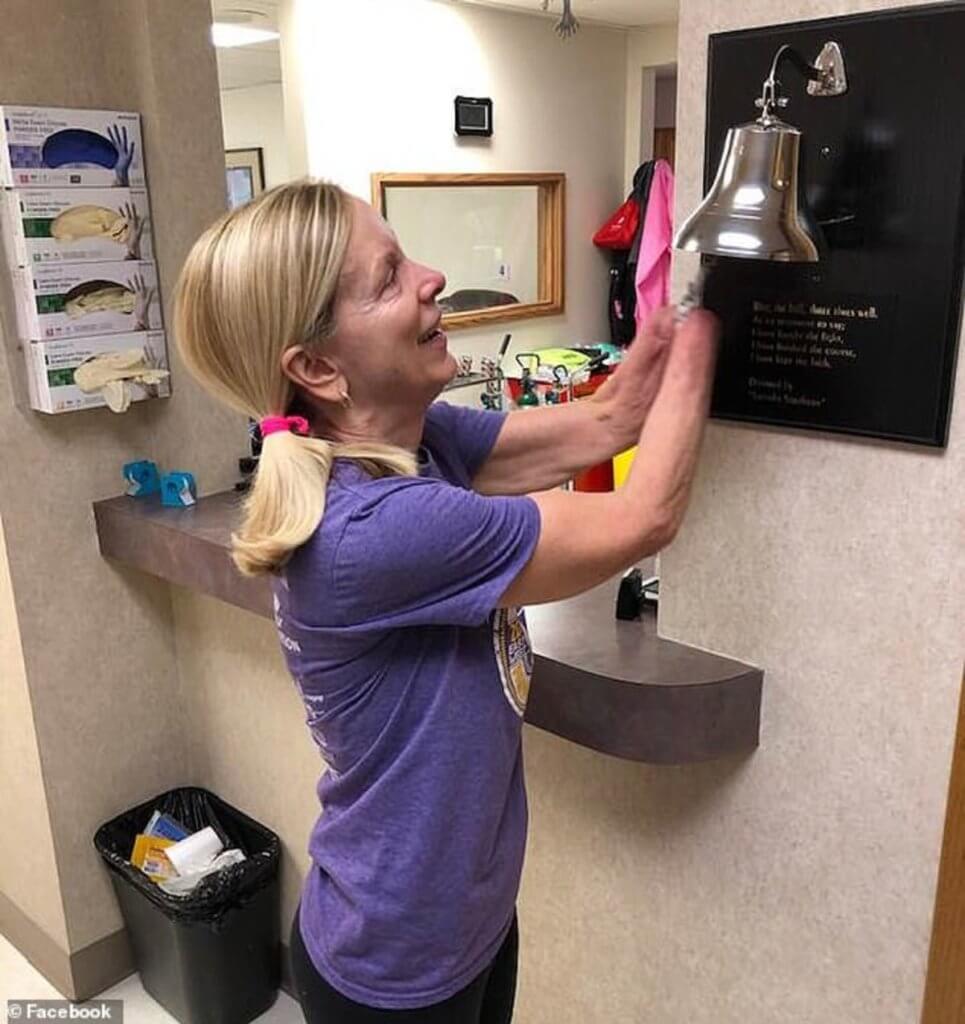 Julie Dombo rings the bell to signal her cancer is in remission.
She also talked about ringing the bell to signal the end of her cancer, and what it meant to be part of a tradition of cancer survivors. "There is a little paragraph underneath the bell that talks about all the people before you who rang it. I started thinking about all the cancer survivors that rang that bell, and I got emotional. It was pretty emotional to ring that bell, and it felt really good," she told the station.
Dombo lost her limbs following a robbery in a phone store in 2015. "As I approached the desk, a young man stepped out waving a gun and said, "Everyone to the back room. This is what you think it is." It was me, him and two clerks, both young women. I said "No!" more out of disbelief than defiance. But without a moment's pause, he aimed his gun at my chest and shot me twice," she told The Guardian.
Afterward, she was rushed to the hospital, where she says she kept repeating a mantra. "When a woman from the office next door came into the shop, the first thing I said to her was, 'I don't want to die!' That became my mantra. I repeated it to the paramedics, to hospital staff, as my lung collapsed and I was given 38 units of blood, and to my husband John when he arrived. I only stopped when I was put in an induced coma," she told The Guardian.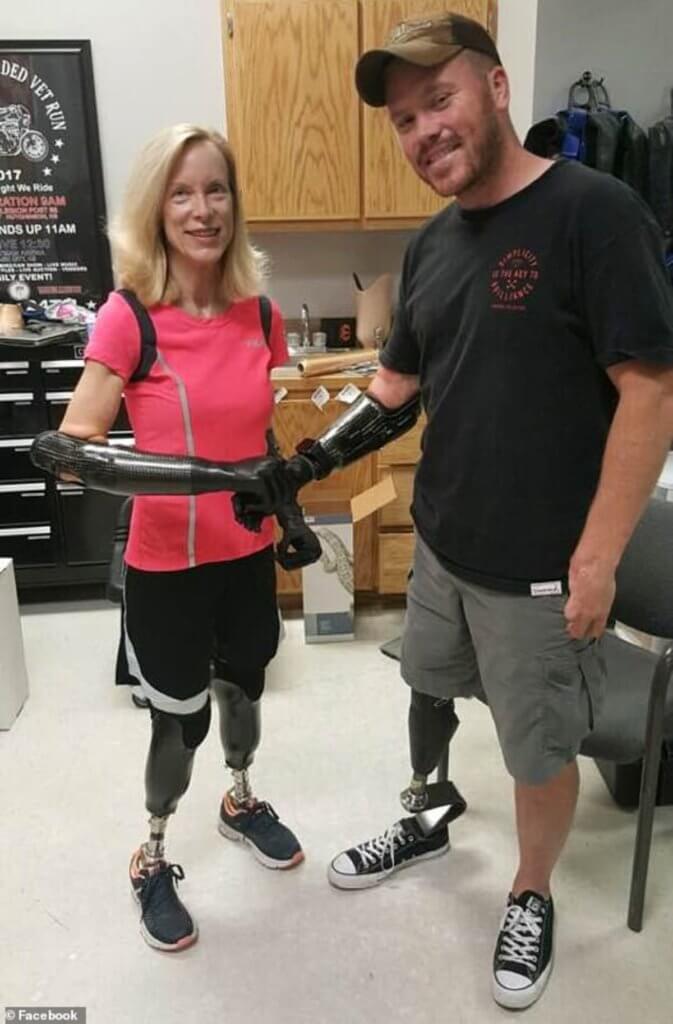 After 15 months of Radiation, Dombo has been declared cancer-free.
She was in an induced coma for six days. When she awoke, she realized she was on a ventilator and that both of her hands had turned black. "When I woke after seven days, I could see there was something badly wrong with my hands: they'd turned dark purple; my feet were in a similar condition," Dombo told The Guardian. "Much of my right lung had been removed and oxygen deprivation had damaged my limbs. Over the next few weeks, I watched my hands turn black and shrivel up."
Her hands and feet, she learned, were deprived of oxygen, which damaged the tissue. As a result, she had to have them amputated. "I was in hospital for 114 days, and my will to survive remained strong throughout. My health insurance paid my medical bills and for a pair of prosthetic legs, while I was still hooked up to tubes," she told The Guardian. "By the time I got home, I'd also been fitted with a pair of clasping hooks as hands that allowed me to perform simple tasks. But I couldn't go to the bathroom on my own, hold a phone or even put on my own legs. John essentially became my carer."
After a battle with her insurance company which "essentially viewed anything electronic as a luxury," Dombo was able to get electronic prosthetic limbs from an individual donor named Mark Holden, a senior lawyer, who wanted to help after hearing Dombo's story, according to The Guardian.  "A year on, I'm still learning. I can't dress myself properly, or make a meal (I'll get there eventually), and I have some privacy again. I feel for those who don't have that opportunity, when there's technology available that could help them. It seems a basic human right," she said.
Learn more about SurvivorNet's rigorous medical review process.