Skin Cancer Survivor Urges Sun Safety
Jennifer Baker, 59, was diagnosed with Merkel cell carcinoma after finding a strange lump on her thigh.
Merkel cell carcinoma (MCC) is a rare and fast-spreading type of skin cancer, and in Baker's case, it was caught early enough to be removed. The surgery also removed additional tissue around Baker's cyst. And although she's been cleared of cancer, Baker still needs to get CT scans every three months as a precaution.
Now, the mom of one has joined partners Cancer Research UK and NIVEA Sun in their campaign offering sun protection tips.
Jennifer Baker, a 59-year-old cancer survivor, was diagnosed with a rare form of skin cancer after discovering a strange lump on her thigh during a Covid-19 pandemic lockdown in November 2020.
The mother of one and resident of Bury St Edmunds, England, initially thought the growth was a cyst, but after seeking medical advice and having the lump removed, doctors informed her it was Merkel cell carcinoma. The type of skin cancer is so uncommon that between 1999 and 2008, around 1,500 were diagnosed with it.
Read More
"To go from thinking I had a cyst to finding out I had Merkel cell carcinoma was a shock, so I'm sharing my story to help others," Baker said, according to
The Coventry Telegraph
. "My family back in Australia have been affected by skin cancers, but more common ones, so when the general practitioner said it was Merkel cell carcinoma, as I'd never heard of it, I thought it couldn't be that bad."
Baker continued, "However, when he said it was rare and aggressive, and he needed to get me an appointment at West Suffolk Hospital immediately, there was a real sense of urgency in his tone, and it was pretty scary."
Related: Woman Who's Had Skin Cancer FIVE TIMES Warns That 'The Only Safe Tan Is A Spray Tan!'
Surgery was needed to remove additional tissue around Baker's cyst and she was ultimately cleared of cancer. Baker must now get CT scans every three months as a precaution.
"The consultant came in the cubicle and before I could even say 'good morning' he said I was all clear. It was just a massive feeling of elation. I felt I could breathe again," Baker said. "With these three-monthly scans, I go through this loop of what I describe as 'scan-xiety', when my mind wanders to thinking about whether it will come back. I'm getting better, though, because when I think about it logically, by having three-monthly scans if something does come back they're going to get it quick."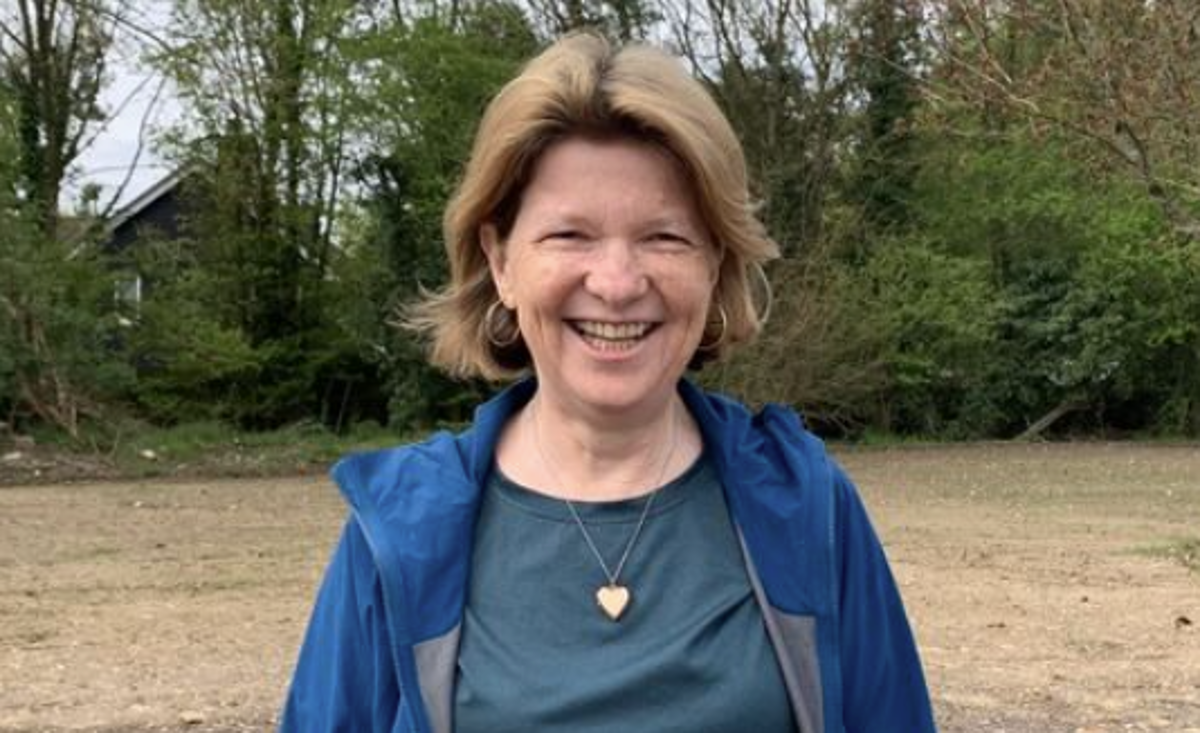 Baker is thankful she contact her doctor when she did and aspires to use her experience with rare cancer to encourage others to have better sun habits. She admits she now makes an effort to spend less time in the sun, wear a hat, always carry sunscreen, and keep her shoulders covered.
"You shouldn't underestimate the risk of being exposed in the sun and certainly with my son, who's at university and out with his mates a lot, I'm constantly at him to wear sun cream."
Baker has joined partners Cancer Research UK and NIVEA Sun in their campaign offering sun protection tips.
Related: Mom Of Two, 42, On Tropical Vacation Notices Strange Mole 'Growing Rapidly' Inside Her Thigh Where She NEVER Gets Sun: It Turned Out To Be Cancer
"Avoid getting caught out by checking the UV index on the weather forecast or online. If it's three or above it's time to think about sun safety, especially if you have light or fair-colored skin, or burn easily," Karis Betts, a senior health information manager for Cancer Research UK, advises. "Whether you're abroad, having a staycation or just out and about, remember the three-step method to enjoy warm weather safely – seek shade, cover up and regularly apply sunscreen."
Melanoma And Sun Exposure
"Melanomas are the deadliest type of skin cancer because they have a tendency to spread to other parts of the body," explains Dr. Anna Pavlick, an oncologist at Weill Cornell Medicine.
Ninety percent of melanomas are caused by ultraviolet radiation from the sun. That means you're at risk if you spent excessive amounts of time in the sun–even as a child. If you ever got scalding sunburns or were a fan of tanning salons, it's important to get your skin checked out.
Melanoma can develop from an existing mole or it can appear as a dark or pink growth on the skin. That said, they aren't limited to sun-exposed areas. According to Dr. Pavlick, you can also develop melanomas in places like your sinuses, rectal area, back of the eye, and other areas that aren't exposed to the sun.
The Sun is Not Your Friend: Most Melanomas are Caused by Sun Exposure
Understanding Skin Cancer
The Skin Cancer Foundation estimates that over 5 million cases of skin cancer are diagnosed in the United States every year, making it the most common cancer in the United States. And although summer is upon us, it's important to remember that the risk of developing skin cancer is very much still around all throughout the year.
Related: Long Island TV News Anchor, 44, Says Pimple That Wouldn't Go Away Turned Out to Be Cancer, Urges Viewers to 'Go Get Checked'
Dr. Dendy Engelman, a board-certified dermatologic surgeon at Shafer Clinic Fifth Avenue, previously told SurvivorNet that her patients always ask whether sunscreen is needed all year round. "The answer is yes. People think they only need sun protection when they're in the bright, warm sunshine," Engelman explains. "But the reality is, we can get sun damage at any time throughout the year, even in the cold, wintry months. Think about when you go skiing. That's a very high risk. Even though it's cold, our skin should be protected."
Top 5 Ways to Protect Your Skin From Skin Cancer
The top five things Dr. Engelman, recommends to avoid skin cancer:
Avoid sun during peak hours: 10 a.m. to 2 p.m.
Wear a wide-brimmed hat and sunglasses to protect the tops of our heads, the tops of our ears and the delicate area around the eye.
Wear at least SPF 30 sunscreen and make sure to reapply every two hours or after excessive sweating or swimming.
Have yearly skin checks (with a professional) because it's difficult to evaluate areas all over the body.
Avoid tanning beds. There are no "good" tanning beds, and they can significantly increase your risk of skin cancer.
It's important to still prioritize routine checkups with your dermatologist and always be on the lookout for any skin changes in between visits.
Contributing: SurvivorNet Staff
Learn more about SurvivorNet's rigorous medical review process.
---