Remember to Get Your Skin Checked
News 12 Long Island anchor Elizabeth Hashagen recently announced she will be undergoing surgery for skin cancer on her nose. She wanted to share information about her cancer journey to encourage others to get their skin checked.
We can get sun damage at any time throughout the year, even in the cold, wintry months. Our experts recommend skin protection techniques like sunscreen usage all year round.
No matter how vigilant you are about wearing sunscreen and decreasing your risk for skin cancer, its important to still prioritize routine checkups with your dermatologist and always be on the lookout for any skin changes in between visits.
Skin cancer can arrive in the form of an unsuspecting mole or blemish, so it's crucial to always pay attention to any changes on your skin. Thankfully, 44-year-old reporter Elizabeth Hashagen did. Now she's sharing her skin cancer journey to inspire others to prioritize their skin checks.
Hashagen, a News 12 Long Island morning anchor, thought she had a pimple on the tip of her nose over the summer. But when it wouldn't go away, she went to the dermatologist.
Read More
"I went to my dermatologist… And, you know, asked her, 'Hey, what's going on with this thing?'" Hashagen said in a recent video update to her Facebook. "[My dermatologist] said, 'Oh, that's not a pimple.'"
She then explained that her dermatologist tried to get rid of the pimple with a few non-surgical procedures which, unfortunately, were unsuccessful.
"It just kept coming back and a biopsy did confirm that it's cancer," she said. "We have a surgery planned for next week, February 8, and they are very confident they're going to be able to get this out of here. And, hopefully, my nose will stay mostly the same at the end of this as well."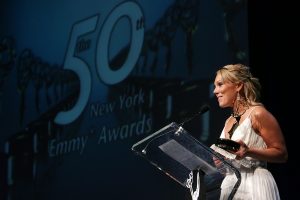 But instead of focusing on the negative of an upcoming operation, Hashagen turned her attention to educating her viewers.
"I just wanted to take this moment and use it as an opportunity to ask everyone at home, whether it's a mole that changed shape, or something you know just is different or something that looks like a pimple that's not coming out, that you go see your doctor and you get checked….
"They have phenomenal treatments for skin cancer out there. And the first step in healing is going to see your doctor and getting it identified, finding it early. And if I can help one person that would just make me feel so much better about where I am right now. So, thank you to my team of doctors. I have obviously the utmost faith in you and then a huge thank you to my friends and family who have been amazing through all of this.
She then went on to thank her friends and family for being there for her throughout her cancer journey thus far and left her followers with a simple request: "Go get checked."
Understanding Skin Cancer
The Skin Cancer Foundation estimates that over 5 million cases of skin cancer are diagnosed in the United States every year, making it the most common cancer in the United States. And even though most of us aren't soaking up the sun in a bathing suit at this time of year, it's important to remember that the risk of developing skin cancer is very much still there in the winter months.
RELATED: Don't Forget Sunscreen When You Hit the Slopes! Skin Cancer Poses a Risk Year Round, Here's Why
"My patients ask me all the time, 'Do I really need sunscreen every day, all year round?' The answer is yes," Dr. Dendy Engelman, a board certified dermatologic surgeon at Shafer Clinic Fifth Avenue, previously told SurvivorNet. "People think they only need sun protection when they're in the bright, warm sunshine. But the reality is, we can get sun damage at any time throughout the year, even in the cold, wintry months. Think about when you go skiing. That's a very high risk. Even though it's cold, our skin should be protected."
Dr. Engelman, shared the top five things you can do to avoid skin cancer:
Avoid sun during peak hours: 10 a.m. to 2 p.m.
Wear a wide brimmed hat and sunglasses to protect the tops of our heads, the tops of our ears and the delicate area around the eye.
Wear at least SPF 30 sunscreen and make sure to reapply every two hours or after excessive sweating or swimming.
Have yearly skin checks (with a professional) because it's difficult to evaluate areas all over the body.
Avoid tanning beds. There are no "good" tanning beds, and they can significantly increase your risk of skin cancer.
Top 5 Ways to Protect Your Skin From Skin Cancer
No matter how vigilant you are about decreasing your risk for skin cancer, its important to still prioritize routine checkups with your dermatologist and always be on the lookout for any skin changes in between visits.
The Importance of Sunscreen
Many people commit to using sunscreen every day, but it's important to note that choosing the right product can be just as important as consistency.
Dr. Cecilia Larocca, a dermatologist at Dana-Farber Cancer Institute, recommends you use sunscreen with at least SPF 30 and reapply it every two hours. Your sunscreen should also be broad spectrum, says Dr. Larocca, meaning it covers both UVB and UVA rays.
Choose the Right Sunscreen and Use it Often
Dermatologist Dr. Snehal Amin, the co-founder and surgical director of MDCS Dermatology: Medical Dermatology & Cosmetic Surgery, says that while brand name is not very important,  paying attention to the ingredients and feel of the sunscreen can make a difference.
"My recommendation is really focus on the ingredients rather than the brands," Dr. Amin says. "If you like the way the brand feels on your skin, if you like the purpose of the brand – for instance, sport versus daily use or daytime use versus a short burst of activity use – I think those are more important factors than actual brands."
The Dangers of Tanning Beds
And if you're considering visiting a tanning bed during these cold winter months, we'd highly suggest you think again. Just one indoor tanning session can increase the risk of melanoma by 20 percent, squamous cell carcinoma by 67 percent and basal cell carcinoma by 29 percent, according to the American Academy of Dermatology.
RELATED: CBS Evening News Anchor and Melanoma Survivor Norah O'Donnell, 47, Says She Felt 'Ashamed' After Cancer Diagnosis: 'I Felt Like Maybe I Had Done It To Myself'
When you hop into a tanning bed, you are exposing yourself to the very same dangerous rays you expose yourself to outside – but they're only 6-8 inches away. And in a study recently published in Cancer, a peer-reviewed journal of the American Cancer Society, researchers suggest that banning tanning beds among minors would prevent thousands of cases of melanoma in adolescents, along with millions of dollars in healthcare costs.
So, even if the temptation of achieving a nice "glow" seems irresistible, you should note that health experts warn against using tanning beds.
RELATED: One Tanning Bed Session Can Increase Your Risk of Melanoma by 20%: What You Haven't Heard About the Dangers of Tanning
"Studies have shown that exposure to tanning beds increases the risk of skin cancer and ocular cancer," says Dr. Lynn A. Cornelius, chief of the division of dermatology at Washington University School of Medicine in St. Louis. "It also induces changes that lead to premature aging of the skin. There is no 'safe' tanning bed."
Dr. Anna Pavlick, an oncologist specializing in skin cancer at Weill Cornell, echoed Dr. Cornelius' statements by explaining that tanning beds increase your chances of melanoma "exponentially."
Tanning Salons Pose a Big Risk for Skin Cancer
"We know there is a direct correlation with [melanoma] patients who go to indoor tanning salons," Dr. Pavlick tells SurvivorNet, who notes that the exposure "is about 6 inches from your body."
The sun is millions of miles away when you're on a beach, "so you have to think of the intensity that you're exposing your skin to when you go to a tanning salon," she says.
Learn more about SurvivorNet's rigorous medical review process.