A Classic TV Star
The late Bewitched star Elizabeth Montgomery brought magic to the small screen with her role of Samantha Stephens in the classic TV show.
The Hollywood-born actress was diagnosed with stage 4 colorectal cancer just two months before her death at 62 years old.
Montgomery had initially ignored symptoms and unfortunately, it was too late. A leading expert tells SurvivorNet how to stay ahead of a diagnosis before cancer potentially even forms by getting a colonoscopy.
With a crinkle of her nose, actress Elizabeth Montgomery brought magic to the small screen as witchy Samantha Stephens in the classic TV sitcom 'Bewitched.'
She died May 18, 1995, at the too-young age of 62 after battling colorectal cancer.
Read More
In a
statement
to AP news at the time, Montgomery's husband Robert Foxworth and children referred to the Los Angeles-born beauty as "a friend who has been in our living room thousands of times and has impacted our lives in many ways.″
Related: It's Been 25 Years Since "Bewitched" Star Elizabeth Montgomery Passed From Colorectal Cancer: We've Made Huge Advancements In That Time
One month prior to her death, Mongtomery had surgery to remove a "small, malignant tumor." She had been diagnosed with stage 4 colorectal cancer two months before she died.
View this post on Instagram
Montgomery had three children with ex-husband and 'Bewitched' producer William Asher: Bill Asher, 56, Robert Asher, 55, and Rebecca Asher, 51.
Her first husband was New York socialite Frederick Gallatin Cammann. Then Montgomery married actor Gig Young. (Young had a tragic ending when he shot and killed his fifth wife, Kim Schmidt, in 1978 before turning the gun on himself.) Montgomery was married four times.
Montgomery's Hollywood History
Montgomery was born into stardom as daughter of film star Robert Montgomery and Broadway actress Elizabeth Daniel Bryan. Although she had notably said that she had to work much harder throughout her career to prove herself because of this fact, she still benefitted from the door that was already open for her.
Her father hosted and produced the 1950s TV series Robert Montgomery Presents. His daughter first appeared on that series and then 200 live TV programs over the course of the next decade.
Bewitched, which ran from 1964 to 1972, was an instant hit, yet Montgomery's only series. From then on, the blonde beauty had a hard time shaking off the quirky suburban housewife role she was known for.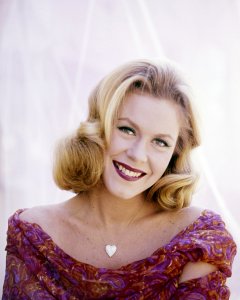 Although many at the time thought that ABC had canceled the show, it was actually their star talent who pulled the plug on the series, according to author of Twitch Upon a Star: The Bewitched Life and Career of Elizabeth Montgomery Herbie J. Pilato, who spent time interviewing the actress prior to her death.
View this post on Instagram
"Elizabeth Montgomery canceled the show," he said. "But she still had a couple of years on her contract, and ABC decided to cast her in her first TV movie post-Bewitched, The Victim. That was in 1972. And then she did Mrs. Sundance in 1974, which is where she met Robert Foxworth." She and Foxworth married in 1993.
Pilato believes that he truly go to know the real human behind the face of Elizabeth Montgomery.
"She was everything you could possibly want your favorite TV star to be in real life," he said. "I mean, she was so warm and welcoming, especially for someone so private and protected. For me to have been welcomed into her world to talk about Bewitched — a subject she hadn't addressed in any depth since the show ended — was big. From the first voicemail message from her to our first meeting, she seemed so down to earth and accessible and a real sweetheart, but at the same time she was also a very complicated person. I saw that, too."
View this post on Instagram
Protecting Yourself From a Colorectal Cancer Diagnosis
A colonoscopy is still the best way to prevent colon cancer. In the mid-1990s, when Montgomery died, national guidelines for colorectal cancer prevention and screening methods had just come to the forefront, according to the CDC. There simply was not the level of awareness then that we have now in the medical world. Treatment options for colorectal cancer have greatly improved, and thankfully, many cancer patients are getting diagnosed earlier, although there is still a long way to go.
Dr. Zuri Murrell from Cedars-Sinai Medical Center in Los Angeles describes the process of finding a polyp, or small growth during a colonoscopy, with SurvivorNet.
"When we see a polyp, we actually physically take the polyp out through the colonoscope," he says. "This means they put a wire through and pull the polyp out." Dr. Murrell notes that this is not painful, since there are no pain fibers inside the colon.
"What happens is then when we take the polyp out, we send that to a lab," he explains. "In about 5 to 10 business days, we get the results back. So when it's in the lab, a pathologist basically cuts up the little polyp and looks under a microscope. And underneath the microscope, they can decide whether or not it is early cancer or whether it is just a precancerous polyp."
Ninety-five percent of polyps are precancerous polyps, which means it's not cancer yet, but "it would have been a cancer ultimately if you just let it grow and grow and grow." Once the polyp is removed, you need to follow up with another checkup in three to five years to make sure there's not another growth.
Looking for Polyps During Colonoscopy
Dr. Murrell describes the functions of the colon and the rectum, which are two different areas.
"The colon's job is basically to reabsorb water," he says. "And that's what the number one job of the colon is, contrary to popular belief. The rectum's job is to hold the waste that is left over until a socially appropriate time to have a bowel movement and expel the waste."
Understanding the Function of the Colon and the Rectum
Learn more about SurvivorNet's rigorous medical review process.