Remembering Chet Atkins
Chet Atkins, known as one of the pioneers of Nashville's iconic country sound, passed away 20 years ago today after a 5-year-long battle with colon cancer.
It's unknown what stage Atkins' colon cancer was at the time of his diagnosis, but when it comes to treatment for the disease options can vary depending on how much the cancer has progressed.
Some major risk factors of colon cancer include obesity, smoking, excessive drinking, having a family history of colon cancer, being an older age or holding a certain gene mutation
It's been 20 years since we lost
Chet Atkins
, one of the pioneers of the iconic Nashville country sound, to
colon cancer
. The Grammy award-winning musician battled the disease for five years until passing away at the age of 77, and his influence has inspired fellow country stars on their music journey.
Chester Burton "Chet" Atkins, also known as "Mr. Guitar" and "The Country Gentleman," cemented himself as a rockstar in the country music genre for his signature singing style and legendary guitar skills. His unique presence inspired the new Nashville, Tennessee country sound that we all know today by blending pop into the old-fashioned genre. His popularity and talent led to him clinching 14 Grammy awards (with 40 nominations), and he has been named as one of the greatest guitarists of all time by numerous publications.
Read More
Related: In New Netflix Series, Country Star Coffey Anderson & Wife, Criscilla, Share Intimate Moments of Stage 3 Colon Cancer Fight
His legacy is remembered by not only icons in country music, but fans all around the world who watched Atkins battle colon cancer for five years. He was diagnosed with the disease in 1996 and a year later also went through surgery to have a brain tumor removed. It's unclear whether he went through treatment over the next five years, but his health deteriorated significantly over time. He passed away in June 2001 at his home in Nashville.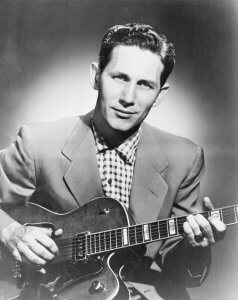 Navigating Colon Cancer
It's unknown what stage Atkins' colon cancer was at the time of his diagnosis, but when it comes to treatment for the disease options can vary depending on how much the cancer has progressed. Staging takes into account the depth of the tumor in the colon, if the cancer has spread to the lymph nodes or if the cancer has metastasized to other organs, such as the liver or lungs.
In stage one and stage two colon cancer (also known as early stage), the tumor has not grown outside of the colon. Stage one cancers are those in which the tumor has only penetrated the shallow layers of the colon, while stage two cancers have penetrated the deeper layers of the colon wall. Stage three cancers are those in which the cancer has spread to the lymph nodes around the colon. Stage four colon cancers are those that have spread to other organs, such as the liver, lungs or peritoneal cavity.
Related: The Type of Colon Surgery Depends on the Location of the Tumor
Staging the cancer is a very important step in deciding which treatment course may be the best option and most successful. In early stages of colon cancer, surgery is typically recommended in order to remove the piece of colon that is cancerous. Remission rates can be extremely promising with just surgery alone, and often chemotherapy will not be necessary after the procedure. For later stage diagnoses, surgery may still be recommended and chemotherapy or immunotherapy may be administered to eliminate all traces of cancer. is still recommended but in order to find out if the cancer had spread to the lymph nodes and other parts of the body, chemotherapy will be administered in order to eliminate all traces of cancer.
Dr. Heather Yeo breaks down common misconceptions about colon cancer
Colon Cancer: Know Your Risk
Risk factors are things that make you more likely to get colon cancer. They don't mean that you'll definitely get this cancer — only that you're slightly more likely to be diagnosed. Some major risk factors include obesity, smoking, excessive drinking, having a family history of colon cancer, being an older age, or having a certain gene mutation.
Risk factors such as smoking and obesity are important in the development of colon cancer before age 50. Up to a third of people who develop cancer at a younger age have a genetic condition that puts them at high risk. Environmental factors may also contribute to younger people developing colon cancer.
Related: Colon Cancer Screening is Extremely Important; Guidelines Now Say to Start at Age 45 if There Is No Family History
For that reason, it is important for people of all ages to pay attention to changes in their body or bowel habits.  Weight loss, blood in the stool, and changes in bowel movements that don't go away are worth seeing your doctor about. Also, if you are at risk of any of these factors, it's important to not delay colon cancer screenings that could be potentially lifesaving.
Dr. Zuri Murrell explains how we can lower our risk of colon cancer
Learn more about SurvivorNet's rigorous medical review process.