A Comedic Genius Fights Cancer
Journalist, writer, director, and playwright Nora Ephron lost her life to acute myeloid leukemia at 71 years old.
Acute Myeloid Leukemia Awareness Day is a reminder to celebrate her achievements as well as the exciting advancements in leukemia treatment.
Ephron, who co-wrote and directed mega-hit '80s and '90s films "When Harry Met Sally" and "Sleepless In Seattle," came up with the famous "faking an orgasm scene."
Acute myeloid leukemia is a type of blood cancer, which starts in the blood-forming cells of the bone marrow.
There are exciting new developments in drugs that are designed to attack a protective protein  — known as  BCL2 — found in leukemia cells.
Writer and director Nora Ephron, who lost her life at age 71 to leukemia in 2012, is one of the biggest female contributors to film in modern history, with cult romantic-comedy hits of the late '80s and '90s like "Sleepless in Seattle," "When Harry Met Sally" and "You've Got Mail."
Ephron's most memorable scene from "When Harry Met Sally" is often said to be more famous than the film itself; when Meg Ryan's "Sally" character fakes an orgasm in a crowded restaurant to prove a point to "Harry," played by Billy Crystal.
Read More
On Acute Myeloid Leukemia Awareness Day, let's celebrate the incredible achievements she made in film and the exciting advancements being made in leukemia treatment today.
Nora Ephran Was Born Into Writing
Born in Manhattan to a
family of writers
(she was one of five sisters who are all writers), Nora Ephron set out to make her own path in Beverly Hills after the family headed west when she was 4. She attended
Beverly Hills High School
then headed off to Boston's Wellesley College where she worked for the school paper.
Finally, she wound up back in New York for a journalism career immediately following college, working as a reporter for the New York Post, then she eventually made her way to the New York Times and Esquire magazine.
Related: Writer Nora Ephron Quietly Fought Acute Myeloid Leukemia (AML)- The Exciting Advances In Treatment
Ephron also once worked in The White House under John F. Kennedy and famously wrote an essay detailing how she was one of the only interns that JFK didn't hit on.
Ephron fell into the film business, and while she may have known a thing or two because her parents were screenwriters, her talent and connections were all her own.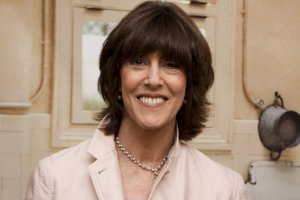 Meryl Streep, who starred in "Heartburn" with Jack Nicholson, Ephron's first solo screenplay, once called her a "stalwart."
"You could call on her for anything: doctors, restaurants, recipes, speeches, or just a few jokes, and we all did it, constantly," Streep said. "She was an expert in all the departments of living well."
"Heartburn" was based off of Ephron's marriage to and divorce from journalist Carl Bernstein, whom she had two children with, Jacob and Max. The writer was also married to two other writers, Dan Greenburn before her marriage to Bernstein, and Nicholas Pileggi, who co-wrote the legendary mob film "Goodfellas." Ephron and Pileggi were married up until her time of death.
A Rare Type of Leukemia
Nora Ephron was diagnosed with myelodysplastic syndrome (MDS), a pre-leukemia condition, four years before her death.
Her oncologist, Dr. Gail J. Roboz, director of the leukemia program at Weill Cornell Medical College and NewYork-Presbyterian Hospital at the time, spoke with The New York Times shortly after her death, saying Ephron's cancer was "not a readily classifiable type."
Related: 'Shift Your Focus from the Burden to the Blessing,' Says ABC's Robin Roberts, Who Survived Breast Cancer and MDS
"Biologically, the disease is complicated," Dr. Roboz said, "and we don't have very accurate ways of predicting for some patients whether this is going to be a condition that they can hang out with for a while."
Ephron's MDS developed into acute myeloid leukemia six months before her death. After several months of battling the disease, Dr. Roboz said that Ephron's body was unfortunately unable to fight off a case of pneumonia.
AML is one of the most common types of leukemia in adults, but is rare overall, accounting for only about 1% of all cancers, according to the American Cancer Society.
What Exactly Are Blood Cancers Like Nora Ephron Had?
Leukemias are cancers that start in the blood-forming cells of the bone marrow. When these cells become leukemic, they stop maturing properly and grow out of control. Eventually, they spill into the bloodstream.
Because they are essentially abnormal white blood cells, they prevent your blood from doing normal things like fighting infections, keeping your energy up and preventing excessive bleeding.
Leukemia specialist Dr. Nicole Lamanna, associate professor of medicine at Columbia University Medical Center, tells SurvivorNet how these cancers affect the blood.
Related: Blood Cancer is Different From Other Cancers—Some Treatments Are, Too
"Blood cancers in general affect different parts of the white blood cell count, which we need in a very basic way to help fight this infection," she explains. "Your blood elements do lots of things. One is to keep energy. One is to fight infection. Two are to help with clotting or to prevent patients from bleeding."
So leukemias in general "impair your normal blood elements' ability to do all the things they're supposed to do."
Genetics Of Acute Myeloid Leukemia–What Is A Subgroup?
As Efron's doctor noted, she had an unidentifiable type of AML.
Dr. Roboz spoke explains the genetics of acute myeloid leukemia, and why patients should ask doctors questions about subgroups. "One of the things that's important for patients to ask doctors is 'which subgroup of AML am I in?' Dr. Roboz says.
Studying cytogenetics, which is a branch of genetics that looks at DNA structure, is key in acute myeloid leukemia (AML) research and treatment. In AML diagnoses, patients often have normal chromosomes within AML cells, but according to Dr. Roboz, that isn't as positive as it sounds.
Related: New Acute Myeloid Leukemia (AML) Maintenance Treatment Extends Patients' Lives
"In AML, although the majority of patients have normal chromosomes, that is associated with what is termed as an 'Intermediate prognosis,' which means that the treatment pathway is going to be different from what we would use for these so-called 'good prognosis AML subgroups,'" Dr. Roboz says.
Through cytogenetics, physicians will examine the types of chromosomes within patients in order to determine which subgroup of AML they're in, which is crucial in determining the best treatment they should receive. These prognostic subgroups include cytogenetic information, molecular genetic information and mutations.
"This is something that's actually becoming very well known to patients because there are initiatives that are trying to have the patient be their own advocate and to say 'well, what is my subgroup of AML? What kind of AML do I have?'" Dr. Roboz says.
AML Treatment Options
Some patients can be cured with chemotherapy alone, says Dr. Raoul Tibes, Director, Clinical Leukemia Program, NYU Langone Health. Others may require more aggressive treatment, like a stem-cell transplant.
These treatment decisions will be based on the genetic and genomic information, and need to be made early on in the treatment process. "Our goal is always to cure a patient with AML," Dr. Tibes
Dr. Raoul Tibes, Director of the Clinical Leukemia Program at NYU Langone Health tells SurvivorNet that BCL2 inhibitors disable a protein that protects leukemia cells and creating deep and lasting responses in patients with AML. 
Patients who are not candidates for chemotherapy and stem-cell transplants — often the case, as AML patients tend to be older — may opt for lower-intensity treatments, like drug therapies, which may include promising new combination therapies.
Drug Treatment Advances
Dr. Tibes says there are exciting new developments in drugs that are designed to attack a protective protein  — known as  BCL2 — found in leukemia cells.  These drugs, known as BCL2 inhibitors, target and disable the BCL2 protein, so it can no longer protect the leukemia cells, says Dr. Tibes.
RELATED VIDEO: What Are The Symptoms of Relapse in Acute Myeloid Leukemia (AML)?
Another promising category of drugs targets a specific gene — known as FLT3  — which powers leukemia-cell growth. Drugs designed to inhibit the FLT3 gene work to shut it down.
"Every physician that treats leukemia is aware of testing patients for the FLT3 gene mutation so, hopefully, in the next months or years, we will see the approval of other FLT3 Inhibitors so physicians have a choice."
Two currently approved FLT3 inhibitors are gilteritinib (brand name Xospata) and midostaurin (brand name Rydapt). For those with newly-diagnosed AML, Midostaurin has been approved for use; while gilterintinib was recently approved for patients with relapsed and refractory AML.
Combination Drug Therapies
In addition, says Dr. Tibes, ongoing clinical trials of combination drug therapies — that pair Gilterinib with other FLT3 inhibitors — look promising.
In addition to gilteritinib, Dr. Tibes says the drug ventecolax (brand name Venclexta), a BCL2 inhibitor, offers another important breakthrough in the treatment of AML. When used in combination with other drugs, such as decitabine (brand name Dacogen) or azacitidine (brand name Vidaza), ventecolax offers dramatic improvements in response rates.
RELATED VIDEO: Advancements in Treating Acute Myeloid Leukemia (AML)
"We almost triple the response rates, which means the absence of leukemia — so we can see of find leukemia in the patient any longer," says Dr. Tibes.  The drugs can be given on an outpatient basis, are well-tolerated, and offer "deep and lasting" response rates, says Dr. Tibes.
While drug therapy does not replace chemotherapy or stem cell transplantation, Dr. Tibes says that combination drug therapy using Ventecolax can offer "deep and lasting" response rates. "I think it will find a quick adoption in clinical practice pretty rapidly," Dr. Tibes says.
Learn more about SurvivorNet's rigorous medical review process.