Fond Memories of George Harrison
Legendary photographer Harry Benson, 91, tells SurvivorNet about traveling the world with The Beatles, and how he was the closest with George Harrison, who died from throat and lung cancer and would have turned 78 years old today. "We spent a lot of time in Copenhagen. And in Paris … we'd sit in a cafe and talk about nothing," he muses. "With George it was always easy, we would basically talk about nothing. George would often say 'this isn't going to last more than a year.' John Lennon would say that as well."
Benson was with the band in Paris at the George V hotel when they first learned they hit number one in the U.S. with "I Wanna Hold Your Hand." The iconic "pillow fight" pic captured that moment.
A leading expert tells SurvivorNet that past and present smokers should get screened early for lung cancer.
At first, world-famous photographer Harry Benson wasn't particularly fond of his travel assignments in the early '60s with The Beatles, who went on to be one of the biggest bands—if not thee biggest—of all time.
The Scottish photojournalist, who has also captured iconic snaps of activist Martin Luther King Jr., boxer Muhammad Ali and superstar Michael Jackson (all now deceased), didn't consider himself a "rock 'n' roll" photographer. Yet he wound up developing a kinship with George Harrison—who was his favorite out of the four—and recalls memories of the late legend (who died from lung cancer at 58) on what would be his 78th birthday.
Read More
"George was a heavy smoker. It was hard for me to take a photograph of him without a cigarette," Benson, 91, tells
SurvivorNet,
saying that he had spoken with Harrison over the phone while he was going through cancer. "He would call them ciggies. 'I want another ciggie,' he would say. This was back when everybody smoked. The Beatles smoked. McCartney smoked. Ringo smoked."
Related: It's Been 19 Years Since The Beatles' George Harrison Passed From Throat & Lung Cancer; Some of the Incredible Medical Advances We've Seen Since
Benson describes how he first started traveling the globe with the English rock band (made up of John Lennon, Paul McCartney, Ringo Starr, and of course Harrison), who hailed from Liverpool.
"I worked for the London Daily Express and I was going on another story, another assignment and they said, 'hey we want you to go catch up with the Beatles in Paris' and I wasn't too happy about it," he says, noting that he didn't usually get to pick his subjects. "I wasn't a rock 'n' roll photographer. Everybody knew who they were, but I didn't enjoy it."
"I was probably closer to George than I was with the other three," Benson says, explaining that "the more I get to know them the more I get to like them and the more I get to take better pictures."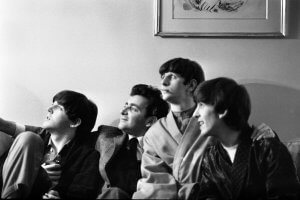 Benson took the legendary photo of the pillow fight the band had at a ritzy hotel in Paris when they first hit number one in the United States. "Their manager, Brian Epstein, burst into their suite at the George V Hotel to tell them "I Want to Hold Your Hand" was number one on the American charts, which meant they were going to America to be on the Ed Sullivan Show. That also meant I was going to America with them, and I was pleased," he captioned the photo.
"George would often say 'this isn't going to last more than a year,'" Benson confides, referring to the success of the band. "John Lennon would say that as well."
 

View this post on Instagram

 
For some reason Benson didn't seem to hit it off with one particular Beatle. "They all seemed like nice guys except for Ringo … he seemed out of his class. They were all middle class, but Ringo came below that. He didn't quite fit in. The other three were a bit upset with themselves for the way they dealt with the previous drummer," which was Pete Best. Ringo joined the band in 1962.
 

View this post on Instagram

 
Benson and Harrison sometimes shared a hotel room and would go out and drink coffee or beer together. "We spent a lot of time in Copenhagen. And in Paris .. we'd sit in a cafe and talk about nothing," Benson muses. "With George it was always easy, we would basically talk about nothing."
 

View this post on Instagram

 
Benson describes Harrison's temperament. "There was quite a bit of melancholy about him. He wasn't into the celebrity thing. He would make a point of saying, 'this isn't me this isn't me' with the girls screaming and all that."
Benson repeats what a good guy that Harrison was. "George was a decent guy. He was. He insisted one time that he speak to my mother and he would say nice things about me to my mother," he recalls fondly.
Though he warmed up to the bandmembers, Benson tried to keep his priorities straight as he was flown around to New York, Denmark, and Paris.
"It's not good business [in photography] to get too close to your subjects because you get the 'that photograph you took of me with my pants down' or whatever it was, 'please don't use it.'"
The photographer, who's riding out the pandemic in Florida with his wife Gigi, doesn't mention if he did, indeed, ever protect the privacy of his subjects at times, or his pal Harrison specifically.
Gone Too Soon
George Harrison was initially diagnosed with throat cancer in 1997 and went through successful radiotherapy, (a cancer treatment that uses "high doses of radiation to kill cancer cells and shrink tumors"). However, several years later, in November  2001, he was diagnosed with non-small cell lung cancer, which had already spread to his brain, and the highly revered artist passed away later that month. (Non-small cell lung cancer is one of the two main types of lung cancer, where cancer cells form in the tissue of the lungs.)
Harrison is survived by his wife Olivia Harrison, 72, whom he married in 1978, and his son, Dhani, a 42-year-old musician.
 

View this post on Instagram

 
Getting Screened for Lung Cancer 
If you are a past or present smoker, please read on. Dr. Patrick Forde, director of thoracic oncology research at Johns Hopkins University in Baltimore, tells SurvivorNet getting screened early is a must.
"Over the last few years, there's been a number of studies looking at using low dose CT scans of the chest in patients who have a history of smoking to try and pick up lung cancers in earlier stage," Dr. Forde says. "About 70% to 80% of patients who are diagnosed with lung cancer, unfortunately, the cancer has spread outside of the lung and is not suitable for surgery." So, in other words, if you're a smoker, go get checked.
Former & Current Heavy Smokers Should Get Lung Cancer Screenings Using CT Scan, Says Leading Expert
Treatment for Advanced Stage Lung Cancer
Stage four lung cancer means that cancer has spread to other parts of the body such as the bones, brain or liver. This is considered advanced lung cancer, but there are more types of treatment available for stage 4 lung cancer today than ever before. These include surgery, chemotherapy and radiation as well as the newer targeted drugs and immunotherapy agents.
"Stage 4 is a difficult diagnosis for people to get," Dr. Raja Flores, chairman of the department of thoracic surgery at Mount Sinai Hospital, tells SurvivorNet. "It's very important to take things step by step. So usually, with stage 4, it's chemotherapy. And I never take surgery off the table, because down the line, after four or five years, someone may have had chemotherapy, which got rid of some bone disease, radiation that got rid of brain disease, and they may have one spot in their lung. And that's the only thing that's active right now. So even in a stage 4 patient, surgery may be a treatment possibility—most of the time it's not. And so when you have a stage 4 patient, it's important to make sure that they understand that chemotherapy is something that they have to look at, but it's not the only option."
Learn more about SurvivorNet's rigorous medical review process.