Gender May Be Important Consideration for Individual Cancer Treatment
New research has found that women experience side effects from cancer treatment at a dramatically higher rate than men.
Women had a 34% higher risk of experiencing severe side effects from three forms (chemotherapy, targeted therapy and immunotherapy) of cancer treatment than men. But particularly for immunotherapy, women had a 49% higher risk of side effects than men.
These findings indicate that patient sex may be an important consideration for individualized cancer treatment, study leader Joseph Unger says.
Attention ladies: If you are undergoing chemotherapy for cancer and you are wondering why you can only eat six Saltines for a meal, while your male buddy in the chemo lounge is devouring a cheesesteak, you are not alone.
New research suggests that women experience side effects from treatment at a dramatically higher rate than men.
Read More
While this new research (
published in the Journal of Clinical Oncology
earlier this month) is noteworthy, it remains unclear exactly why women had a 34% higher risk of experiencing severe side effects from cancer treatment than men.
Some side effects observed included:
Pain
Nausea
High blood pressure
Blood or bone marrow-related issues
In this study, women had a higher risk of side effects for three forms of cancer therapy, including chemotherapy, targeted therapy and immunotherapy. For immunotherapy, women unfortunately had a 49% higher risk of side effects than men.
"While the reality that immunotherapies and targeted therapies may have different side effects in women versus men is not surprising, it demands urgent attention," Dr. Elizabeth Comen, SurvivorNet medical adviser and breast oncologist at Memorial Sloan Kettering Cancer Center, tells us. "Historically, medical science has not adequately studied how women may metabolize, respond to, and experience a wide variety of treatments not just for cancer, but a broad swath of diseases. It was only recently that sex was even an expected reportable variable in pre-clinical mouse models, which we use to develop new drugs. Investigating sex differences in cancer therapies is essential to providing equitable and thoughtful care for both men and women."
The revealing research concluded that there could be a number of reasons for the differences among sexes:
Differences between men and women when it comes to reporting side effects
Pharmacogenomics (the study of the role of the genome in drug response) of drug metabolism/disposition
Total dose received
Adherence to drug regimen
"The study showed an association (with sex and cancer treatment side effect), and it's unclear why," Dr. Heather Yeo, a surgical oncologist and colorectal surgeon at New York-Presbyterian/Weill Cornell Medical Center, tells SurvivorNet of this new research.
"It could be that they (women) are more likely to be honest about symptoms, (it) could also be that they are more likely to stick to the regimens and so receive the drugs and then have toxicity," she continues, "or there could be some biological or weight-based difference in the break down of the drugs."
"It is worth looking at other studies, i.e. those that study patients in a randomized way and analyzing based on gender. We know that there are sex differences in some medications and (it is) worth looking at racial and gender differences."
'It's Only Temporary': Dealing With the Side Effects of Cancer Treatment
In addition, Dr. Don Dizon, a professor of both medicine and surgery at Brown University, director of the Pelvic Malignancies Program at Lifespan Cancer Institute and chairman of the Digital Engagement Committee for SWOG, tells SurvivorNet, "I think it does underscore biologic differences by gender in treatment experiences, whether chemo, biologic agents, or I/O (immunotherapy) treatment." (SWOG is a National Cancer Institute-supported organization that conducts clinical trials in adult cancers.)
He pointed to a few specific pieces of data from research, including that women receiving chemotherapy had "statistically significantly" increased risk of symptomatic skin adverse events (side effects), as well as oral adverse events. For each of the three cancer treatment options, women were also at statistically significantly increased risk of symptomatic gastrointestinal side effects. And women receiving chemotherapy and immunotherapy were at an increased risk of sleep-related side effects.
Dr. Dizon says he doesn't think the difference can be attributed to women being better at reporting side effects than men. "I think there's something deeper at play — that gender is an important aspect to think about for how the body handles drugs," he says.
Breaking Down the Numbers
Researchers conducting this study analyzed data from 23,296 patients who were enrolled in 202 different cancer treatment trials run by SWOG between 1989 and 2019, excluding sex-specific cancers (such as prostate or ovarian cancer).
The cancer treatment options analyzed included chemotherapy, targeted therapy and immunotherapy. But it should be noted that more than two-thirds of patients (17,417) from the data set received chemotherapy; the rest received either immunotherapy (2,319) or targeted therapy (3,560).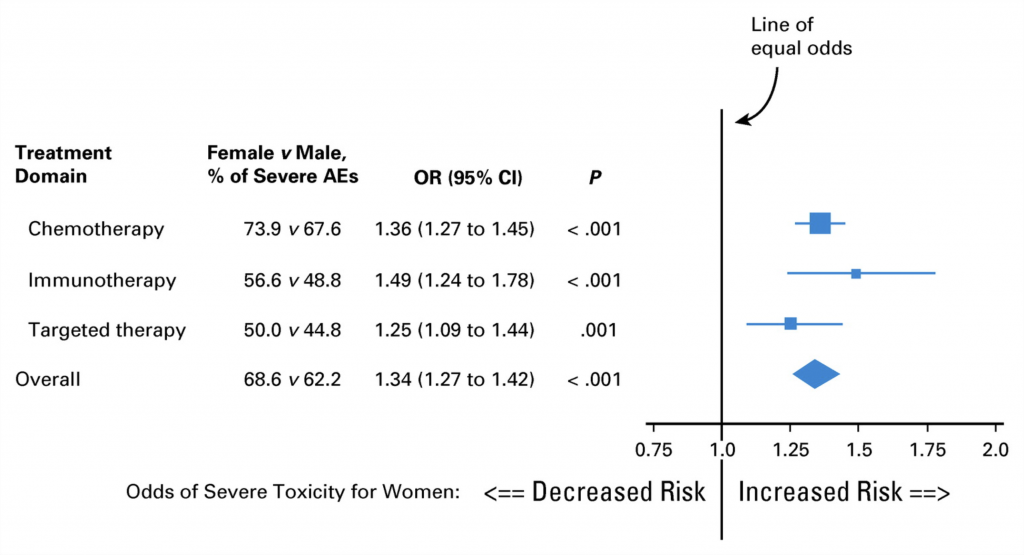 "It has been understood that women have more toxicity from chemotherapy than men, but almost no research has aimed to understand whether that pattern (holds) for novel treatments like immunotherapy or targeted therapies," study leader Joseph Unger, a health services researcher at the Fred Hutchinson Cancer Research Center in Seattle, Wash., says in a news release about the study from SWOG Cancer Research Network.
"We found similar large differences, especially for immune treatments," he adds.
Patients experienced 274,688 side effects, and almost 65% reported that they had experienced at least one severe side effect.
"Increasingly, treatments for cancer will be more individualized for patients," Unger says. "These findings indicate that patient sex may be an important consideration for individualized treatment, including for novel new treatments like immunotherapy."
Cancer Treatment Side Effects & How to Manage Them
If you are receiving chemotherapy as part of your cancer treatment regimen, some common side effects you may experience include hair loss, nausea and vomiting, fatigue, constipation and neuropathy.
Vivian Ruszkiewicz, a nurse practitioner with OhioHealth, a not-for-profit system of hospitals and health care providers in Columbus, Ohio, tells SurvivorNet that one of the most dreaded chemotherapy side effects is hair loss because it is "one of the things that people can see from the outside that people may know that you are ill."
Chemotherapy Side Effects — Hair Loss
There are several ways to make the experience less distressing, including wigs, or wearing scarves or hats. Or, another option is cryotherapy, which may help women keep some or a lot of their hair during chemotherapy. This "cold therapy" entails wearing what are called cold caps, or special cooling caps, before, during and after each chemotherapy treatment. These caps essentially cause the scalp's blood vessels to narrow themselves, and by doing so, limit the amount of chemotherapy that reaches the hair follicles.
Other side effects can be managed with medication prescribed by your doctor.
If targeted therapy is part of your cancer treatment plan, side effects may include rash, joint pain, elevation of liver enzymes, fever and photosensitivity, which means you could get second-degree burns if you are out in the sun for too long.
Immunotherapy allows the body's immune system to attack and destroy cancer, but it can cause numerous adverse effects.
Most of these side effects are related to inflammation. But, you may experience diarrhea when your colon is inflamed, or itching when your skin is inflamed. It is possible that you will also have pain in your liver or pancreas if you have pancreatitis or hepatitis.
Regardless of which cancer treatment you are receiving, it is important to note that side effects are common, and they can be managed in collaboration with your doctor.
Here are some questions you can consider asking your doctor regarding side effects:
Is there anything I can do to prepare for my treatment?
What can I do to help control my symptoms and side effects?
Can I have access to preventative medications in case I have side effects? (i.e.: Pre-fill medications for nausea, diarrhea at the pharmacy)
What signs, symptoms or side effects should I report to my health care team? How do I know which ones are urgent?
Should I report side effects to my oncologist or my family practitioner?
Is there another treatment I can consider if the side effects are too challenging?
Learn more about SurvivorNet's rigorous medical review process.