Global superstar, Rihanna, continues to honor her grandmother's memory; most recently with a sweet Instagram tribute to her on the anniversary of her passing. Rihanna's grandmother passed away from cancer on July 1st, 2012. Since then Rihanna keeps her "Gran Gran Dolly" ever-present through a foundation she created in her honor. She uses her memory as motivation to always work hard in an effort to continue making her grandmother proud. The two were very close and Rihanna would visit her at New York's Memorial Sloan Kettering, where she was hospitalized for cancer treatment. Rihanna would post updates about her grandmother's condition, constantly showering her grandmother with affection and compliments.
Read More
Rihanna Honors Her Grandmother
Rihanna's grandmother, who she referred to as Gran Gran Dolly, died of an unspecified cancer eight years ago.
Goodbye #grangranDOLLY get your beauty rest until I see you

— Rihanna (@rihanna) July 1, 2012
Since then, Rihanna has continuously grieved the loss of her grandmother, honoring her through the Clara Lionel Foundation, which Rihanna created in 2012 in her grandparents' namesake. Their mission is being to support and fund "groundbreaking education and emergency response programs around the world." Rihanna also donated $15 million dollars from this non-profit to help mental health services. Her activism and work to help other people is in part due to her wanting to honor her grandmother. In her original 2012 post announcing her grandmother's passing, Rihanna said "Goodbye #grangranDOLLY get your beauty rest until I see you."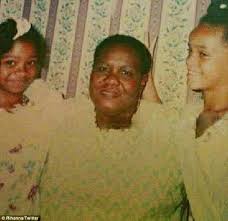 Coping with Losing a Family Member to Cancer
Coping with a loved ones' cancer diagnosis looks different for everyone, especially if you lose your loved one to cancer. For Rihanna, losing her grandmother to cancer provoked more activism and motivation to make her Gran Gran Dolly proud. However, it's clear from her instagram post that the loss and sadness can linger years after losing a loved one. This was also the case for Camila Legaspi, who lost her mom to breast cancer when she was in high school. In a previous interview with SurvivorNet, Camila discussed the tragedy of losing a parent as a teenager and how that affected her life thereafter.
"Therapy saved my life. I was dealing with some intense anxiety and depression at that point," says Camila about the feelings she had after her mother passed away. Going to therapy allowed her to understand what she still had in her life and to keep her chin up. She describes her mother as having been very creative and Camila used that to motivate her writing, which was an outlet for her. She attended Princeton University, writing for the school's magazine. She has used her mother's passing as a means of inspiration for poetry, fiction, or whatever else she writes. Camila, like Rihanna, is trying to use the passing of her loved one as a motivator for a greater purpose, keeping their memories alive.
Learn more about SurvivorNet's rigorous medical review process.