Rita Flourishing After Beating Cancer
Actress and singer Rita Wilson, the wife of Tom Hanks, is sharing on Instagram this week about her new single with Josh Groban, "Songbird."
B-movie actor Johnathon Schaech is singing praise to the songbird on Twitter for her new release.
Rita is a breast cancer survivor; she was diagnosed with invasive lobular carcinoma breast cancer in 2015. She had a mastectomy, followed by reconstructive surgery.
The beloved actress and singer Rita Wilson, 65, is being hailed by the prolific 52-year-old B-movie leading man Johnathon Schaech as a 'songbird' on Twitter in response to her new country music song release in collaboration with Josh Groban, 41.
Did you listen yet? @richardmarx I can't stop playing it. She is a songbird. https://t.co/B7oZ7QgGGP

— John-a-thon Schaech (@JohnSchaech) July 11, 2022
Read More
Rita is a talented and prolific artist, and we love to see her continue to thrive after her cancer journey. Many people find that art can have a powerful, healing effect during and after cancer.
And Rita clearly has a big fan in Johnathon, who fans will recognize as the smoldering heartthrob of 1990s and 2000s B-movies such as Poison Ivy 2. Johnathon also appeared in the 1996 film That Thing You Do which Tom Hanks directed.
Related: Tom Hanks, 65, Yells At Aggressive Fans to 'Back the F— Off' His Wife Rita Wilson, 65: How She Bravely Beast Breast Cancer 
In her recent Instagram stories, Rita shared a gorgeous black and white image of a person who appears to be Rita herself standing at the microphone singing to a crowd.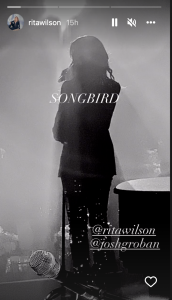 Rita, who is married to Oscar winner Tom Hanks, 65, also shared the news of her single on Instagram recently, writing, "'Songbird' by Christine McVie has always been a song that has gone straight to my soul. The simplicity of the lyric and melody makes it so powerful. It's as if you're eavesdropping on the most intimate of conversations. "Songbird" with @joshgroban is OUT NOW and you can listen to it through my link in bio."
View this post on Instagram
Rita and Tom were walking to their car while in NYC recently when Rita, a brave breast cancer survivor, got knocked into by a man in a small crowd of aggressive fans and cameramen. Tom reacted protectively but without violence, turned around and told the crowd to "back the f— off," visibly offended and shook by the aggressors. "Knocking over my wife?" he said incredulously.
Luckily the singer-songwriter appeared to be okay and had just stumbled a little when knocked, but it is surely uncomfortable—not to mention scary—when people get that much into your personal space and cause a physical threat, whether accidental or not.
One onlooker can be heard apologizing to Tom as they get into their vehicle, with two security guards still in tow.
Rita's Breast Cancer Journey
Rita was diagnosed with breast cancer in 2015. She underwent a mastectomy, followed by reconstructive surgery, to treat her cancer. The actress and singer's specific diagnosis was invasive lobular carcinoma.
This type of breast cancer is named for its point of origin: the lobules.  Invasive lobular carcinoma begins in the milk-producing glands, called lobules, of the breast. For this kind of cancer that's invasive, cancer cells have "broken out" of the lobule where they began and they may spread to other areas of the body.
Related: 'I Love My Band!!!' Rita Wilson, 65, Wife Of Tom Hanks, 65, THRIVES As A Surprise Country Music Star After Beating Breast Cancer
Invasive lobular carcinoma only represents a small portion of breast cancers. The most common type of breast cancer starts in the breast ducts.
Treatment options for breast cancer include surgery (via a mastectomy or lumpectomy), chemotherapy, and radiation therapy. Some people also get preventative mastectomies if there's a history of breast cancer in the family and thus an elevated risk of developing the disease.
When Should You Consider a Mastectomy?
Doing What You Love Through a Cancer Battle
Many people turn to the arts as an emotional outlet during  – or after – cancer. Rita, as a singer and actress, is likely well versed in the transformative power of the arts. Whether you're a trained or professional artist or not, the arts can have a helpful effect during a cancer battle, or after cancer.
Related: Pierce Brosnan Reveals How Art Helped Him Cope During First Wife's Ovarian Cancer: "Now the pain sometimes comes through in color"
Some people who have lost loved ones to cancer, also find healing and solace in art. James Bond actor Pierce Brosnan, 69, for example, has been vocal about using art to help heal from the grief of losing both his first wife and eldest daughter to ovarian cancer.
While going through cancer, try to find small moments of joy – be it from writing, painting, singing, dancing, or playing with your dog. Having a positive outlook and an upbeat attitude can help the cancer battle.
How I Made It Through Cancer: Painting & Dreaming
Learn more about SurvivorNet's rigorous medical review process.