A Message From One Warrior to Another
Good Morning America host Robin Roberts, 61, remembers Olivia Newton-John, who also battled breast cancer with a heartfelt tribute from one warrior to another.
Newton-John lived for over five years with advanced breast cancer and remained a cancer thriver throughout her journey. She passed away this week at age 73.
Roberts is a cancer survivor, and her partner Amber was diagnosed with breast cancer in late 2021; she had surgery and chemotherapy for treatment.
There aren't many who understand the depths of a battle like a fellow warrior. Robin Roberts, 61, is paying tribute to Olivia Newton-John, 73, after the news of the beloved star's death.
View this post on Instagram
Read More
"#OliviaNewtonJohn brought so much love and light," says Roberts, who's a breast cancer survivor.
"I'm so thrilled that you're doing so well and that you're happy. Aren't we lucky? Love and light," is what Newton-John said to Roberts in a past email after the GMA host underwent treatment. Roberts said she always ended her messages that way – with love and light. The singer was always so positive, even in the toughest times.
Olivia's Battle with Breast Cancer
Newton-John lived for over five years with advanced breast cancer and remained a cancer thriver throughout her journey.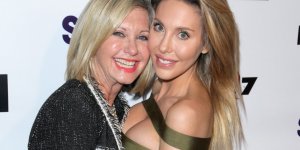 The Aussie singer was first diagnosed with breast cancer in 1992. To treat her cancer, she had chemotherapy and a partial mastectomy (surgical removal of cancerous breast tissue). In 2017, Newton-John's cancer returned and it had spread to other parts of her body, so she had radiation therapy to treat it.
Related: 'It's Finally Here!' Olivia Newton-John, 73, Joyfully Invites Loving Fans to Buy New Vinyl Collector's Edition of 'Let's Get Physical' As She Thrives While Surviving Cancer
A mastectomy is the removal of the entire breast during surgery. There are different factors to weigh when considering a mastectomy; chief among them is whether breast-conserving surgery (or, a lumpectomy) is possible.
In an earlier interview, Dr. Ann Partridge, an oncologist at the Dana-Farber Cancer Institute, explains the process for determining whether or not a woman should have a mastectomy to treat her breast cancer. The doctor says, "So when I talk to a woman who comes to me and she has breast cancer, I evaluate what the standard options for treatment for her are, which typically include cutting out the cancer– which is either a lumpectomy if you can get it all with just a little scooping around of the area that's abnormal or a mastectomy for some women meaning taking the full breast because sometimes these lesions can be very extensive in the breast."
"And I'll talk to a woman about that and I'll say these are two main options or the big fork in the road," she says.
In a previous interview with SurvivorNet, Newton-John spoke about her experiences with breast cancer and the effects of treatment. She said, "I have some neuropathy in my feet, which is probably my biggest problem because I love to walk. I love to hike. I love to play tennis and all those things. I can't do anything about the trade-off; it's okay. My feet have been my biggest issue and I get some back pain."
Olivia Newton-John, 72, Says She's Missing Family in COVID Lockdown During Stage IV Battle 'I Send You All My Love'
Robin's Battle with Breast Cancer
Robin Roberts intimately knows the battle Olivia Newton-John faced. Roberts battled breast cancer and her partner, Amber, was also diagnosed with breast cancer.
In 2007, Robin was diagnosed with breast cancer, and she went through her cancer battle publicly, raising awareness about the disease in the process. The GMA host also had to have a bone marrow transplant to treat her MDS, which is a rare type of blood cancer.
Roberts discovered her cancer while at work. She was preparing for a news story about the need for early detection for breast cancer, and she performed a self-check at home. While doing an exam on herself, Roberts discovered a lump. She treated her cancer with surgery. Breast cancer can also be treated with radiation and chemotherapy.
Current guidelines recommend that women aged 45 to 54 with an average risk of breast cancer should get mammograms annually. Mammograms screen for breast cancer and look for lumps in the breast tissue, and other signs of cancer. If you're at a higher risk for breast cancer due to a family history of the disease, you should start screening earlier.
When Should You Consider a Mastectomy?
With contributing info from Anne McCarthy
Learn more about SurvivorNet's rigorous medical review process.