Breast Cancer Survivor Robin Roberts, 61, Remembers Late Mother
'GMA's' Robin Roberts posts emotional tribute to late mother, Lucimarian Roberts, ten years after she passed away at the age of 88, on August 30, 2012.
The matriarch of the Roberts family died days before Robin was to receive a bone marrow transplant to treat her breast cancer.
Robin was diagnosed with breast cancer in 2007 after detecting a lump during a self-exam.
Screen for breast cancer by getting annual mammograms; also, perform self-exams at home regularly to check for lumps.
'Good Morning America' host and breast cancer survivor Robin Roberts, 61, is remembering her beloved mother Lucimarian Roberts, ten years after she passed away at the age of 88, on August 30, 2012.
On Instagram, Roberts posted several family pictures including her sisters Sally-Ann and Dorothy, and her brother, Butch, along with what she said ten years ago when she paid tribute to her sweet mother at her funeral.
Read More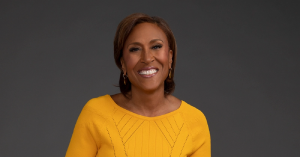 "10 years ago today my beloved mother passed away. I vividly remember momma's homegoing service in our tiny church in Mississippi. Here is a portion of what I said during the service," Roberts wrote.
View this post on Instagram
"Despite her vast accomplishments she was a humble woman…she said Butch, Sally-Ann, Dorothy, Robin, I want a small private homegoing. She's probably saying NOW my children decided to listen to me?! Warms my heart that she referred to us as the 4 loves of her life."
Roberts also referenced her own cancer journey, revealing what she believes her mother felt about her grueling treatment at the time, and how she died days before Robin underwent a life-saving procedure.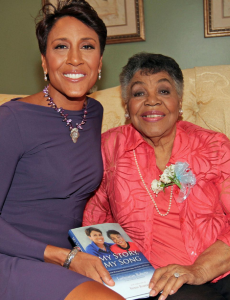 "I know mom was concerned about my upcoming bone marrow transplant. She wanted to be there but knew she wasn't physically able," Roberts wrote. "She found a way to be with me every step of the way, her final gift to me. Thank you momma…I love you."
Roberts also quoted the words of famed Greek figure Pericles, as a way to capture the spirit of her late mother.
"What you leave behind is not what is engraved in stone monuments, but what is woven into the lives of others."
Robin's Cancer Journey
Roberts was diagnosed with breast cancer in 2007 after discovering a lump. Ironically, she made this discovery while prepping for a news segment on performing self-checks, which shows just how important they are to perform at home.
"At first I thought, 'This can't be. I am a young, healthy woman,'" Roberts said, which tends to echo through many women's heads following a diagnosis.
The GMA host also had to have a bone marrow transplant to treat MDS, which is a rare type of blood cancer.
The journalist's early detection was a critical factor in her survival.
She treated her breast cancer with surgery, one of several treatment options for this disease, which can also be treated with radiation, chemotherapy, hormone therapy and immunotherapy.
Related: 'GMA' Co-Host Robin Roberts' Partner Amber Took a Holistic Approach to Help Robin Manage Symptoms While Going Through Cancer
The 'Brighter By The Day' author recently celebrated 20 years with the show, 'GMA', and also addressed the breast cancer battle being waged by her partner Amber Laign, who's currently undergoing treatment.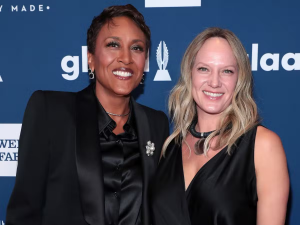 Amber is a bit more private in her life, but Roberts, as a public figure, has felt compelled to continually raise awareness for what she has been through.
Breast Cancer Care
"When you're the patient you know what you're doing—by your treatment, you have your doctors, you have people watching over you that are helping you," Robin began, addressing how her own battle was much different than what she is experiencing now. "When you're on the other end as a caregiver, you feel helpless," she admits. "And that's what's been so difficult."
While it is undeniably difficult to be diagnosed with and treated for cancer, the family members and friends who care for cancer patients also face their own set of challenges.
"Caregiving is the most important job in the universe, because you are there through the highs and lows," Julie Bulger, manager of patient and family-centered care at Vanderbilt-Ingram Cancer Center in Nashville, TN, tells SurvivorNet. "You are there to support your loved one, to manage all of the daily tasks as everything is changing in your life."
Related: 'A Sacred And Blessed Calling': Managing Life As a Caregiver
Caregiver burnout—the stress, anger, fatigue, and illness that can come from putting another person's needs ahead of your own—is real. It can sneak up on you if you don't take care of yourself. "It is important to have some things that you can do outside of the focus of caring for somebody that you love with cancer," Bulger says.
She suggests that you take a walk. Get a massage. Visit a support group for cancer caregivers, either online or in person. And see a therapist if you're struggling to cope with all of your new responsibilities. Joining a support group and building your support team is often a very important strategy and can help prevent or reduce the risk of caregiver burnout.
Know that you are doing truly important work, and appreciate yourself for it. "There's so much evidence that outcomes are better when somebody has an incredible caregiver by their side," Bulger says. Research also finds that caregivers who take good care of themselves provide the best quality of care. "So you are helping your loved one in more ways than you know.
Learn more about SurvivorNet's rigorous medical review process.
---