Sally Yates & Her Breast Cancer Journey
Former Deputy Attorney General of the United States Sally Yates, 61, was diagnosed with invasive papillary cancer, a rare type of invasive ductal breast cancer, in July. She wrote a moving essay about her cancer experience for CBS.com in honor of Breast Cancer Awareness Month.
Yates emphasizes the need for women to put themselves and their healthcare first, and do things like go for regular mammograms. Yates had a double mastectomy to treat her cancer, which was caught early. She says her prognosis is "excellent."
Stress negatively impacts the immune system; however, there is currently no direct correlation between stress and cancer development.
Former Deputy Attorney General of the United States Sally Yates was diagnosed with invasive breast cancer in July. Today, she published a moving essay on CBS.com about her cancer battle, and how women can be proactive about their health. Yates will also be featured in an interview with cancer survivor Norah O'Donnell on
CBS Evening News.
"We need to encourage our family members, friends and colleagues to take charge of their health."
Read More
The 61-year-old lawyer was appointed as United States Deputy Attorney General by President Barack Obama in 2015 and was fired from her role in 2017 by President Donald Trump after she refused to enforce an executive order restricting entry into the U.S. of people from seven Muslim-majority countries.
Yates, a Georgia native, acknowledges the importance of being open and vocal about cancer, no matter how broad or small your sphere of influence may be.
In her essay published by CBS.com, she writes, "Despite having spent a fair amount of my professional life in the public eye, I'm a pretty private person when it comes to my personal life. But, whether you have a public platform or a small circle of friends, the cancer stakes are too high for the luxury of privacy. We need to talk about cancer. We need to share our stories. We need to encourage our family members, friends and colleagues to take charge of their health."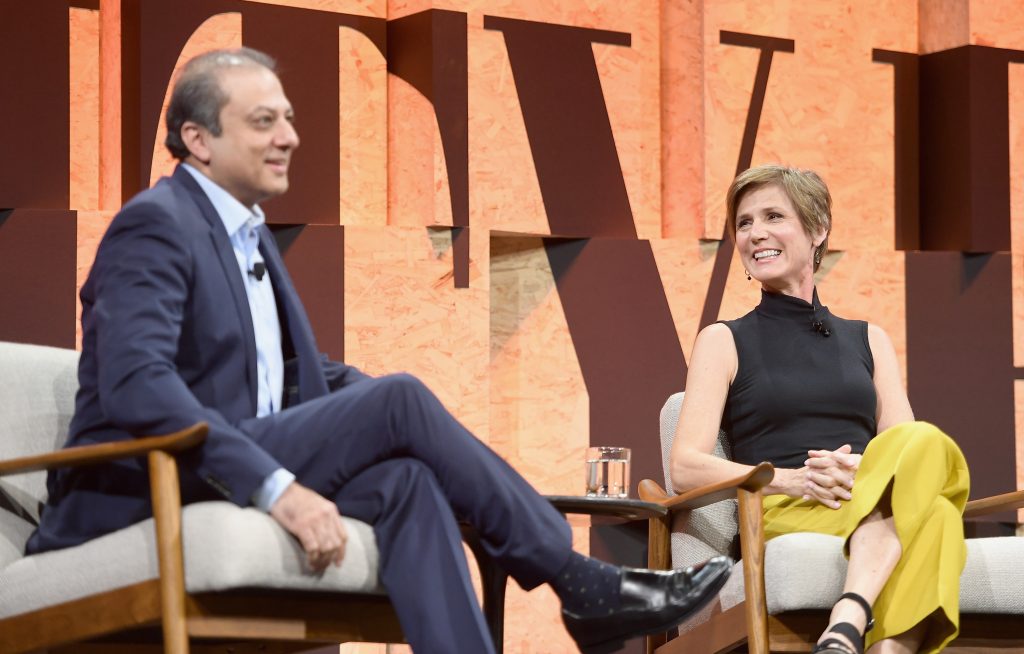 Yates writes that for Breast Cancer Awareness Month, she hopes more women will have their cancer checks and schedule their mammograms. She also calls for the need for health equity for all people.
Yates' Breast Cancer and Treatment
Yates was diagnosed with breast cancer after a routine mammogram. She recalls trying to comfort the doctor who told her about her cancer diagnosis. "Women tend to take on a caretaking role of others," writes Yates, "but often are less attentive to taking care of ourselves. One basic but important way we can change that is to get a regular mammogram."
Related: When Should I Get a Mammogram?
Women aged 45 to 54 with an average risk of breast cancer – meaning, no family history of the disease or no presence of BRCA1 or BRCA2 gene mutations – should screen annually for breast cancer via mammogram, current guidelines say.
Yates stresses the importance of early detection. "Hearing ['you have cancer'] sooner than later makes all the difference," she writes. "Last July, I was a week out from a scheduled mammogram when I detected a lump in my breast. I was (mostly) confident that there was nothing to it; I have enjoyed good health all my life, and nothing felt amiss."
After tests and biopsies, she was diagnosed with invasive papillary cancer, a rare type of invasive ductal breast cancer. It accounts for fewer than 1% of all breast cancers. "I am very fortunate that my cancer was caught early and was slow growing," she writes. "Following a double mastectomy, my prognosis is excellent."
Treatments for breast cancer include surgery, chemotherapy, radiation therapy, and hormonal therapy. The treatment path will depend on the stage of the cancer and how far – if at all – it has spread.
When Should You Consider a Mastectomy?
Stress & Cancer
Sally Yates has enjoyed a far-reaching, high-powered – and potentially high-stress, too – career in the public eye as a legal professional. Some may wonder if stress impacts a cancer diagnosis. However, experts say there's currently no proof that ties stress levels to the development of cancer. Yet, stress does negatively impact the immune system, so it's beneficial for your health to manage your stress and try to keep stress levels low.
Related: Patients Do Better When They are Less Stressed
In an earlier interview, Dr. Heather Yeo, a colorectal surgeon and surgical oncologist at Weill Cornell Medicine and New York-Presbyterian, discusses the holistic impact of stress for people with cancer. "There is no doubt that stress and your immune system affect your body and affect your body's chance of healing," says Dr. Yeo.
"Many patients are very anxious and worried that they cause their own cancer through stress or anxiety," she says. "I always tell patients, you can't look in the past and you certainly can't blame yourself. There are certain people that are the most relaxed people on earth and end up developing cancers. So I don't think that there's a clear direct correlation between stress and cancer."
"That being said, stress certainly decreases your immune system and it may decrease your body's ability to fight certain cancers," explains Dr. Yeo.
Did My Hectic Lifestyle Cause My Cancer?
Learn more about SurvivorNet's rigorous medical review process.