Selma Blair's Multiple Sclerosis Journey
Acclaimed actress Selma Blair, 50, is taking her fight against multiple sclerosis to the dance floor, as a new contestant on ABC's Dancing With The Stars for the 2022 season.
SNTV has launched a new channel dedicated to MS content.
Multiple sclerosis disrupts communication between the brain and the body.
Symptoms of the disease can include vision loss, pain, fatigue, and impaired coordination.
Irreverent actress Selma Blair, 50, is taking her fight against multiple sclerosis, more commonly known as MS, to the dance floor, as a new contestant on ABC's
Dancing With The Stars
for the 2022 season.
The competition is a new chapter in Blair's MS journey, one she had to convince her team to support, she told the New York Post.
Read More
"There was terror and nerves because I don't have experience dancing, like, with steps. I can pose like a dancer for maybe two seconds," the actress joked.
"But once I decided and convinced my team that I could do this, that it wasn't going to be too dangerous for me, that I could do this, it was OK," she said. "We do these things we want to find joy in. And then I'm all in."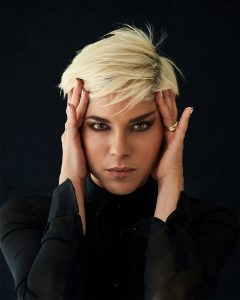 Blair was diagnosed with MS in 2018, and has suffered from slurred speech, difficulty walking, and intense pain.
She underwent chemotherapy as part of her treatment — more than most cancer patients, she said in 2019 — which took a physical and neurological toll that Blair is just starting to open up about.
"I have neurological damage, and I'm still wonky and discombobulated in a lot of ways," she said. "But I make a lot of gains. More gains than losses for sure now."
Blair also revealed that she's developed narcolepsy, a chronic sleep disorder that causes daytime drowsiness.
"But I am not killed by it," she wrote on Instagram. "I am strong enough not to be taken down any more than the average bear. That's great news. Excellent reassurance. I recover."
A New Offering From SNTV
SurvivorNetTV is broadening its horizons into chronic conditions. SNTV, known for its streaming content specifically for cancer, is adding a new block of programming specific to MS. We hope these films serve as hope and inspiration to the approximately 400,000 people currently living with the disease in the United States.
One of the featured videos, "Don't Stop Me Now," focuses on Louise Carr who may look like a healthy person on the outside, but a war rages on inside her body due to a remitting form of MS. Carr's and many other stories are available on the channel.
Check them out here.
Living With Multiple Sclerosis
There is currently an estimated one million people battling MS in the United States.
The autoimmune disease is the result of the immune system mistakenly attacking healthy cells. More specifically, the immune system attacks cells that form the protective barrier which shields the nerves in a person's spinal cord and brain stem.
Once that barrier has been damaged and weakened, individuals with MS struggle to send messages to the rest of the body. This impacts the body in myriad ways and varies significantly from person to person.
Symptoms of the disease can include vision loss, pain, fatigue, and impaired coordination, along with mood changes, memory problems, and paralysis.
There are four types of MS:
Clinically isolated syndrome (CIS): This is when an individual experiences a single neurological episode lasting 24 hours or less. CIS is what MS is diagnosed as until there is a second episode.
Relapsing-remitting MS (RRMS): The most common MS among the million people battling the disease in the US, RRMS is marked by sudden flare-ups, new symptoms, or worsening of symptoms and cognitive function. The condition will then go into remission for some time before reemerging with no known warning signs.
Primary progressive MS (PPMS): These individuals have no flare-ups or remission, just a steady decline with progressively worse symptoms and an increasing loss of cognitive ad body functions.
Secondary progressive MS (SPMS): This is an almost transitional form of MS that progresses from RRMS to PPMS.
Blair's Treatment for MS
Blair may be best known for her role in the coming of age movie, "Cruel Intentions," but is taking on the physical challenge of 'DWTS' with her dance partner Sasha Farber by her side in rehearsals.
"You know, once I actually stood with Sasha and really realized like, 'Oh, he can help me in general,' and I am so excited for camaraderie, for support for people," she said. "I did not realize how much I missed that."
Related: Actress Selma Blair, 49, Says She's In Remission From Multiple Sclerosis Following Chemo, Stem Cell Transplant: 'My Prognosis is Great'
Blair's MS is in remission, but there is no cure. She shared a more intimate look into her world last fall with the documentary Introducing, Selma Blair.
The film takers viewers through Blair's treatment including a life-altering stem cell treatment to restart her immune system and slow the disease's painful flare-ups.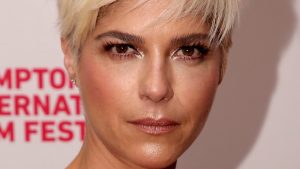 "The severe fatigue is still such a gargantuan boulder in my way," she said. "I'm working on it. Little by little, I can do all these things. I mean, I can't say I could go running, but I can jog down to the mailbox if I were to practice a few times."
Blair has also released a book titled Mean Baby, which was published last May.
Blair uses a cane to support her through the effects of MS and the chemotherapy treatment she underwent.
Related: Selma Blair, 49, Looked Radiant with Her Cane and Gown for 'House of Gucci' Event in Hollywood; How to Proudly Use Support Tools through a Health Battle
Following her diagnosis in 2018, Blair took to Instagram to share the news with fans and followers.
She wrote candidly: "I have multiple sclerosis. I am in an exacerbation…I am disabled…"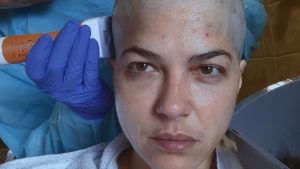 Blair wrote to fans, "…I fall sometimes. I drop things. My memory is foggy. And my left side is asking for directions from a broken gps. But we are doing it. And I laugh and I don't know exactly what I will do precisely but I will do my best. Since my diagnosis at ten thirty pm on The night of August 16, I have had love and support from my friends…"
Blair has used chemotherapy, a common treatment for cancer, as well as a stem cell transplant to treat her MS.
"After the stem cell transplant, I wanted to remember what I turned away from thinking about," she wrote to her fans.
"My beloved mother died, and with fresh marrow recolonizing my cells, I have been given a new life. This is the maiden voyage for me," she said. "But it was through the support of my loves on here (Instagram) who have encouraged me to keep moving even in suspended grief, along with great recovery."
Chemotherapy is used in stem cell therapies for MS.
Chemotherapy is traditionally thought of as a treatment for cancer only; however, it is also effective in destroying white blood cells, which may slow down or stop disease activity in MS.
The drug mitoxantrone is currently the only chemotherapeutic agent approved for treatment of MS in the United States. An injection is usually given once every 3 months for about 2 to 3 years (for a total of 8 to 12 doses).
Doctors warn using a mitoxantrone injection for MS helps to controls the disease, but does not cure it.
Still, it's a treatment that has made the idea of chemotherapy for MS potentially promising, although it is still in the early research stages.
Symptoms of MS
MS can be difficult to diagnose because the symptoms cover a broad spectrum and present very differently in those battling the disease.
They include:
A numbness, tingling, or sudden weakness in the limbs that affects just one side of the body
An electric-shock like sensation when moving the neck
Tremors and small seizures
A lack of coordination or unsteady gait due to weakened legs
Partial or complete loss of vision in one eye
Painful eye movement
Double vision for prolonged periods
Blurred vision
Slurred speech and forgetting common words
Fatigue
Problems with bodily functions
Loss of bladder control
Inability to perform sexual functions
Many people, like Blair, find that the diagnosis of a serious illness like MS or cancer can reinvigorate them and prompt a person to live out their dreams and live their fullest life. A life-changing diagnosis can be a helpful reminder that life is finite and fragile.
Not Your Parents' Chemotherapy: New Solutions for Nausea, Hair Loss, and Other Chemo Side Effects
Learn more about SurvivorNet's rigorous medical review process.
---