Blair Rocks Her Cane Again
Actress Selma Blair, who is battling MS, shared footage on Instagram from a recent House of Gucci event where she proudly used her cane for support and looked stunning.
MS is a disease in which the immune system eats away at the protective covering of the body's nerves; Blair has used chemotherapy to treat it.
Using tools through a health challenge – like a cane, or a wig – is a great way to minimize unpleasant side effects or issues that might bother you.
There's no denying it: Actress Selma Blair is a bold, confident stunner, and her multiple sclerosis (MS) diagnosis hasn't changed anything about that.
At a recent House of Gucci event in Hollywood, Blair turned up the dial on her star wattage. For the night, she rocked an ultra-glam dress, along with a sleek black cane she uses to support herself through MS, and she looked absolutely incredible. The film House of Gucci, which stars Lady Gaga, opens nationwide on November 24, 2021.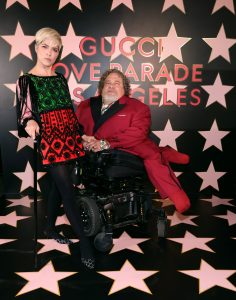 Read More
The actress posted a video from the event on Instagram, writing, "More love from the @Gucci Love Parade."
View this post on Instagram
Selma's Battle with MS
Blair was diagnosed with MS in 2018. This disease causes the immune system to eat away at the protective covering of the body's nerves. MS disrupts communication between the brain and the body. Symptoms of the disease can include vision loss, pain, fatigue, and impaired coordination. Blair uses her cane to support her through the effects of MS.
Related: MS Fighter Selma Blair, 48, Graces the Cover of Town & Country Magazine and Shows off Her New Cane; 'It Was a No-Brainer,' She Says of Bringing the Cane on the Red Carpet
Following her diagnosis, Blair took to Instagram to share the news with fans and followers. In a 2018 post discussing her illness, she wrote candidly: "I have multiple sclerosis. I am in an exacerbation…I am disabled…"
She wrote to fans, "…I fall sometimes. I drop things. My memory is foggy. And my left side is asking for directions from a broken gps. But we are doing it. And I laugh and I don't know exactly what I will do precisely but I will do my best. Since my diagnosis at ten thirty pm on The night of August 16, I have had love and support from my friends…"
Blair has used chemotherapy, a common treatment for cancer, to treat her MS.
Not Your Parents' Chemotherapy: New Solutions for Nausea, Hair Loss, and Other Chemo Side Effects
Using Tools Through Health Challenges
Blair is an awesome example of someone who embraces the reality of life with a health challenge. She's open and candid about her journey with MS, as well as her need for additional support and tools throughout it. Blair has been pictured on various red carpets using her cane proudly.
Related: MS Warrior Selma Blair, 49, Talks To 'GMA' About Her New Documentary on Fighting the Disease: 'We Have to Take Care of Ourselves and Be Patient'
People facing a health issue like MS or like cancer may require support tools, like a cane, or a wig to cope with hair loss from cancer treatments. There's nothing shameful about needed support through a health battle, or otherwise.
Speak with your doctor or an oncological social worker about tools that may be available to you to help make your journey easier. You're not alone in your battle, and there's likely a way to mitigate some of the experiences and make them less difficult – whether it's a cane for support or a wig for thinning hair from treatment.
Complete Guide to Wigs for Cancer Patients: Cost, Types and Where to Buy
Learn more about SurvivorNet's rigorous medical review process.