Very few people can say their child saved their life — but that's exactly what happened with Sue Manber and her daughter Sarina. Sue beat an extremely rare form of skin cancer called Merkel cell carcinoma. She was told at the time of diagnosis that the average prognosis for someone with her condition was 5 months, because it's a disease that is often diagnosed late. However, in Sue's case, she has her daughter — who was 13 at the time — to thank for spotting something on her skin, which ultimately led to her to make an appointment with her doctor, and to catch the disease.
RELATED: HOW TO MONITOR YOUR SKIN FOR SKIN CANCER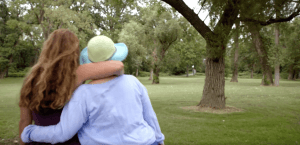 Read More
"It was just after Hurricane Sandy and Sarina ended up with her head in my lap, and looked up at me and said, 'Hey mom, what's that on your nose?' I thought you know, that is an odd place for a pimple on the rim of my nostril, so I made an appointment with the dermatologist," Sue told SurvivorNet during an interview she and Sarina both participated in.
A few weeks later she got the diagnosis, an extremely rare and an extremely aggressive skin cancer. Sue underwent seven surgeries, chemotherapy, and radiation.
Sarina said that the years her mother spent in treatment were particularly difficult for them both, especially since Sue was told that she should get her affairs in order, because doctors didn't know if she would respond to treatment.
"I had to choose the order of people who I would want to live with, to be my guardian," Sarina explained. "I don't want to make that choice." Sarina, now 20, also explained how she took on the role of caregiver for her mom — but she doesn't consider what she did anything extraordinary. "I was just being a daughter," she said.
After treatment, Sue decided to use her experience to organize an awareness campaign — The Big See. The goal of the campaign is to educate people about skin cancer, the most common cancer in the country, and how to monitor their skin for any changes that may indicate cancer. The Big See's website features helpful tips for doing self-exams on the skin, and advice for when a mark or mole may warrant a visit to the dermatologist.
RELATED: TOP 5 WAYS TO PROTECT YOUR SKIN FROM SKIN CANCER
Dr. Cecilia Larocca, a dermatologist at Dana Farber Cancer Institute, told SurvivorNet in a previous interview that she typically recommends people do a self-exam on their skin once a month — and look for any new or changing moles or spots. "The most important thing to do whenever you have a mole that you're worried about is to get it evaluated," Dr. Larocca said. "When we evaluate a mole, it's also very important for us to get a good sense of what your family history is, and your sun exposure history. So when you come into a dermatologist, often we'll ask several questions to get a sense of your risk factors … any family history of melanoma, any history of tanning bed use, and history of tanning sunburns."
As Sue said in her SurvivorNet interview, the best tool we have for detecting skin cancer early is our eyes. "If you see something new, unusual, or changing, get it checked because it could save your life."
Learn more about SurvivorNet's rigorous medical review process.