Perspective And Cancer
Robin Roberts, who previously battled breast cancer herself, is now supporting her partner, Amber Laign, as she takes on her own battle with the disease.
Throughout Laign's cancer battle, Roberts has continued to spread messages of positivity with fans. It's apparent that the brave cancer survivor has an amazing perspective on life that she's wanting to share with others via her platform.
Breast cancer is a common cancer that has been the subject of much research, so there are many treatment options out there. Mammograms, a standard screening procedure for breast cancer, and self breast exams can save lives.
Breast cancer survivor Fernanda Savino says that cancer brought her clarity. Now, the former workaholic has a new appreciation for her body and her family.
Good Morning America
star Robin Roberts is a breast cancer survivor with an inspiring perspective on life. And even as her partner fights the same disease today, she's always trying to help others navigate the challenges of life.
Roberts, 61, has been with her partner Amber Laign, 47, for nearly 17 years. And even though it's heartbreaking to watch someone you love battle cancer, Roberts has never failed to look at life with a wide lens.
Read More
In a recent Instagram post, Roberts talked about the importance of humbling yourself when you make a mistake.
View this post on Instagram
"Are you worried about what people will think if you humble yourself and admit your mistakes," she said in a clip from her dressing room. "We've all made mistakes and done things that we're not proud of.
"Now, don't let pride hold you back. Pride keeps us from rising higher. The new beginning is in your humility. Healing, restored relationships, open doors and second chances are in your humility."
RELATED: Robin Roberts, 61, Gives a Fan Great News on Partner 'Sweet Amber' Laign, 47, and Her Brave Breast Cancer Battle
Being strong in her faith, Roberts then went on to say that humbling yourself allows you to get to the point where God "does more than you can ask or think" and takes you to the next level.
She ended her video with a heartfelt prayer for the day.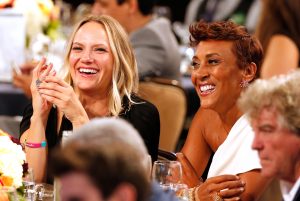 "Father, thank you – thank you that I can humble myself under your mighty hand and break the pride that keeps me from admitting my weaknesses and mistakes," she said. "Thank you that your power goes to work in all of us.
"When we humble and admit that we don't have it all together, we believe and declare that you will lift us up at the right time. In Jesus name, Amen."
As she always does, the TV star ended her prayer by pressing a button that lets out a sound of someone's voice – presumably Laign's.
"Right, sweet Amber?" she said before pressing the button. "Have a blessed day. Be a blessing."
Robin Roberts and Amber Laign Battle Breast Cancer
Roberts and her partner, Laign, have been together through many highs and lows over their nearly 17-year relationship – including each of their battles with breast cancer.
The Unique Features of Breast Cancer: Deciding the Right Course of Treatment
Roberts received her breast cancer diagnosis in 2007. Ironically, she was diagnosed after finding a lump in her breast during her preparation for a news segment on performing self-checks. Thankfully, she was cancer-free after surgery.
But in February, Roberts shared that Laign now has to face breast cancer as well. And in an interview from just the other day, she gave an important update regarding her partner's cancer journey.
"She's had some complications with the chemotherapy," Roberts previously told Entertainment Tonight. "They're working it out. We're gonna figure it out. The prognosis is still very good."
When Should I Get a Mammogram?
Complications with chemotherapy are not uncommon, but they can be scary. So, Roberts is doing everything in her power to support her loved one during this difficult setback.
"I didn't realize how much I had blocked out during my journey, and it was because of sweet Amber—because she protected me and navigated for me," Roberts said in a previous interview with Ellen Degeneres. "So, I'm doing the same thing for her."
In another update, Roberts said Laign was having a "challenging week," which is why she took some time away from GMA to be with her. But, thankfully, things are looking up for Laign as we recently heard from Roberts that treatment was now going well and that she was "doing better." Here's to hoping that this positive trajectory continues!
A Change of Perspective after Cancer
It's apparent through her prayers and messages to fans that Roberts has a positive outlook on life. And not to say that this outlook is a product of cancer, but it is worth noting that many cancer survivors tend to say that their cancer journeys truly put life into perspective.
For breast cancer survivor Fernanda Savino, her experience with the disease forced her to slow down and gave her a whole new appreciation for her body and loved ones.
'Cancer Brought Me So Many Lessons' Says Survivor Fernanda Savino; It Can Change Your Perspective On Life
"I'm a lawyer, and I used to be such a workaholic," Fernanda previously told SurvivorNet. "I would work for long hours, and I would never make room for doctor appointments or anything like that.
"I started to take care of my health and be more respectful to my body, to me. I started to exercise more."
Like so many others, Fernanda also said she relied on a lot of support from her loved ones – something she'll always be grateful for.
"I had all the support … my family, my friends, even the ones that weren't so close, they always were present," she said. "I don't know how I would have gotten through all of this without them."
Learn more about SurvivorNet's rigorous medical review process.