Tucci Talks Food with Roker
Actor and author Stanley Tucci appeared on TODAY this week and spoke with cancer survivor Al Roker about how cancer impacted his experience of food.
The actor underwent chemotherapy and radiation after a tumor was discovered on his tongue.
Tucci lost his first wife to breast cancer in 2009.
Actor Stanley Tucci, 61, battled cancer several years ago when a tumor was found on his tongue, and he says he was more afraid of losing his sense of taste than of dying. The food-lover, actor, and author – Tucci recently wrote a book called 
Taste: My Life Through Food
– sat down with fellow cancer survivor Al Roker on
TODAY 
this week, and the two spoke about how cancer impacted Tucci's attitude towards food.
Related: 'I Just Want This Out': TODAY Anchor & Prostate Cancer Survivor Al Roker, 67, Tells SurvivorNet About His Decision to Have Surgery, the Risk for Black Men & that His Sexual Function After Cancer is 'Working Fine'
Read More
Tucci lost his appetite as a result of cancer treatments, and today, the
La Fortuna 
actor tells Roker he's enjoying food more than ever after beating tongue cancer. Speaking of his CNN food-focused show, he says, "[Food] means everything to me.
It's sort of all I can think about
," he says. "CNN came to me and asked me to do this series a few years ago, and we've been able to make it happen…It's been a lifelong dream of mine to explore the regional cooking of it in as much detail as possible."
Related: Remembering 'Top Chef's' Fatima Ali, Who Passed 2 Years Ago From Cancer: Has There Been Any Progress On Ewing Sarcoma Since?
Tucci also says he constantly thinks about food. "It's the first thing I think about when I wake up in the morning and the last thing I think about," he tells Roker. He also says he appreciates food even more now after beating tongue cancer. He says, "When you're forced to go without something that you love, just like when you're forced to go without someone that you love, you appreciate them (and or it) much more when you're able to have it back if you're lucky enough to have it back."
Tucci also tells Roker, "My sense of taste and smell are almost heightened and more than they were before, oddly enough."
For people who are rediscovering the pleasures of eating after beating cancer – or while going through it – check out resources specifically designed for people fighting cancer or recovering from cancer.
Someone who deeply appreciated food and the pleasures of eating was  Fatima Ali from Bravo's Top Chef. She passed at age 29 in 2019 from Ewing's Sarcoma, a cancer that attacks the bones. Ali began treatment in 2017, and she met with SurvivorNet to discuss doing a segment on cooking for people going through cancer treatment. But Ali's condition worsened, which propelled her even more to focus on her dreams of exploring the best foods in the world. Many people find that a cancer diagnosis clarifies their priorities for them.
Tucci, a food lover like Ali, also lost his first wife, Kathryn "Kate" Spath-Tucci, to breast cancer in 2009.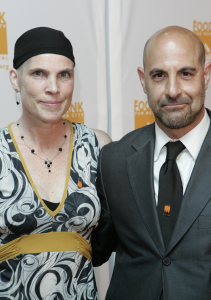 Tucci's Tongue Cancer Journey
Tucci's cancer was discovered via the tumor found on his tongue. He had radiation and chemotherapy to treat his cancer. Tongue cancer – which is often categorized as a "head and neck cancer" – is associated with the human papillomavirus (HPV).
Related: The Incredible Life of Fashion Mogul Diane von Furstenberg, aka 'DVF,' Who Beat Tongue Cancer, What Experts Now Know About the Disease
The HPV vaccine prevents HPV-related cancers and can be administered starting as young as 9 years old. "We recommend strongly that children are vaccinated against HPV to prevent cervical cancer, but also to prevent head and neck cancer," Dr. Jessica Geiger, a medical oncologist at Cleveland Clinic Cancer Center, tells SurvivorNet in an earlier interview.
"Now the key with the vaccine is that you received the vaccine before you ever reach sexual debut or have sexual encounters. So that's why these vaccines are approved for young children ages 9, 10, 11 years old, up to 26."
Dr. Jessica Geiger on HPV in Men
Tucci's Breast Cancer Cancer Loss
Tucci's first wife, Kate, passed away from breast cancer in 2009 at the too-young age of 47. The two have two children together.
In an interview with CBS Sunday Morning, Tucci says of his loss, "It's still hard after 11 years. It's still hard. And it will always be hard. But you can't let it… and she would never want any of us to ever wallow in that grief and let it take over our lives. She would never want that. She wasn't like that."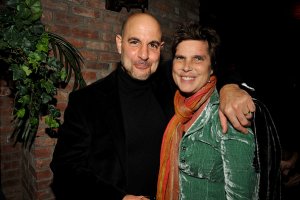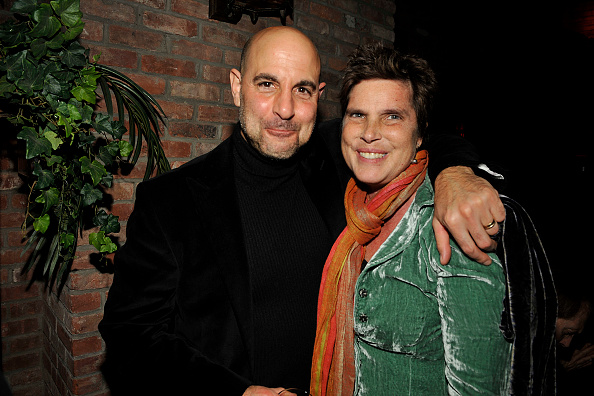 Losing a spouse to cancer is devastating and heartbreaking. "You never stop grieving," Tucci says. However, even amid grief, there's love and joy to be found again.
Related: Did You Know Actor Tom Hanks' First Wife, Samantha Lewes, Battled Bone Cancer? Resources For Coping When A Spouse Has Cancer
In 2012, Tucci married for a second time to English literary agent Felicity Blunt. Tucci's wife is the sister of actress Emily Blunt, who starred in The Devil Wears Prada alongside Tucci. They have two children together.
When Should I Get a Mammogram?
Learn more about SurvivorNet's rigorous medical review process.